Happy Monday, friends! Today's post is a bit of a throwback but with a twist. Remember this? A Sunday dinner, to me, is always made up of some sort of pasta and carbonara sounded like just the kind of warm sleep-inducing dish I needed. And when The Boyfriend requested tortellini, I knew exactly what to make.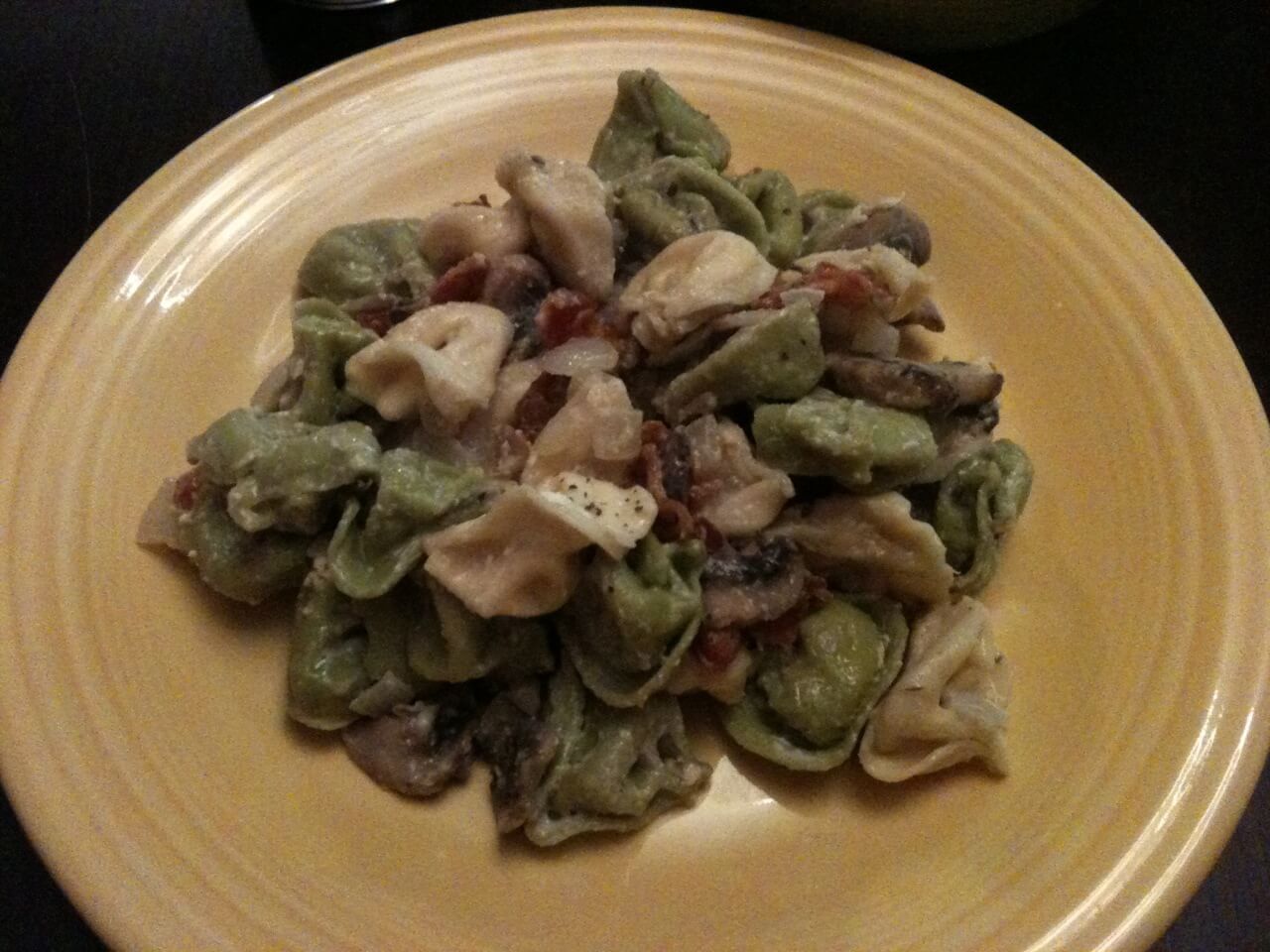 On the menu:
Tortellini carbonara
Adapted from Epicurious.com
1 lb. multi cheese tortellini
12 strips of bacon, coarsely chopped
1 1/2 cups mushrooms, sliced
2 medium sized yellow onions, chopped
4 garlic cloves, minced
1/2 teaspoon dried sage
4 egg yolks
1 cup heavy cream
1/2 cup parmesan cheese, grated
Cook tortellini in salted boiling water until cooked, according to package directions. Drain. Save 1 cup of pasta water.
Saute bacon in a LARGE skillet until crisp. Drain bacon on a paper towel and reserve 3 Tbsp of grease in the skillet. Add mushrooms, onions, and garlic to the skillet and cook until mushrooms are softened. Add 1/2 cup pasta liquid to the skillet and raise heat so the liquid boils. Whisk egg yolks and cream together in a small bowl. Add pasta, cream mixture, and 1/4 cup parmesan cheese to the skillet and mix together quickly so the pasta is completely coated. Keep constantly stirring the mixture and scraping the bottom of the skillet for ten minutes over medium-high heat until the egg is cooked. If the sauce is too thick, add a bit more reserved pasta water. Add bacon and mix in. Cook for another 3 minutes. Plate pasta immediately and sprinkle remaining parmesan cheese on top.
And in case the cup of cream, 12 slices of bacon, and 4 egg yolks didn't tip you off, this is not a particularly healthy dinner. Maybe don't make this one twice a week.