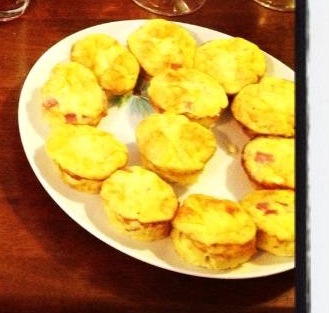 Eggs are by far one of the most difficult dishes to make for a brunch. Unless you hire someone to work an omelet station, you're probably going to resort to a frittata or quiche to serve to a group. But even then, you have to slice and serve it… and I was kind of aiming for little to no work during this brunch, you get me? Enter personal sized frittatas.
These are hilariously easy, and although gruyere is on the pricey side, it has that decadent flavor that makes this dish taste way more high end than it actually is.
On the menu:
Mini ham and gruyere frittatas
Makes 12 frittatas
8 large eggs
1/2 cup milk
1/2 tsp black pepper
1/4 tsp salt
1 cup grated gruyere
6 oz. smoked ham, diced into small chunks
Preheat oven to 375 degrees. Spray a muffin tin with cooking spray.
In a large bowl, whisk together the eggs, milk, pepper, and salt until foamy. Fold in the ham and gruyere. Pour into the muffin tins until the cups are almost full.
Bake for 12 – 15 minutes or until the eggs are puffed up and slightly browned. Serve hot.