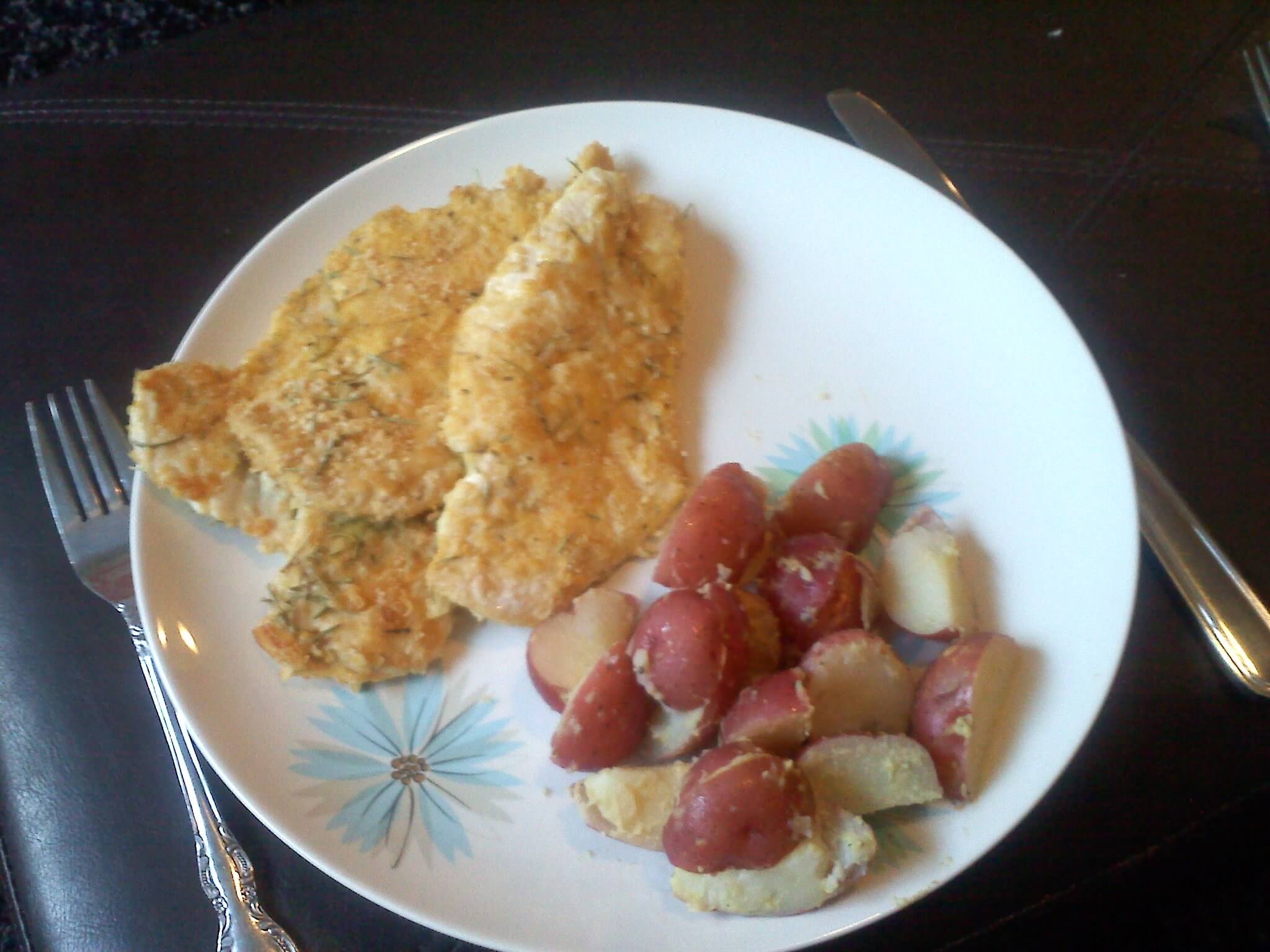 This meal is not groundbreaking, it's not difficult, and it's not really anything new. But it feels complete, it took all of 10 minutes to prepare and 30 minutes to cook, and it was delicious. Just add greenery. The asparagus we ate alongside this took forever to cook so we ate it as a kind of dessert. Oh, who am I kidding, we ate cookies for dessert and I put the asparagus in the fridge.
My reason for posting this recipe is the potato salad. Back when I was unemployed I was doing some recipe testing for a meal delivery website and more often than not, the recipes were mediocre and tasted like they were missing something. One in particular was a mustard potato salad that was SO bland and I couldn't figure out why. Then I found a recipe in Real Simple magazine for a mustard potato salad that had a splash of red wine vinegar… and there was the missing ingredient. I once read on a blog, "if your dish is missing something, it's probably an acid." And in this case, it was true. You learn something everyday, kids.
On the menu:
Parmesan chicken cutlets and warm mustard potato salad
Serves 2
Chicken:
1 lb. of thinly sliced chicken cutlets
1 egg, scrambled
3 Tbsp grated parmesan cheese
2 Tbsp fresh rosemary leaves, finely chopped
1/2 cup bread crumbs (or my favorite kinda-bread-crumbs, crushed Ritz crackers)
Salt and pepper
Nonstick cooking spray
Potato salad:
2 cups small new potatoes, cut into bite-sized pieces
1 Tbsp Dijon mustard
Salt and pepper
2 tsp red wine vinegar
1 tsp olive oil
Preheat oven to 375 degrees.
Put egg in shallow dish and scramble well. In another shallow dish, combine parmesan, bread crumbs, rosemary, salt and pepper. Dredge cutlets in egg and then bread crumb mixture. Place on a greased baking sheet and bake for 10 – 12 minutes or until chicken is cooked through and breading is browned.
Meanwhile, boil water in a large pot. Add potatoes and cook for approximately 16 – 18 minutes or until potatoes can be easily pierced with a fork. Drain potatoes and return to pot. Add mustard, red wine vinegar, oil, and a pinch of salt and pepper. Stir to combine. Serve warm alongside chicken and a green vegetable.