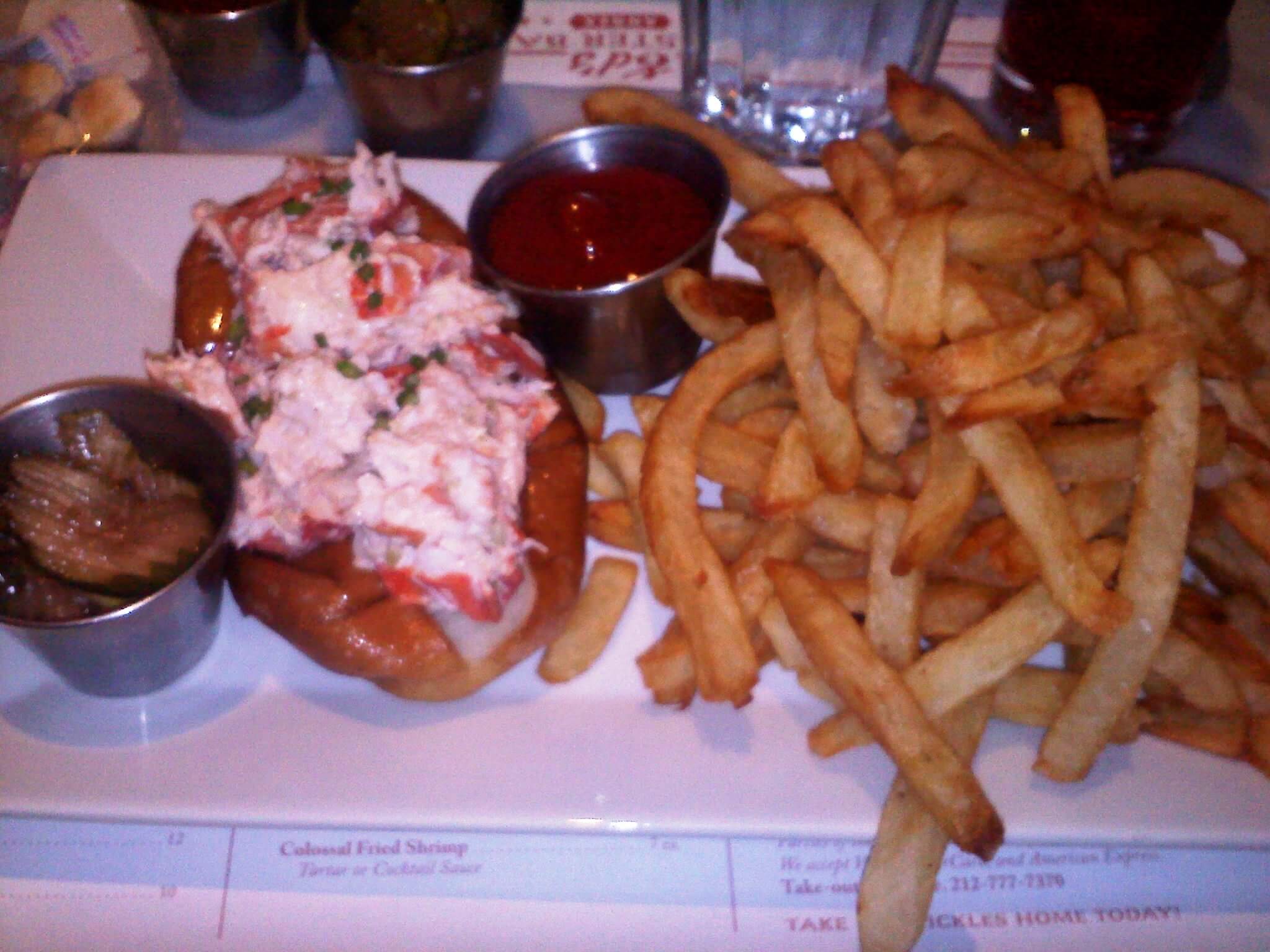 We've had the wonkiest weather ever in New York for the past few months, and the warmer temperatures have definitely affected my appetite. Not affected as in like, I lost it (that is reserved only for the most traumatic of traumas, I assure you) but in the way that I've been craving summer foods before I'm supposed to. Case in point: the lobster roll. In the interest of full disclosure, I used to work very close to a little spot that sold lobster rolls for $10 and I used to go a sickening amount. Thank God I don't work at that job anymore… my cholesterol can't take it anymore.
Anyway, I was craving a lobster roll like I can't even tell you, so I Googled "Best lobster rolls in NYC" and came up with the list of usuals: Luke's Lobster, Red Hook Lobster, and one I'd never heard of: Ed's Lobster Bar. I took a look at their menu… and I was sold. If you don't like lobster or seafood in general, please don't go to this place. You'll simply clog it up for those of us who live for the stuff.
Ed's Lobster Bar Annex, 25 Clinton Street (btwn Stanton St and E Houston St), New York, NY 10002. Ed McFarland, owner of Ed's Lobster Bar, is a Staten Island Native who grew up in pizza parlors and later graduated from the French Culinary Institute. He worked all over, in esteemed kitchens throughout the city, until he opened up his own place. Ed's Lobster Bar (the original) is located on Lafayette between Broome and Spring and offers a more refined menu of full lobster entrees. The Annex, where I dined last weekend, has more of a low-key, relaxed maritime vibe with menu offerings such as lobster meatball sliders, mini lobster thermidor pizzas, and shrimp tacos. During the summer months they have an outdoor patio where you can sit and sip a cold white wine with your seafood. Note: the annex only serves wine and beer.
On the menu:
Prosecco rose
Little Neck Clams
Lobster rolls with chips and housemade pickles
Verdict: Oooooh lobster lobster love of my life. This had to be one of the best, if not THE best lobster roll I have ever had. Three words: butter soaked bun. That's right. Just in case you were thinking, "Oh no, where's the butter to dip all the giant chunks of lobster in my lobster roll?" Ed's has you covered. The bun is literally brushed and semi-soaked in butter. I had to stop myself from licking the plate. I could've even done without the fries… maybe substituted it with more lobster? And as a side note, they make their pickles on premises and they are spicy and sweet and I ate so many I burnt my tongue. …I'm not joking. In addition to the amazing food, the staff was super laid back, informed, and efficient. I'll be back, Ed. I'll be back.