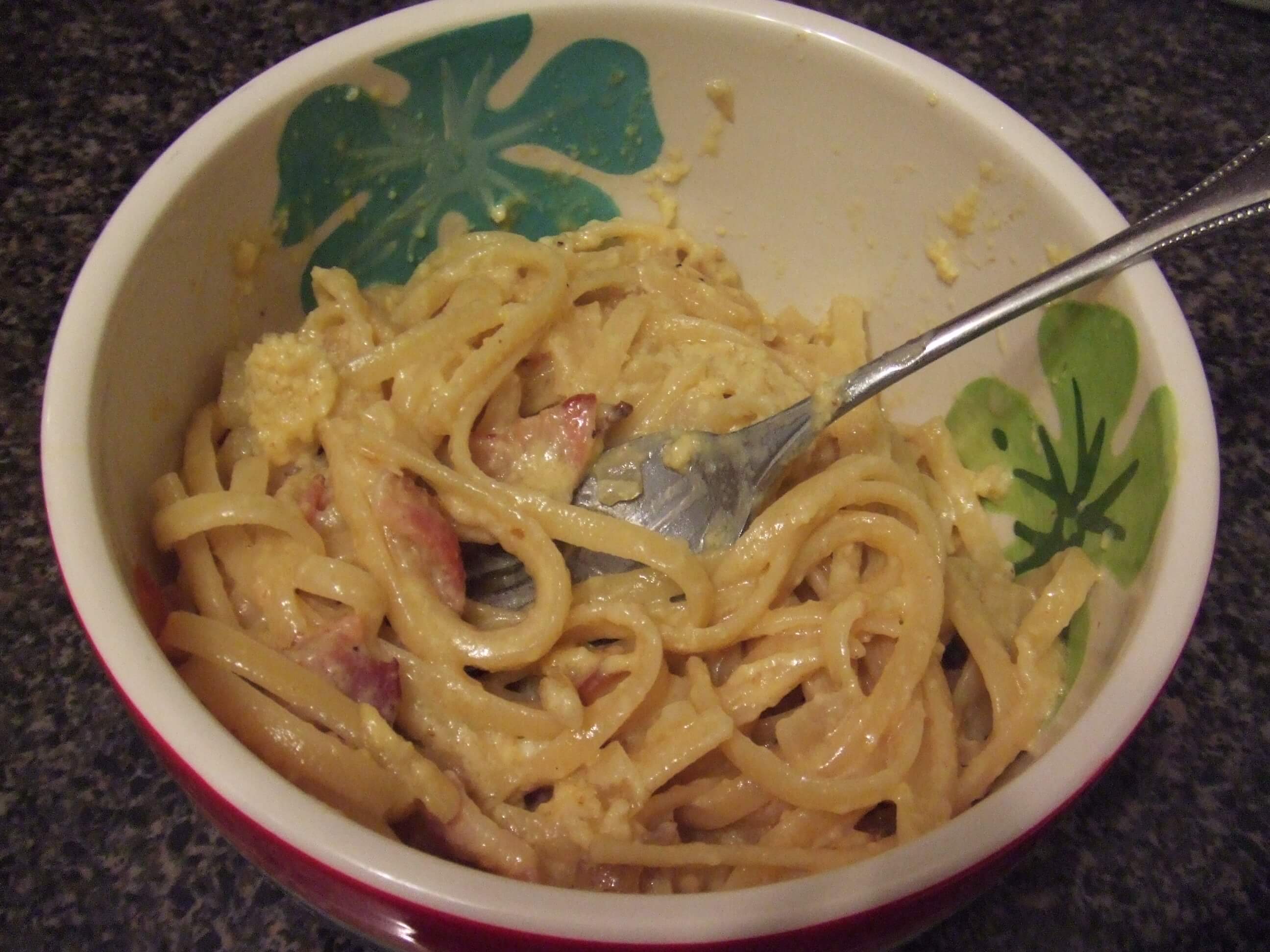 If you haven't already guessed, comfort food is a theme in this blog. And in the past few months, it's all I've been craving. I can scroll through pages and pages of recipes for beet salads with arugula, light and refreshing white fish with citrus garnish, and quiches loaded with vegetables. But when all is said and done, I find myself in my kitchen making rice and pasta. Gemelli with mascarpone, risotto with parmesan, penne with tomatoes and vodka, spaghetti with butter. I'm thinking of opening Lauren E.'s Pasta and More Restaurant (heavy on the 'pasta,' light on the 'and more').
Talk to me in April and maybe I'll be posting endless recipes for gazpacho and chicken salad, but for today, it's linguine with bacon. Don't worry, friends, it's not bathing suit season yet.
On the menu: Linguine Carbonara
½ pound linguine
5 strips bacon
1 Tbsp. olive oil
4 cloves garlic, sliced
1 shallot, roughly chopped
2 eggs
½ cup heavy cream (or half and half)
½ cup parmesan cheese, grated
2 teaspoons freshly grated black pepper
Boil pasta until al dente, around 9-10 minutes (reserve ½ cup pasta water). Meanwhile, fry bacon in non-stick skillet until crisp. Let rest on a paper towel and trim any exceptionally fatty bits. Roughly chop bacon. Discard bacon grease. Add olive oil to the same skillet and over medium heat, cook garlic and onion until lightly browned. Add drained, al dente pasta to the skillet and cook for one minute, tossing a few times so it doesn't stick. In a small bowl, whisk together eggs, cream, and grated parmesan. Over low heat, slowly pour egg mixture over pasta in skillet, constantly tossing with tongs so the eggs don't scramble (if you only have a spatula, that works, too but be very careful to constantly scrape the bottom of the pan so you don't have a layer of cooked egg under your noodles). Toss over low heat until the sauce thickens and sticks to the noodles. Add the bacon and black pepper, toss until everything is heated through.
Yum, cheesy pasta. Yum.