I feel I have to start off with an apology for this sad picture. These waffles do not look very appetizing, but lately I've had this food-blogger-problem where I eat everything before I photograph it. And honestly, who wants to read a post about food if they can't see what it looks like first? I know this, friends, because I am of the same ilk. So while I missed out on sharing a zucchini, sun dried tomato, lemon ravioli, and a skillet lasagna, I couldn't miss out on sharing this one, too.
I used cherries in this recipe because I found them at a little bodega for $1.25 a pound (A DOLLAR TWENTY FIVE A POUND! Thank you, Queens!) and had a surplus. But you could use any ripe, sweet berry.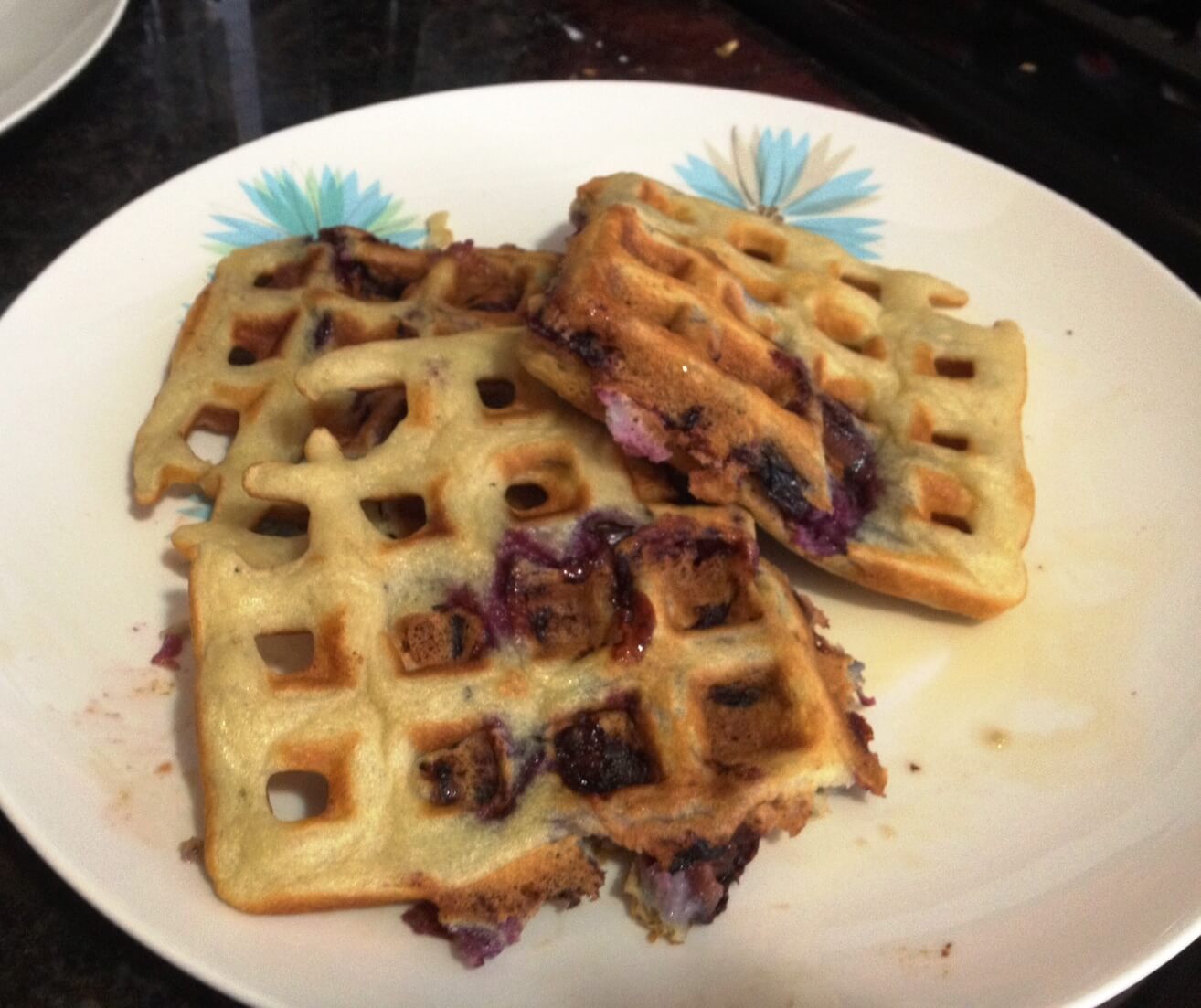 On the menu:
Cherry vanilla waffles
Makes 2 full sized Belgian waffles
NOTE: You will need a waffle iron for this! I have no idea how you'd do it without one. Sorry Charlie.
1 1/3 cups flour
4 tsp baking powder
1/2 tsp salt
2 tsp sugar
8 Tbsp egg whites*
1/2 cup butter (1 stick) melted
1 3/4 cups milk
1 Tbsp vanilla extract
1 cup cherries, pitted and quartered
Preheat your waffle iron.
Combine dry ingredients in a large bowl and whisk together. Add melted butter, vanilla, and milk and blend until combined. In a separate bowl, beat egg whites with an electric mixture just until stiff peaks form. Fold egg whites into the batter just until incorporated. Add cherries and stir until evenly distributed in the batter.
Pour 2 full cups of batter onto the griddle, adding a bit of extra just so the batter reaches the far corners of the iron. Cook each waffle according to your iron's specifications. Top with butter and maple syrup, or lemon curd, or powdered sugar, or just eat them straight off the griddle. Not that I would do that. Just saying.
*Note: the original recipe that I based this on (from Food.com) calls for 2 eggs, separated. I think using all egg whites gives the waffles a lighter texture and I usually have a carton of egg whites in my fridge. If you do want to use 2 eggs, just separate the egg and yolk, add the yolk into the dry ingredients during Step 1, and follow the rest of the directions as written regarding the egg whites. Still easy and still delicious!