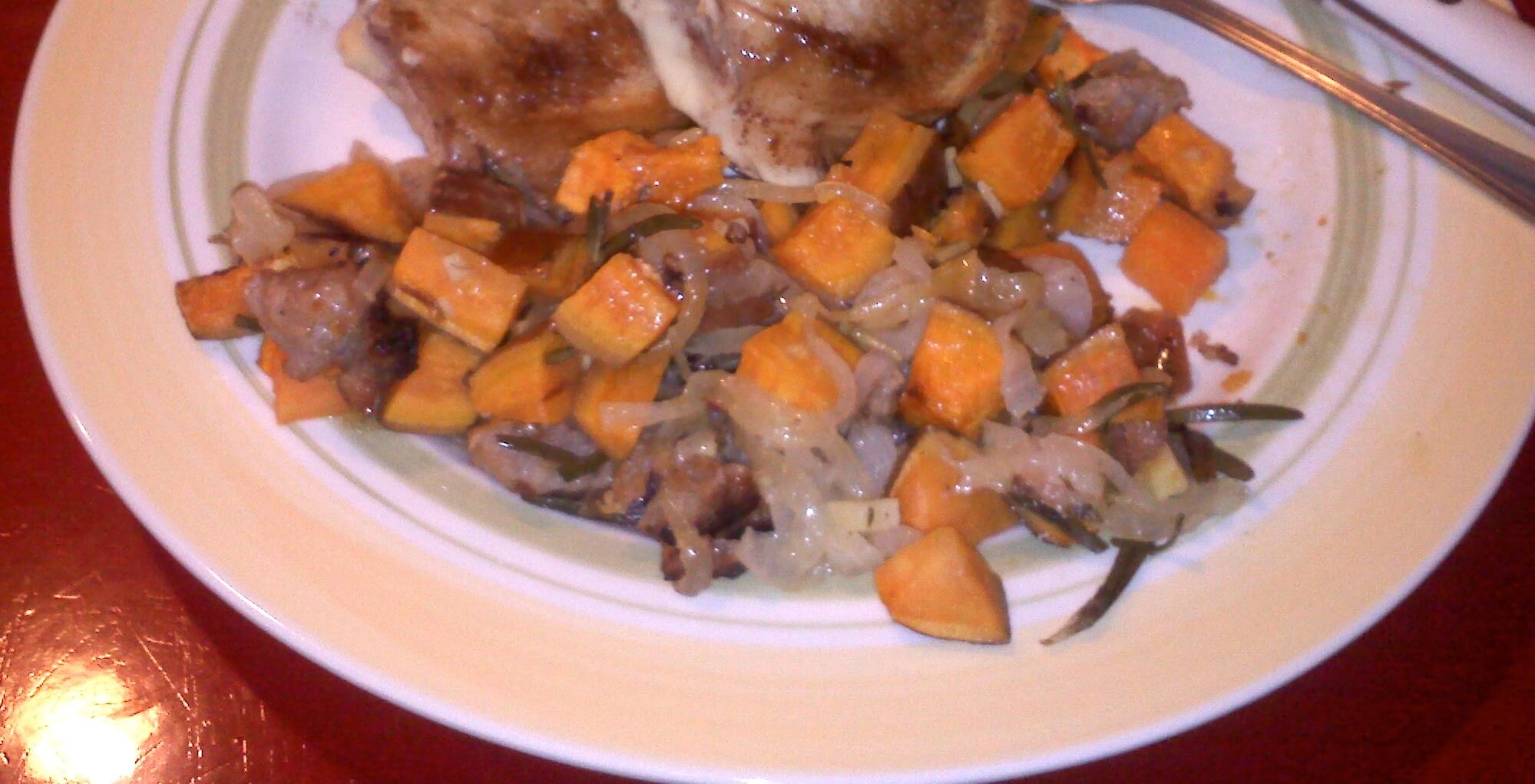 It wouldn't be right to post at all about anything this week without mentioning last week's East Coast hurricane. The BF and I were incredibly lucky to get through it completely unscathed but I know we're in the minority. Don't forget, if you haven't already, to donate money, supplies, or your time in any way you can. Find out how here.
In happier news, this hash is DELICIOUS. It's from The Kitchn and the recipe has been sitting in my "To Make" list for over a year now. It seems like there's always someone I'm cooking for who doesn't like meat, or sweet potatoes, or onions. But this past weekend I had some dear friends in town and they eat anything (my favorite kind of friends, mind you) so it seemed like the perfect time to finally try it out.
On the menu:
Sweet potato, sausage, and onion hash
Adapted from The Kitchn's recipe here
Serves 6 – 7
2 large onions
4 medium sized sweet potatoes, skins on and diced to 1/2 inch cubes
1 pound sweet Italian sausage
6 large cloves of garlic, minced
4 long stalks of rosemary, minced
3 Tbsp olive oil
Salt and pepper to taste
6 – 7 large eggs (1 per person)
Preheat oven to 450 degrees. Cover a large baking sheet with foil.
Cut onions in half and then slice each half into thin half moons. Heat a medium sized frying pan over medium heat and add onions, stirring occasionally until the onions cook down and start to brown, about 30 minutes.
Meanwhile, in another frying pan, cook the sausage over medium/high heat for around 15 minutes, breaking the sausage apart so it's in small, crumbly pieces.
Once the onions and sausage are cooked, in one large bowl add sweet potato chunks, sausage, onions, minced rosemary, minced garlic, and olive oil and toss until everything is coated in olive oil. Spread on the covered baking sheet (don't worry if it's not in a single layer, it doesn't really matter). Roast in the preheated oven for 4o minutes, or until sweet potatoes are easily pierced with a fork.
In a large frying pan, fry the eggs just until the outside is cooked and the center is still runny. Top each serving of hash with a fried egg.
NOTE: The Kitchn's recipe has a lengthy second step where you cook the eggs over the hash in a skillet for 20 minutes, but to me that just meant a lot of extra time and another dirty dish. It looks lovely, but ultimately felt unnecessary.
And lastly… that photo above is missing the egg. I was last to eat (the cook eats last!), and I was too lazy to crack another egg. But the hash looked nice so, voila.