This past weekend I went all out and made a super special dinner as a thank you to two friends. I wanted the dinner to be out-of-this-world memorable, and with dishes we don't eat everyday. I remembered that I had a recipe for pork shoulder tucked away in my inbox and this seemed like the perfect opportunity to try it out. I called my local pork store, Sorriso's, ordered a four pound pork shoulder, and annoyed everyone in my presence for two solid days talking about how great this dinner was going to be.
The dinner was comprised of four main dishes, and I'll be sharing them over the course of the week. Just so y'all know, none of this was very complicated but it came together to be a pretty epic dinner. Four bottles of wine didn't hurt anybody, either.
On the menu:
Bourbon and brown sugar glazed pork shoulder
Serves 4 – 5
1 Tbsp paprika
1 1/2 tsp red pepper flakes
1 1/2 tsp cayenne pepper
1 Tbsp salt
1 Tbsp ground black pepper
4 1/2 pound bone-in pork shoulder*
Glaze:
2 1/2 cups light brown sugar, loosely packed
1/2 cup bourbon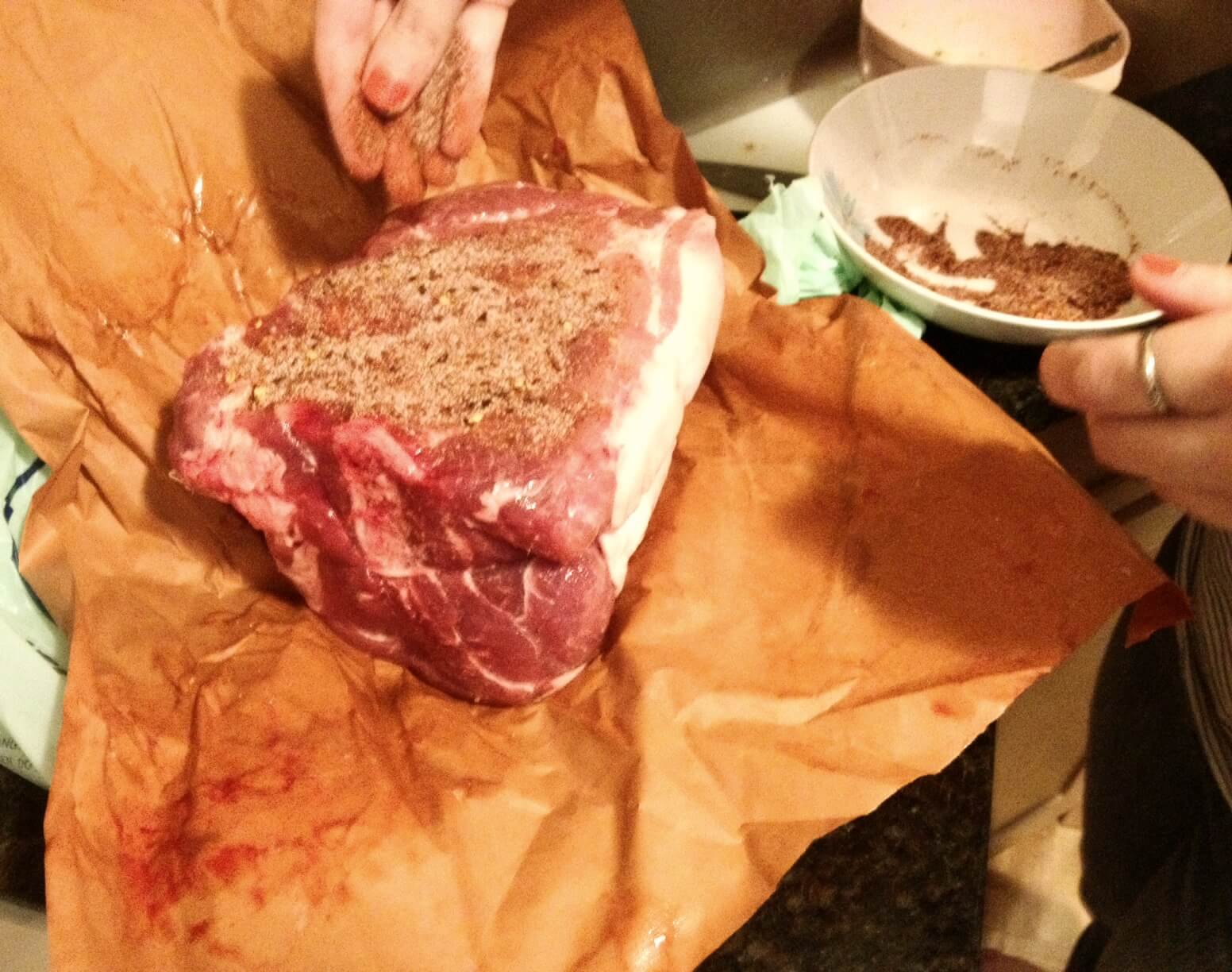 Preheat oven to 275 degrees.
Mix together paprika, red pepper flakes, cayenne pepper, salt, and pepper in a small bowl. Rub the pork shoulder all over with the spices and let sit 30 minutes.
Set pork in a roasting pan and put in oven for around 5 hours, or until the bone moves around easily with little to no resistance.
When the pork has been in the oven for 4 hours and 45 minutes, start making the glaze. Mix together the brown sugar and bourbon in a small saucepan and turn heat to medium/low. Simmer the sugar and bourbon for around 8 to 10 minutes or until reduced by 1/4.
Brush 1/3 of the glaze over the pork shoulder and return to oven. Glaze twice more, every 10 minutes. After 30 more minutes of roasting, remove the pork from the oven. Let sit for 15 minutes before pulling meat off the bones and serving. Serve over basic polenta or mashed potatoes.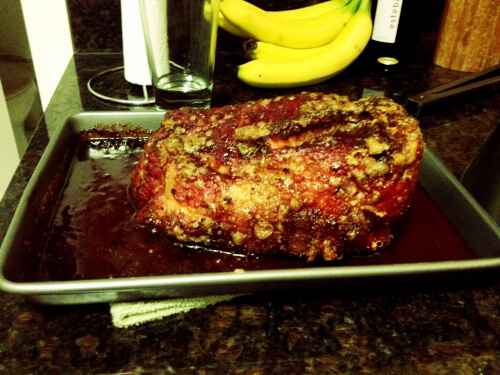 *It's worth mentioning that pork shoulder is kinda pricey, but well worth the money. A cheap pork shoulder will yield tough meat, and you definitely want this to be as moist and juicy as possible.