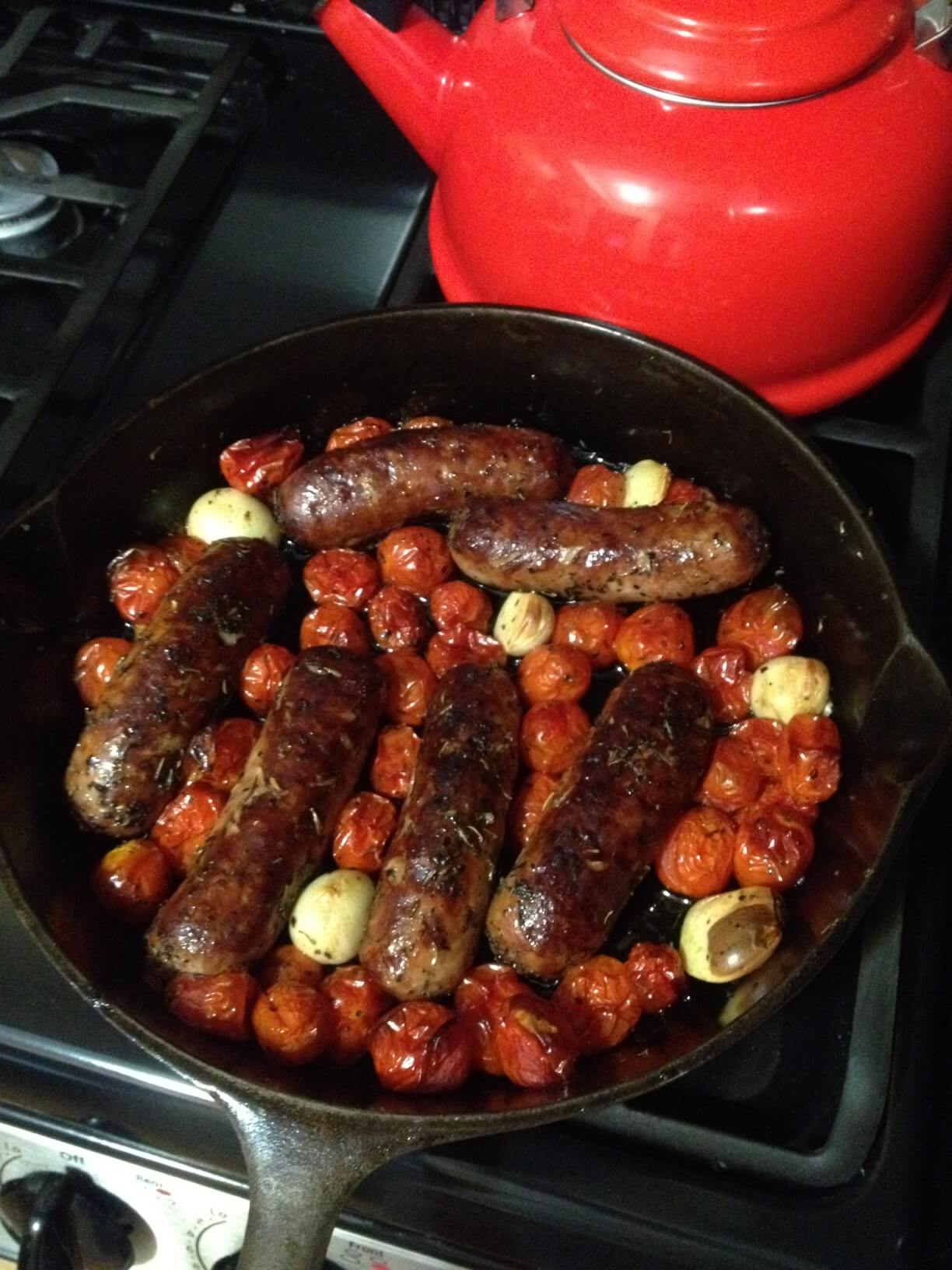 This meal requires such little preparation, I will probably make it every week from now until I start to smell like sausage. Remember, I'm trying to find a job so I don't want to smell like a sausage factory when I walk into interviews…
… do I?
In any case, this takes an hour to roast but about 5 minutes to prepare. All you need is a roasting pan or an ovenproof skillet and you're good to go.
On the menu:
Sausage with garlic and cherry tomatoes
Serves 2 – 3
1 lb sweet Italian sausage
2 cups cherry or grape tomatoes, washed
1 head of garlic, cloves separated and unpeeled
1/4 cup olive oil
3 Tbsp balsamic vinegar
2 tsp dried basil
2 tsp dried thyme
1 tsp salt
1 tsp pepper
1 cup small pasta (such as orzo) or white beans or wilted greens to serve the dish over, cooked according to box directions
Preheat oven to 425. Prick each sauce a few times on each side with a sharp knife or toothpick.
Add sausage, cherry tomatoes, garlic cloves, and spices to a roasting pan or ovensafe skillet. Pour over olive oil and balsamic vinegar. Using your hands*, toss until the herbs are distributed and everything is coated in olive and vinegar. Make sure everything is in one solid layer in your pan or skillet. Bake for 30 minutes. Flip sausage and roast for another 30 minutes. Serve over small pasta or beans or wilted greens. Splash a tiny bit more balsamic if desired.
*Do not use a spoon and deprive yourself of the slippery, crazy-cool feeling of tossing all this together with your hands. You're giggling thinking about tossing slippery sausage with oil (hardy har har) but sexual undertones aside, it just feels so dang cool! Seriously. Okay, you're still laughing. Fine fine, the cheese stands alone.