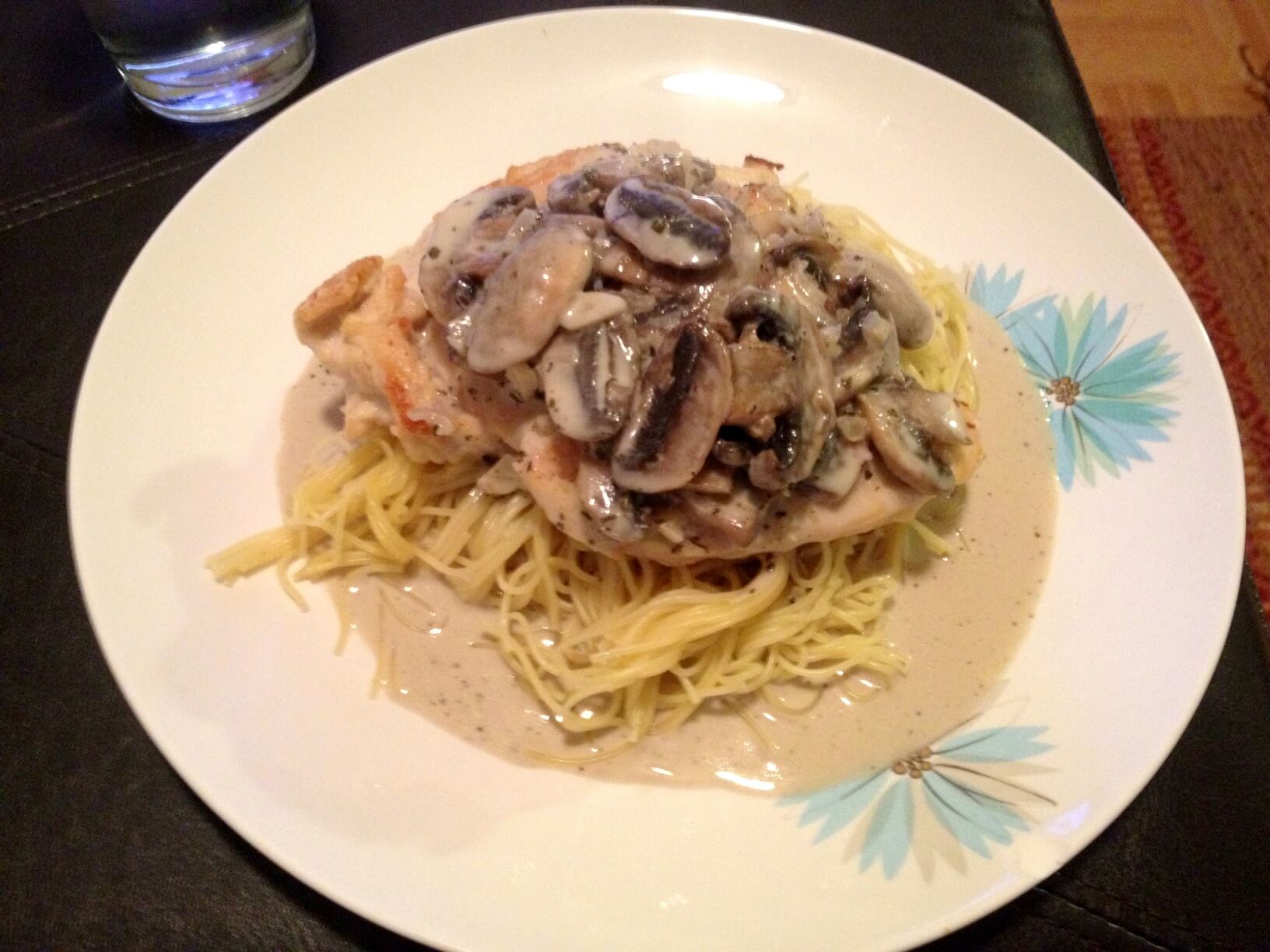 I've been told my strength is sauces. My Caesar salad dressing is divine, my vodka sauce could make grown men cry, and last night I perfected another: marsala. There is something so rich and deep about this sauce, it tastes like you cooked for hours to achieve it. Truth: it takes 45 minutes tops.
Note: this is a recipe that looks kind of involved, but it's really not. Just read the whole thing before you start so you know which step comes when, and so your whole meal finishes at the same time.
On the menu:
Chicken marsala
Serves 2 – 3 (truth be told, this was too much for just 2 of us but if you're serving 2 big eaters, then this might be perfect for 2)
2 large chicken breasts, cut in half length wise and pounded to 1/2 inch thick
1/4 cup flour
2 Tbsp olive oil
1 3/4 cups chicken broth
2 Tbsp butter
1 large shallot, finely minced
2 cloves garlic, finely minced
10 oz. white mushrooms, roughly chopped
1 tsp dried rubbed sage
1/4 tsp salt
1/2 tsp freshly ground black pepper
1/2 cup Marsala wine
2/3 cup heavy cream
1 tsp fresh squeezed lemon juice
1/2 pound angel hair pasta
Preheat oven to 350 degrees.
Get a large pot of salted water boiling (for pasta).
In a small saucepan, boil chicken stock uncovered until reduced to 1/2 cup. Once cooked down, turn off heat and set aside.
In a large skillet, melt butter over medium heat. Add minced shallots and garlic and cook for 2 minutes or until fragrant. Add mushrooms, sage, salt and pepper and cook for around 6 – 8 minutes or until mushrooms have cooked down. Remove from heat and reserve.
In a shallow dish, spread out the flour. Liberally salt and pepper each piece of chicken and dredge in flour, shaking off excess. In a large frying pan, heat olive oil over medium heat. Cook each piece of chicken for 1 – 2 minutes, just until browned on each side. Place on a foil-lined baking sheet and finish the breasts off in the oven, baking for 7 – 8 minutes.
Meanwhile, in the same large skillet the mushrooms cooked in, add marsala wine and bring to a simmer, scraping off all the little brown bits from the shallots and garlic. Cook for 1 – 2 minutes or until the liquid reduces by half. [Now is a good time to start cooking your angel hair pasta!] Add reduced broth, cream, and mushrooms and stir. Let liquid simmer for 10 minutes. Stir in lemon juice.
Plate pasta, then chicken, then top off with sauce. Serve hot.