Even though the temperatures in New York feel more like June than October, I can not help but crave everything pumpkin. I suddenly remembered a point last year when I went to the grocery store to get a can of pumpkin and they were sold out. I would not let that happen again. Thankfully, they were fully stocked and I am now the proud owner of six cans of pure, delicious pumpkin. Don't judge.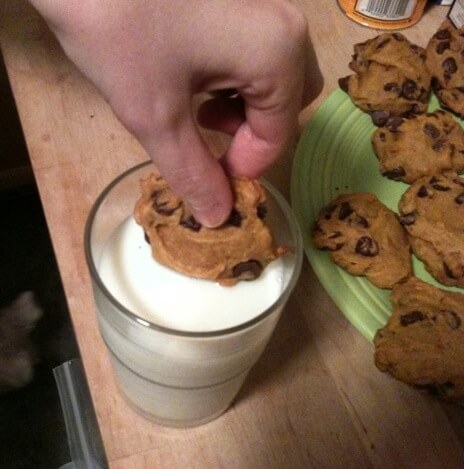 On the menu:
Pumpkin chocolate chip cookies
Adapted from this recipe at AllRecipes.com
1 cup pure canned pumpkin
1 cup sugar
1/4 cup vegetable oil
1 egg
2 cups flour
2 tsp baking powder
2 tsp ground cinnamon
1 tsp ground nutmeg
1/2 tsp salt
1 tsp baking soda
1 tsp milk
1 Tbsp pure vanilla extract
2 cups milk chocolate chips
Preheat oven to 350 degrees.
Mix together pumpkin, sugar, vegetable oil, and egg. In a separate bowl, soft together flour, baking powder, cinnamon, nutmeg, and salt. Dissolve the baking soda in the milk. Add to the flour mixture. Add flour mixture to the pumpkin mixture until completely blended. Add vanilla and chocolate chips.
Drop cookies by spoonful onto a greased cookie sheet. Bake for 10 – 12 minutes, or until the edges are brown*. Let cool for at least ten minutes, or until you literally can not take it anymore. Pour a glass of milk. Eat your cares away.
*Note: these cookies are like little pillows of heaven, soft and cakey and essentially perfection. They will still be soft when you pull them out of the oven. Also, they do not spread so you can put them close together on the tray.