I cook because I love food, but I also cook because I love making other people happy via food. One time my friend Meagan came over around dinner time when I had made mac and cheese, and proceeded to eat three bowls of it. I couldn't have been happier. There is no higher compliment to a cook than guests going back for seconds.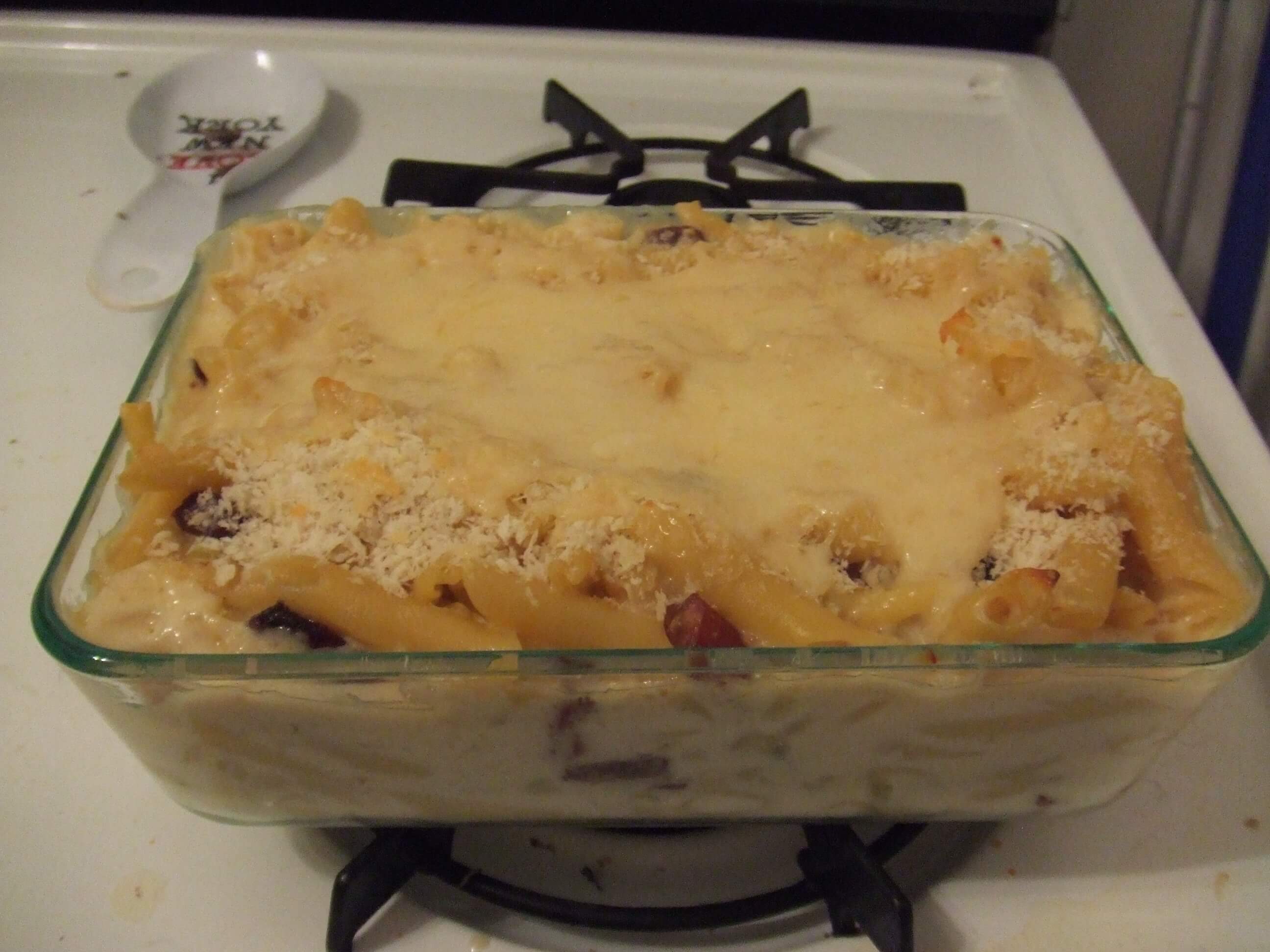 On the menu:
Mac and cheese with pancetta (adapted from Bon Appetit)
Serves 6 as a meal, 10 as a side
6 tablespoons butter, divided
4 ounces thinly sliced pancetta, coarsely chopped
1 cup onion, finely chopped
3/4 teaspoon red pepper flakes
1 garlic clove, minced
1/4 cup flour
3 1/2 cups (or less) whole milk
2 cups coarsely grated sharp cheddar cheese
1 cup finely grated Parmesan cheese
8 oz. mascarpone cheese
1/2 cup panko (Japanese breadcrumbs)
1 pound macaroni (any medium-sized pasta will do: penne, orecchiette, gemelli, etc. – I used penne and gemelli here because it's all I had in my pantry)
Preheat oven to 350 degrees, and get a large pot of salted water boiling for pasta. Melt 1 tablespoon butter in large deep skillet over medium-high heat. Add pancetta; sauté until crisp, about 6 minutes. Add onion; sauté until tender, about 5 minutes. Add crushed red pepper and garlic; stir 1 minute. Stir in 3 tablespoons butter; allow to melt, then add flour and stir 1 minute. [Now is a good time to start cooking your pasta – cook until al dente] Gradually whisk in 1 cup of milk; simmer until thick enough to coat spoon thickly, stirring frequently, about 5 minutes. Remove from heat. Whisk in all cheeses. Whisk in more milk by 1/4 cupfuls until sauce is thick but pourable. Season with salt and pepper.
Melt 2 tablespoons butter in large nonstick skillet over medium-high heat. Add panko and stir until very light golden, about 5 minutes. Remove from heat. Lightly butter 13x9x2-inch glass baking dish. Add warm cheese sauce to drained al dente pasta; toss to coat. Transfer mixture to prepared baking dish. Sprinkle crumb mixture evenly over. Bake mac and cheese until heated through and topping is golden brown, about 30 minutes. [I added a little more cheddar to the top of mine, because I really, really like cheese… but if you're trying to avoid a heart attack, maybe leave off the extra]