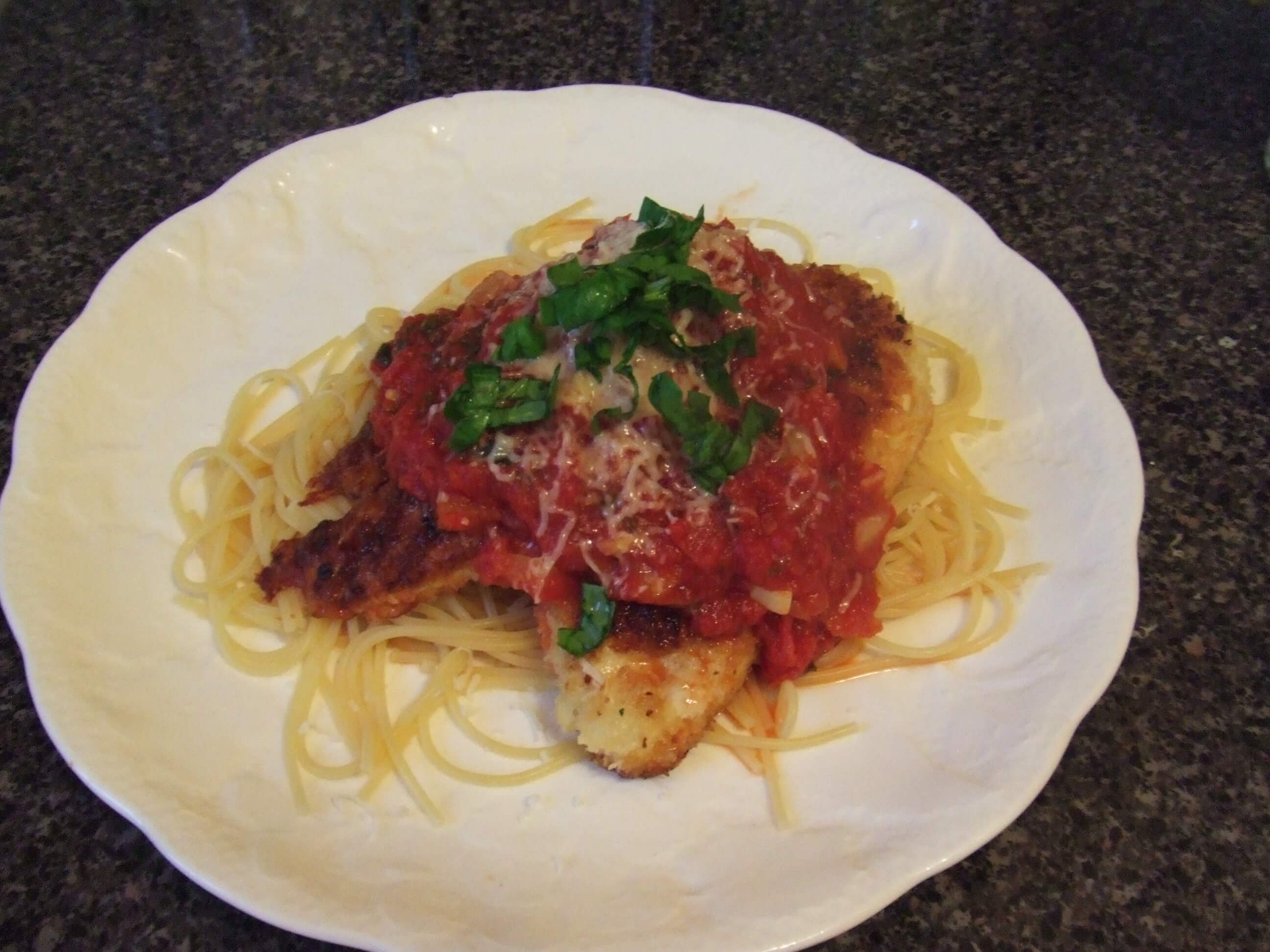 A lot of times, all I want for dinner is something simple, something that will take me 20 minutes and minimal ingredients, and something that will fill me up and leave me happy. So here is a simple tomato sauce recipe that takes almost zero effort and can be used in everything from lasagna to chicken parm. And if you're cooking for one, you can make the full batch and freeze what you don't use for the next time you want something quick and easy. Way better than takeout and way more satisfying than a jar of Prego.
On the menu:
Parmesan chicken with tomato sauce over pasta
Sauce:
Makes 3 cups
1 Tbsp olive oil
4 garlic cloves, minced
1/2 cup yellow onion, finely chopped
1/2 cup fresh basil, 1/4 chopped and 1/4 chiffonade for garnish
1 tsp red pepper flakes
28 oz crushed tomatoes
salt and pepper to taste
Add olive oil, minced garlic, chopped onion, and chopped basil to a cold pot. Turn the heat to medium and stir until the ingredients in the pot are fragrant, about 10 minutes. Once the aromatics are fragrant, add the tomatoes and turn the heat down to low. Cook the sauce for around 5 minutes, taste, and add salt to taste. Let sauce simmer for another 15 minutes.
Chicken:
2 boneless, skinless chicken breasts
1 egg
1/4 cup panko bread crumbs
1/4 cup grated parmesan cheese
1/4 cup flour
2 Tbsp olive oil
Pound chicken breasts so that they are each around 1 inch thick. Mix together panko bread crumbs and grated parmesan. Dredge chicken in flour, shake off excess. Dredge in egg, and then in parmesan/panko mixture. Heat olive oil in a pan over medium heat. Add chicken and cook on each side over medium heat, for around 8 minutes on each side or until cooked through.
Make pasta according to directions on the box. Plate pasta and chicken and pour sauce over the top. Grate more parmesan over the top and add chiffonade basil.