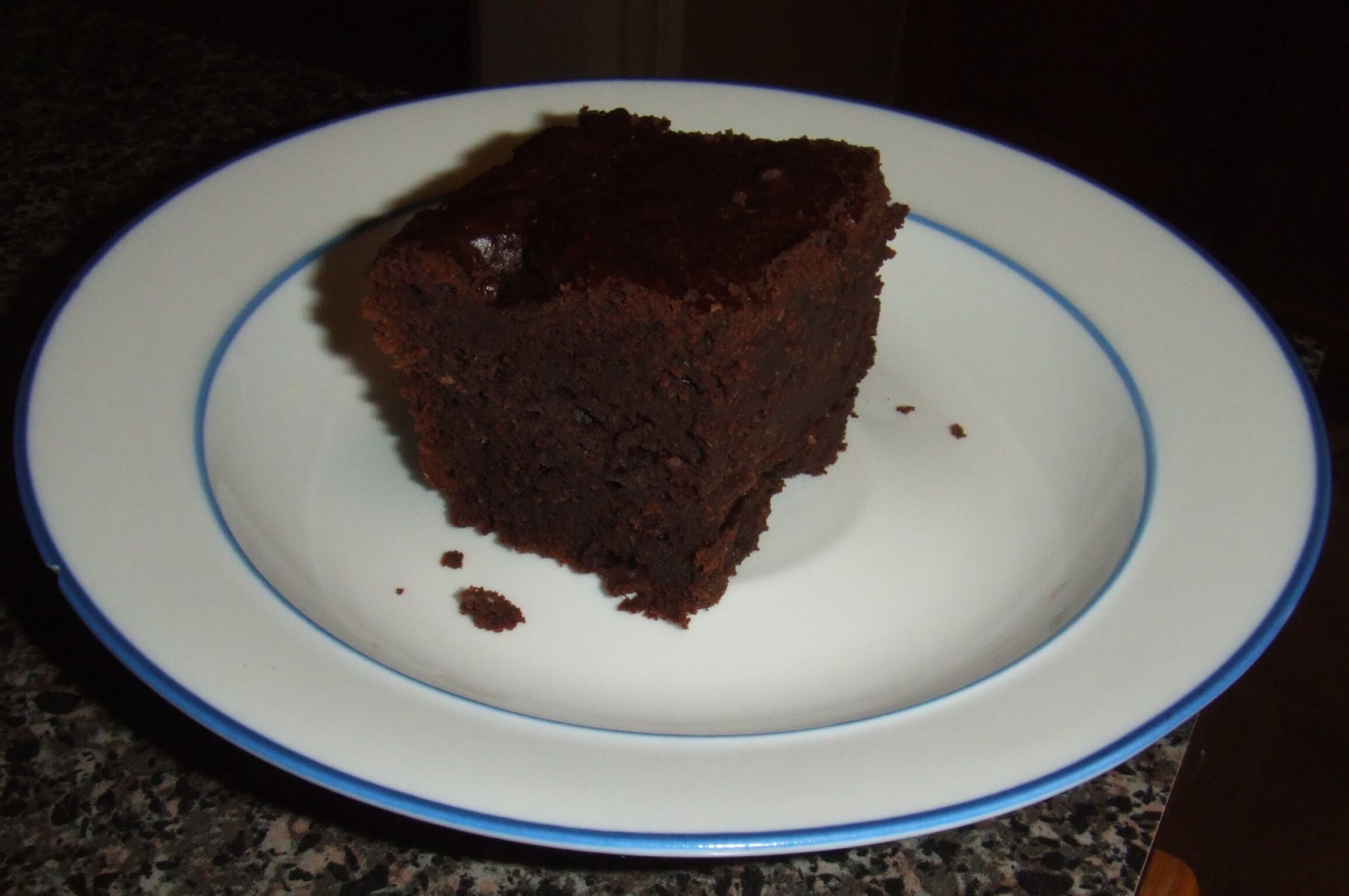 I've heard a lot of diet tricks. Drinking a cup of tea staves off hunger. Chewing a piece of gum can satisfy a post-meal sweets craving (seriously, Biggest Loser?? Gum?). An apple, full of fiber, makes you feel fuller.
I think these tricks are crap. When I want a piece of coconut cake, no stick of gum is going to make me think, "Man, now THAT was a meal-capper!" And when I think these tricks will work and I don't bring a little sweet treat with me to work for after lunch, I end up at the vending machine gorging on Twix and getting evil glares from my boss, who undoubtedly thinks I am some kind of sugar addict. So I thought, there must be some sort of less-sweet dessert recipe out there that will satisfy my sweets craving and also not have 1,000 calories per bite.
On the menu:
Dark chocolate brownies (Adapted from Ellie Krieger's Dark Chocolate Brownies)
Disclaimer: these are not your typical Duncan Hines fudgy, oily brownies. If you're looking for a square of decadence, this is not it. But these are chocolatey, they are cakey, and one little square is enough to make me feel contented and sufficiently sleepy at 3PM. And that's all I'm asking for.
8 oz. bittersweet chocolate
2 Tbsp butter
1/2 cup whole wheat flour
1/2 all-purpose flour
1/4 cup unsweetened cocoa
1/4 tsp salt
1/4 tsp baking soda
2 eggs
1 cup brown sugar
1 Tbsp canola oil
6 oz. plain yogurt (one small container)
1/2 cup unsweetened apple sauce
2 tsp vanilla extract
Preheat oven to 350 degrees. Melt butter and chocolate in a double boiler, or in a glass bowl over a pot of simmering water, stirring occasionally.
In a separate bowl, whisk together flour, cocoa, salt, and baking powder. In another separate bowl, whisk together eggs and sugar. Add yogurt, applesauce, vanilla, and oil to eggs and sugar. Add the melted chocolate mixture to the other liquid mix. Add dry ingredients to wet ingredients and mix until the batter is completely moistened.
Grease a 9 x 13 baking dish. Pour batter into baking dish and bake for 20-25 minutes, or until a toothpick comes out clean.
*I had to use a slightly smaller baking dish, and ended up baking these for 45 minutes, so do keep an eye on them. If you bake them for too long they will be dry and inedible. Gross.
As I said, these are not your Betty Crocker standbys; but they are sweet and cakey and only my thunder thighs will know the difference.