Breakfast is hands down my favorite meal of the day. Dinner is a close second, (followed by the "cold sandwiches suck" middle meal of lunch) but there is something about the sweet and savory meal that breaks the all-night fast that for me, really takes the cake. And when the rain outside is of Biblical proportions, I like to take to the kitchen in my pajamas and start the last day of the weekend with some good, good eats.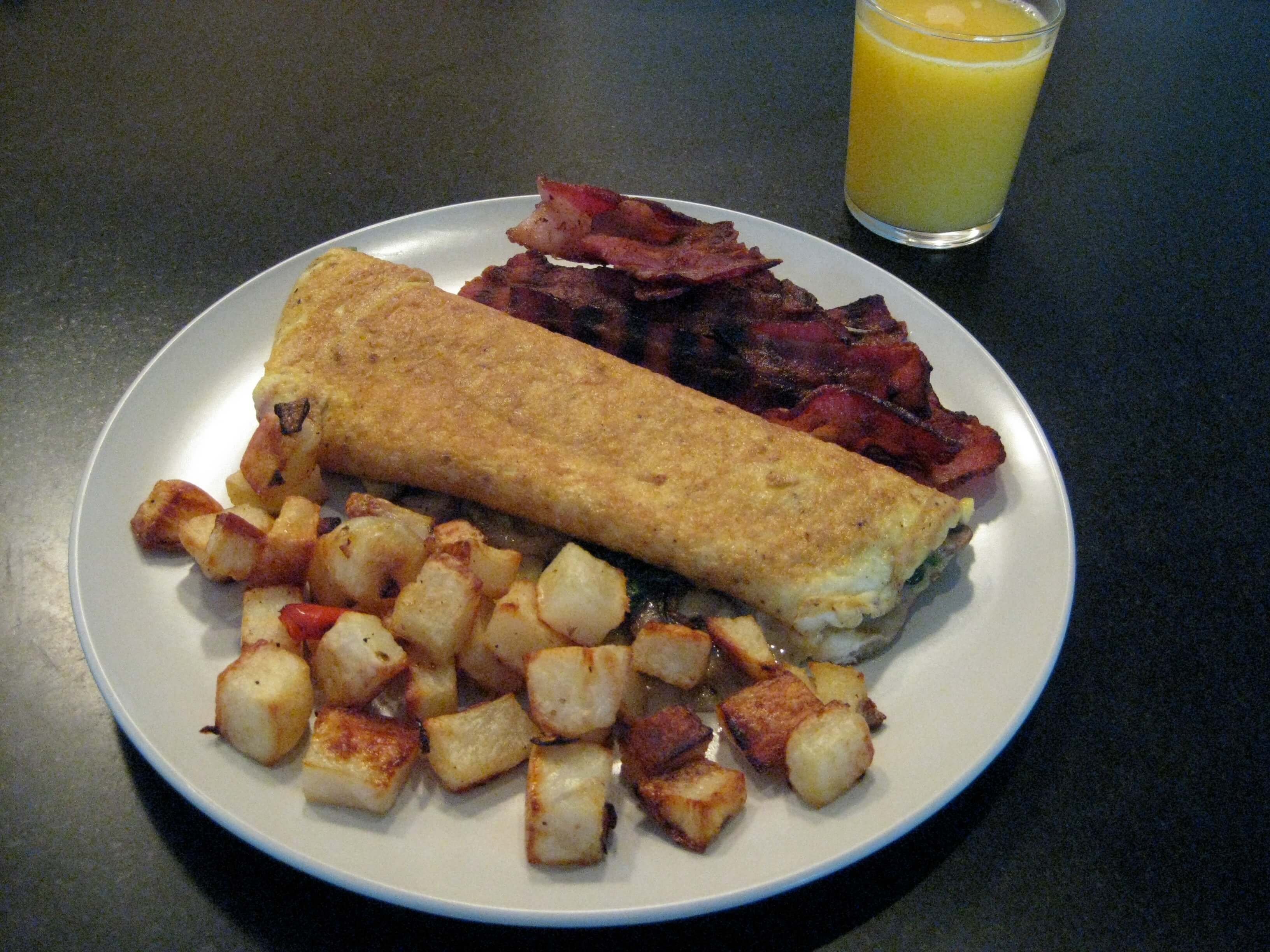 On the menu:
Goat cheese, mushroom, spinach, caramelized onion omelet
Homefries with peppers and onions
Crispy bacon
Orange juice
The omelet:
Serves 1
2 eggs
1 Tbsp milk
1/4 cup white mushrooms, slightly cooked over butter
1/8 cup caramelized onions* (see note)
1/8 cup cooked spinach
2 Tbsp goat cheese
salt and pepper to taste
Whisk together 2 eggs with a Tbsp of milk, salt and pepper. Pour egg mixture into a non-stick pan over medium heat. (NOTE: the non-stickness of your non-stick pan is integral. Your omelet will look TERRIBLE if it sticks. Use cooking spray if you need to). Rotate the pan so the egg spreads to all the edges of your pan. Once the omelet is almost entirely set, line up mushrooms, onions, spinach, and goat cheese in one line down the center of the omelet. Slowly fold one half of the omelet over the filling, repeat with the other side (like a tri-fold letter). Flip the omelet and cook for 2 additional minutes, until the egg is completely cooked through and the filling is heated.
*Note: caramelized onions are so easy to make because onions have a ton of natural sugar. All you have to do is thinly slice a Spanish onion and heat the slices in a frying pan for around 15 minutes, until the onion develops a nice golden color.
The homefries:
Serves 1
1 potato, cut into 1/2 inch cubes
2 Tbsp canola or vegetable oil
1/2 bell pepper, chopped
1/4 cup onion, chopped
salt and pepper to taste
Preheat oven to 375 degrees. Boil potato chunks for around 15 minutes, until you can stick a fork into one and it slides out easily. Drain potatoes. In a large bowl, toss potatoes with 1 Tbsp canola oil, and salt and pepper. Spread out on a baking sheet and bake for 30 minutes. Toss onions and peppers with canola oil and add to the baking sheet. Raise oven temperature to 400 degrees and bake potatoes, onions, and peppers for 15 minutes, until potatoes are crispy on the outside and the onions and peppers have softened.
After the meal I'm going to suggest a nap. Because the rain is still coming down, the smell of bacon still hangs in the air, and your bed is still warm with that perfect, disheveled mix of blankets, pillows, and rumpled sheets. And it don't get no better than that.