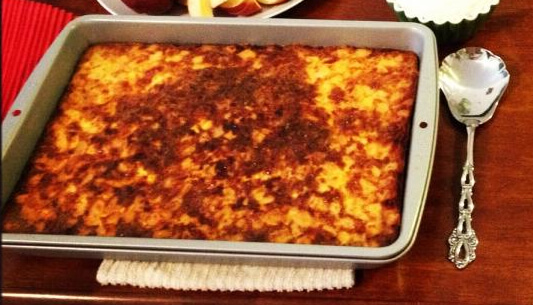 Growing up, I lived in a neighborhood where all the families were very close. One family's kids babysat for the younger families' kids, cups of sugar and milk were always being lent out, and when it came to Christmas time, all the families gathered in one house on Christmas Eve to enjoy brunch and the holidays together. Those brunches are some of my favorite memories, and it was never about the food (of which there was always tons). I decided to host my own little brunch this weekend in the spirit of the holidays… and of day drinking. Now that I'm older, I realize everything is more festive with champagne.
This week I'll provide you with recipes and tips to host your own holiday brunch that allows you to truly enjoy the company of friends and family without spending the entire party in the kitchen slaving over the stove. First on the week's menu list is a delicious, decadent, cheesy potato casserole that you can make the night before and pop into the oven the morning of brunch. Little work plus even less time? Hey favorite new recipe. Hey.
On the menu:
Cheesy hashbrown casserole
Serves 8 – 10
1 medium yellow onion, diced
1 Tbsp unsalted butter
2/3 cup sundried tomatoes, whole and oil packed
6 cloves of garlic, minced
9 large eggs
3 Tbsp dijon mustard
1 cup milk (preferably whole or 2%)
1 1/2 tsp salt
1/4 tsp freshly ground black pepper
2 cups shredded cheddar cheese
6 cups (roughly 1 1/2 pounds) shredded or cubed frozen hashbrown potatoes
Preheat the oven to 350 degrees.
In a skillet, melt the butter over medium heat just until the butter starts to brown. Add diced onions, garlic, and sundried tomatoes and cook until the onions are translucent. Pick out the sundried tomatoes with tongs and discard. Turn off the heat.
In a separate bowl, whisk together the eggs and mustard. Add the milk, salt, and pepper and whisk thoroughly. Fold in the cheddar cheese, frozen potatoes, and vegetables from the skillet. Mix until combined. Pour mixture into a greased 9 x 13 pan. At this point, you can refrigerate the casserole for up to 24 hours.
Bake for 35 – 45 minutes or until the top and sides are a golden brown. Serve hot.
NOTE: the original recipe from The Kitchn calls for thinly sliced sundried tomatoes that you do not pick out of the onions. I like the flavor they bring to the dish, but I'm not a fan of chewy sundried tomatoes… and neither are most people I know. The flavor is still there if you pick them out, but it's not overwhelming. Done and done.