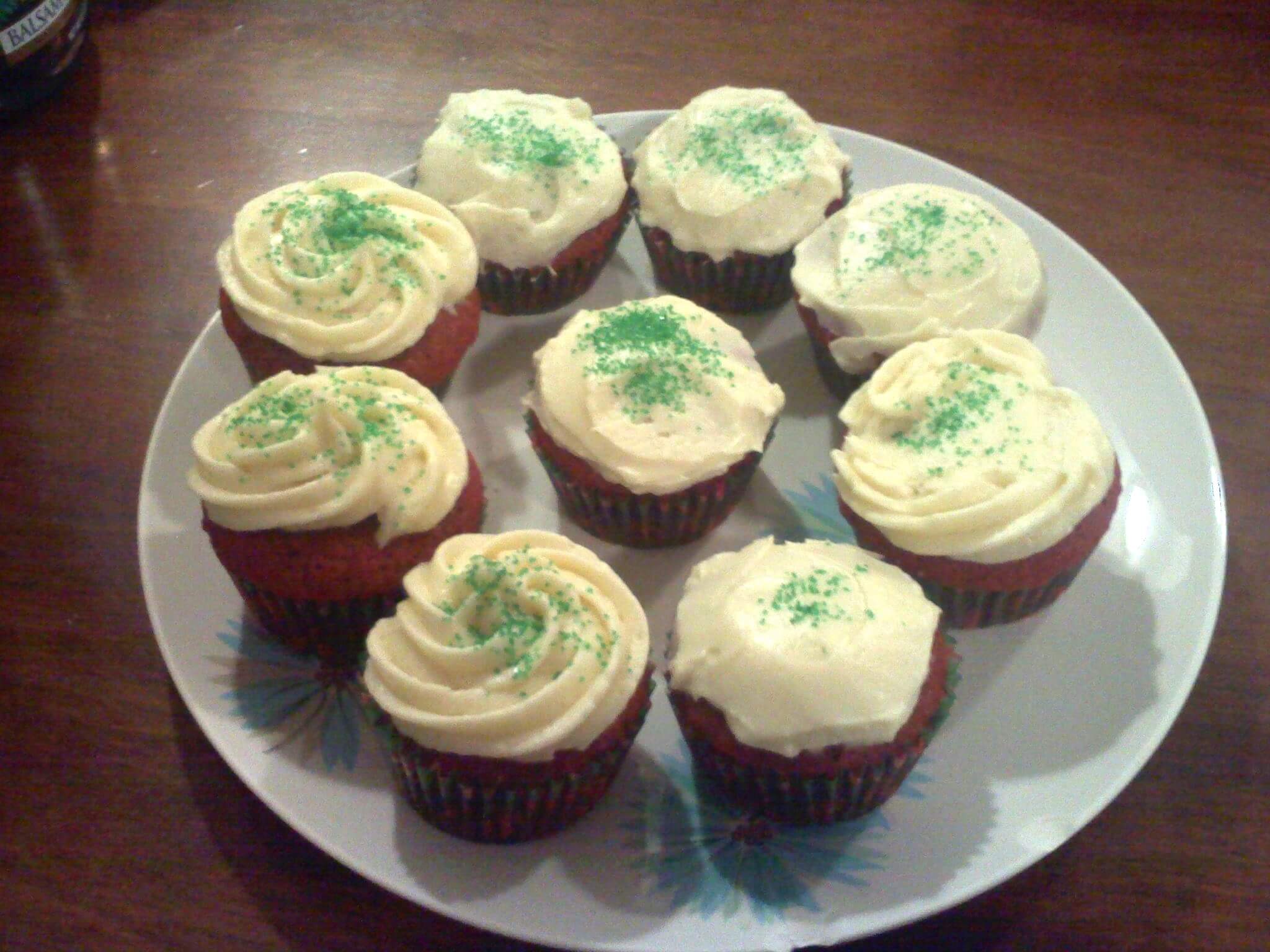 Red velvet cupcakes are a mystery to me… there is nothing really special about them aside from their color. They're basically barely-chocolate flavored cake with cream cheese frosting. But when I was trying to come up with a special little dessert for mine and The BF's honorary Christmas celebration (traveling on Christmas doesn't really lend itself to hauling around loads of gifts, ya know?), I couldn't think of anything more perfect than little red colored cakes. And besides that, The BF loves red velvet. So I took a crack at it, threw caution to the wind and added the ENTIRE little bottle of red food coloring, and kind of loved it. Here's to red velvet. I saw its face, now I'm a believer.
On the menu:
Red velvet cupcakes with cream cheese frosting
Makes 12 cupcakes
1 1/4 cup flour
1/4 tsp baking powder
1/4 tsp salt
1 Tbsp cocoa powder
1/4 cup unsalted butter, softened to room temperature
3/4 cup sugar
1 egg
1/2 Tbsp vanilla
1/2 cup buttermilk
1 Tbsp liquid red food coloring
1/2 tsp white distilled vinegar
1/2 tsp baking soda
In a small bowl, sift the flour, baking powder, salt, and cocoa powder together.
In a large bowl, use an electric mixer to beat the butter until it's soft. Add the sugar and beat until combined. Add the egg and beat until combined, and then add the vanilla and cream the mixture together.
In a small bowl, whisk together the buttermilk with the red food coloring. Beat together on low speed the flour mixture, the butter mixture, and the red food coloring mixture, alternating the flour and food coloring in three separate pours, ending with the flour (i.e.: Add 1/3 of the flour, half the red, 1/3 of the flour, 1/2 the red, then the rest of the flour).
In a small bowl, combine the vinegar and the baking soda. Quickly fold the liquid into your batter and then divide into 12 muffin tin tups until each cup is half full (don't worry, this batter rises a lot).
Bake for 18 – 23 minutes or until a toothpick inserted in the center of one cake comes out clean. Let cool on a wire rack completely before frosting.
Cream cheese frosting:
4 oz. cream cheese, softened to room temperature
1/4 cup butter, softened to room temperature
1 1/2 cups confectioners sugar
1/2 tsp vanilla
Blend cream cheese and butter together with an electric mixer. Slowly add in the confectioners sugar and vanilla until combined. Pipe onto cupcakes (or spread with a knife) and sprinkle with green sugar to finish.