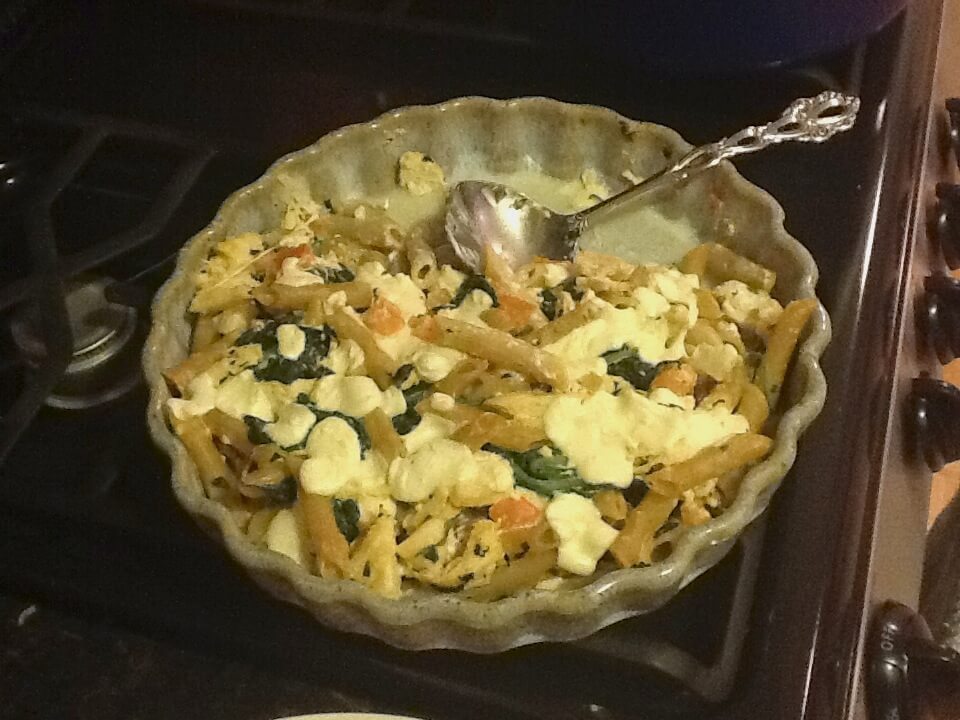 Is there a better combination than basil, tomato, and mozzarella? There's something so soothing about the familiar flavor combination and truth be told, I'll look for any excuse I can to use it. A few weeks back I marinated cherry tomatoes in espresso balsamic vinegar and skewered them with squares of fresh mozzarella and a basil leaf, and called it an appetizer. Or I called it dinner. Whatever.
This chicken pasta bake is easy as pie and is a great way to use up leftover shredded chicken if you have some in the fridge. And who doesn't ALWAYS have leftover shredded chicken in the fridge? This is also a brilliant way to get spinach-haters to eat the good greens. The BF barely noticed it underneath all that cheese. #Win
On the menu:
Spinach, tomato and chicken pasta bake
Serves 3
1 1/2 cups whole wheat penne pasta
2 cups fresh spinach
1 medium sized tomato, seeded and cut into 1/2 inch pieces
1 large chicken breast, cooked and shredded
2 Tbsp fresh basil, finely chopped
3 garlic cloves, minced
2 Tbsp olive oil
3 Tbsp ricotta cheese
1 cup shredded mozzarella cheese
Preheat oven to 375 degrees. Cook pasta according to instructions.
In a large skillet, heat olive oil over medium heat. Add garlic and cook for 2 minutes. Add tomatoes and spinach and cook for 3 minutes or until spinach is cooked down. Add chicken and basil and stir until combined.
In a large bowl, combine pasta, chicken mixture, ricotta cheese, and 1/2 the mozzarella. Stir mixture until combined and add salt and pepper to taste. Pour into a large baking dish (I used a 9 inch round tart dish) and cover with remaining mozzarella cheese. Bake for 20 minutes or until cheese is bubbly.