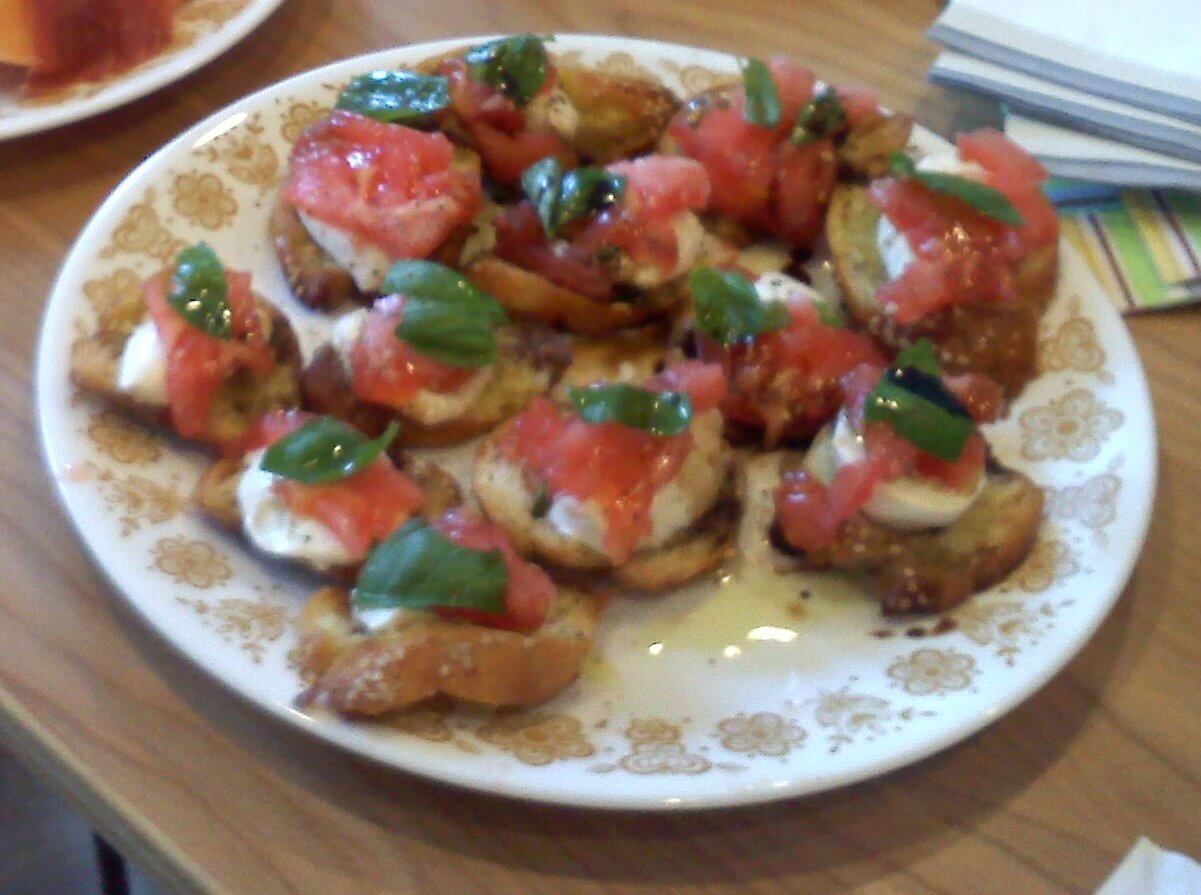 Hello friends! Welcome to vegetarian week on Food E. I know it doesn't really fall within the traditional parameters I've set for myself here on my "eat butter and beef and don't apologize for it" food blog, but this past weekend I challenged myself to make an all-vegetarian meal in honor of my mother's first visit to my new-ish apartment. She's a vegetarian and is often relegated to pasta with peas or platters of roasted vegetables when we go out to dinner. My goal for the meal was to create a full spread that not only she would enjoy, but also The BF and my father, both proud carnivores, would love, as well.
Each day this week I'll share a recipe from this meal and by Friday you'll have a stack of recipes that you can use to create a complete and filling vegetarian meal yourself. No boring pastas included.
On the menu:
Caprese crostini
Serves 4
1/2 baguette
3 Tbsp extra virgin olive oil
1 small bunch fresh basil, leaves plucked from the stems
2 ripe tomatoes, sliced
1/2 cup fresh mozzarella, sliced
3 Tbsp balsamic vinegar*
Slice baguette into 1/2 inch rounds with a sharp bread knife. Place on a cookie sheet in a single layer and distribute olive oil evenly over the tops (I used a spoon but if you have a basting brush, use that). Bake rounds at 350 degrees for around 10 minutes or until the rounds are stiff to the touch. DO NOT wait until they are brown! They will be too crispy by the time you serve them if you wait for them to brown up in the oven.
Top each round with a slice of mozzarella, a basil leaf, and a slice of tomato. Drizzle the balsamic vinegar over the top, plate, and serve.
*I've been meaning to highlight an incredible store I visited in Virginia called Savor the Olive where I purchased an espresso balsamic vinegar, which I served in place of your standard balsamic. The espresso balsamic has a smoother finish than traditional balsamic and just a hint of espresso flavor. Savor the Olive offers dark and white balsamics (imagine a white apricot balsamic drizzled over vanilla ice cream…), and every olive oil under the sun. If you're ever fortunate enough to be in the area of Norfolk, Virginia you should definitely swing by.