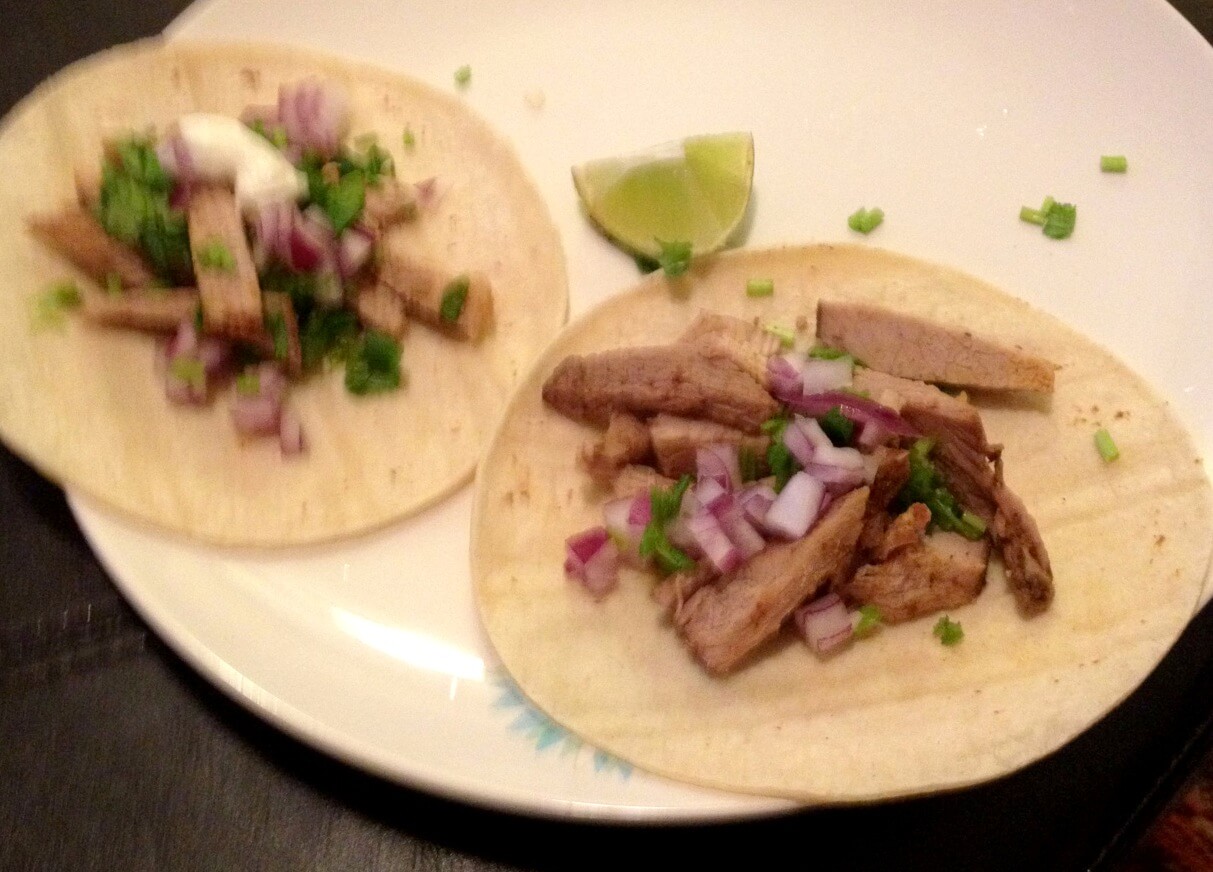 I love any meal I can throw in one pot in the middle of the day and serve with pride 6 hours later after 15 minutes of prep. Some cooks might dispute this claim, but I'm gonna go ahead and say it's hard to mess up a pork shoulder, so this is also a dish that takes zero skill to master. If you don't have a slow cooker, just throw this in a roasting pan in your oven at 250 degrees for the same amount of time. You might want to baste it mid-cook so it doesn't dry out, though.
On the menu:
Slow Cooker Chipotle Pork Tacos
Serves 2
3 lb pork shoulder, bone out
3 roasted chipotles*
3 large cloves of garlic, peeled and halved
1 Tbsp cumin
1 Tbsp paprika
1 tsp black pepper
1 tsp salt
6 oz. beer (I used Miller High Life because I had a leftover in the fridge, but a dark beer will work best for this)
6 – 8 corn tortillas
6 sprigs cilantro, chopped
1/4 cup red onion, roughly chopped
1/2 lime, cut into wedges
Add pork shoulder, chipotles, garlic, spices and beer to the slow cooker. Cook on low for 2 – 3 hours or until the meat is easily pulled apart with two forks. (NOTE: If cooking in the oven, baste at 1 and 2 hours).
Heat up tortillas between 2 damp paper towels in the microwave for a minute or two. Top with pulled pork, cilantro, onion, and a squeeze of lime. Plate alongside another wedge of lime.
*NOTE: I like these to have just a tiny hint of spiciness so I throw the chipotle peppers into the slow cooker whole and just let the flavor seep into the pork, and then fish the whole peppers out before serving. If you like these spicier, you can dice up the peppers and throw them into the slow cooker. That way you can serve them up along with the pork for a real kick in the pants.