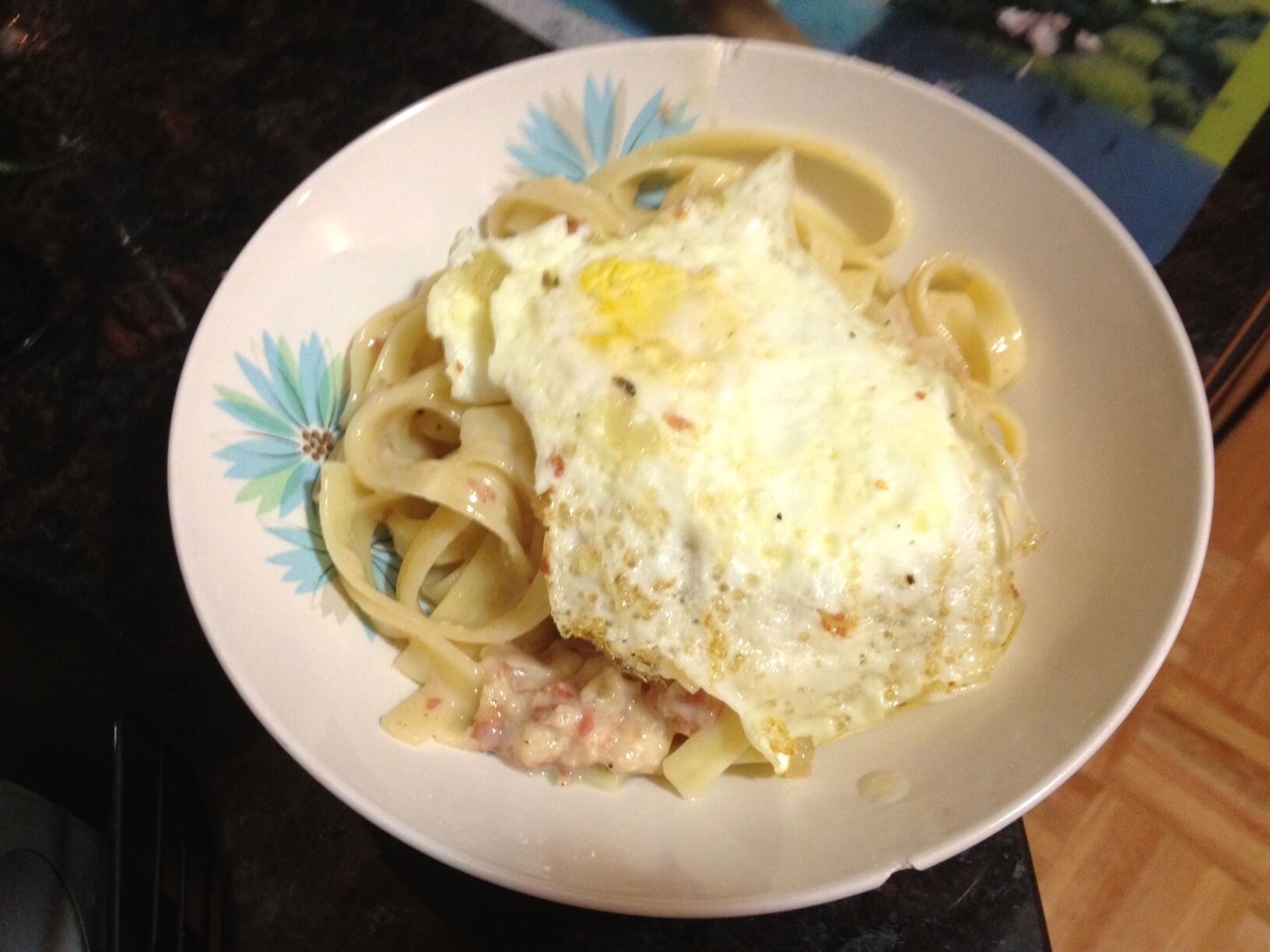 The weather in New York suddenly turned cool which immediately puts me into comfort food mode. What's better than a chilly Sunday tucked inside with football on TV and a plate of creamy, cheesy pasta in your lap? As much as I love summer fruit, fall is definitely my favorite season for food. Bring on the winter weight!
*Note: this recipe can be made with any spaghetti/fettuccine/linguine type pasta, but it would be best with tagliatelle. I made this first with tagliatelle and a second time, as pictured, with fettuccine. If you can find tagliatelle, use that but most standard grocery stores don't carry it.
On the menu:
Three Cheese Fettuccine
Serves 2
4 oz pancetta, finely chopped
1 shallot, finely chopped
1/2 pound fettuccine
3 Tbsp unsalted butter, divided
1 tsp fresh ground black pepper, plus more to taste
1/2 cup mascarpone
1 1/2 cups Parmigiano Reggiano, freshly grated
1/2 cup Pecorino Romano, freshly grated
2 eggs
2 Tbsp flat-leaf parsley, finely chopped (optional garnish)
Set a large pot of water to boil. In another large pot set over medium heat, add the pancetta. Cook,
stirring frequently, until the pancetta is crisp and golden, about 10 minutes. While the pancetta is cooking, add pasta to the pot of boiling water and cook according the instructions on the box.
Remove the pancetta from the pan once it's crisped up and add the shallots. Cook until the shallots are tender, about 5 minutes. Drain off any excess fat.
Once the pasta is cooked, drain the pasta through a colander, reserving 1½ cups of the pasta cooking water.
Add 2 Tbsp of the butter and black pepper to the shallots and pancetta. Stir constantly and cook for 1 minute. Add 3/4 cup of the reserved pasta water and bring to a simmer. Add the mascarpone and whisk until incorporated. Add the Parmesan and Pecorino cheeses, stirring until the cheese is melted. Add the pasta and heat until the pasta is cooked through, adding more pasta water if necessary. Season with additional pepper and set aside.
Make the eggs: In a medium skillet set over medium heat, melt the remaining tablespoon of butter. Carefully add the eggs and fry until the whites are set and the yolks are still runny, about 4 minutes.
Divide the pasta between two bowls and top each with a fried egg. Sprinkle with parsley and serve.