Oh friends. It's fall. The season of sweaters, roast chicken, and snuggling up with blankets and mugs of apple cider. It is my FAVORITE season of all! And to celebrate the first few weeks of deliciously cool weather, I made risotto. Here tis.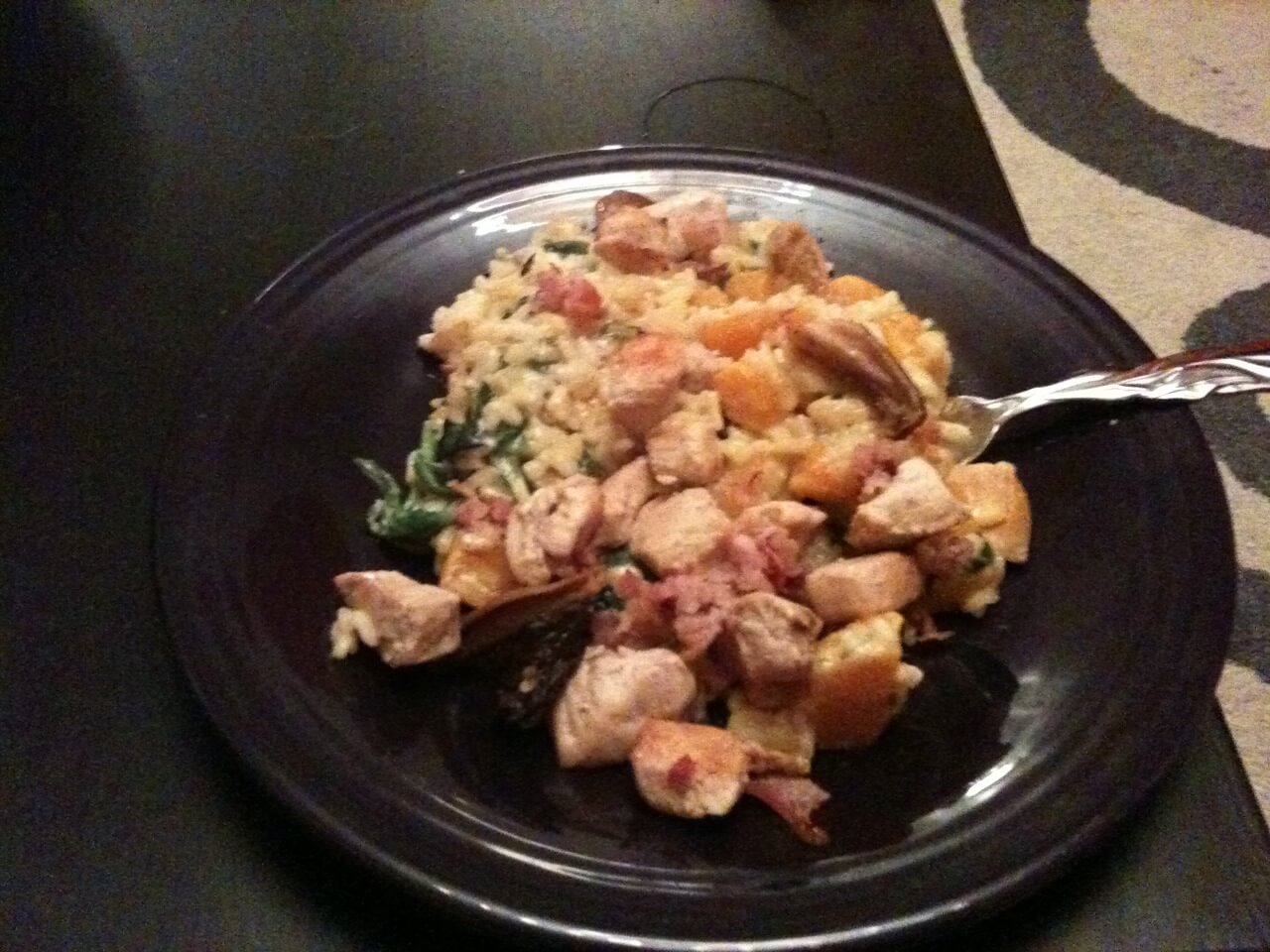 On the menu:
Butternut squash, rosemary, and blue cheese risotto with chicken and pancetta
Adapted from Epicurious
Serves 3
3 1/2 – 4 cups chicken broth
2 Tbsp butter
3/4 cup yellow onion, chopped
2 cups butternut squash, peeled and chopped into 1/2 inch cubes
1 tsp rosemary, diced
1 cup arborio rice
1/2 cup dry white wine
2 cups baby spinach leaves, packed
1/4 cup heavy cream
1/4 cup parmesan cheese, grated
1/3 cup blue cheese, crumbled
2 chicken breasts, diced into 1 inch cubes
4 oz pancetta, diced
1/4 cup mushrooms
Bring chicken broth to a boil in a large saucepan. Cover and reduce heat to low.
Melt butter in a large, heavy pot over medium heat. Add onion and saute for 3-4 minutes, until pieces are tender. Add squash and rosemary; saute for 8 minutes. Add rice and stir for 2 minutes. Add wine and cook for 2 minutes. Add 3 cups of broth; bring to a boil. Reduce heat and simmer uncovered until rice is tender and risotto is creamy and slightly soupy, adding more broth by 1/4 cupfuls as needed to maintain consistency and stirring occasionally, about 20 minutes.
Heat a small frying pan with the mushrooms in it. Once mushrooms have cooked down, around 5 minutes, add pancetta. Cook for 5 minutes. Add chicken. Cook until chicken is browned on all sides, about 10 minutes.
Stir in the spinach, cream, and both cheeses into the risotto. Plate and top with chicken/pancetta mixture.