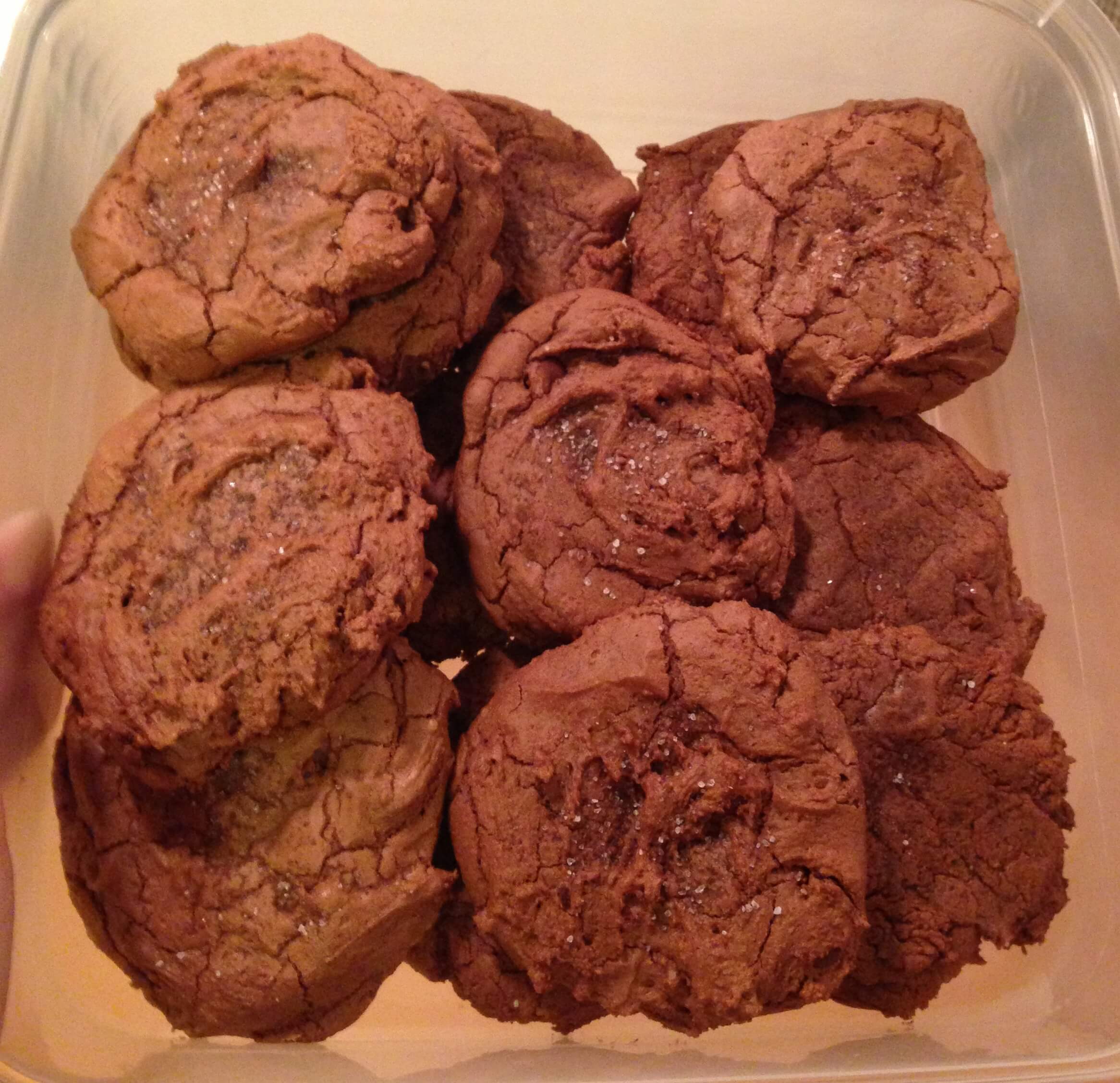 I don't have a whole lot to say about this recipe except that these cookies are SO FREAKING GOOD. I got the recipe from this article on BuzzFeed called 17 Hybrid Desserts That Will Blow Your Mind. Just beware if you click that link you're going to end up making SOMETHING from that list. Next up, I think, will be the cupcakes with the cookies in the bottom. This is the stuff that dreeeeeams are made oooooof…
These cookies are basically brownies in cookie form. They get that incredible, flaky brownie crust on them but the inside is soft just like a regular brownie. Delish.
On the menu:
Sea Salt Brownie Cookies
Makes approximately 16 cookies
3 oz. unsweetened chocolate, roughly chopped
1 1/2 chocolate chips (any kind you like!), divided
8 Tbsp unsalted butter, diced
3 large eggs, room temperature
1 cup plus Tbsp sugar
1 3/4 cup flour
1/2 tsp baking powder
1/4 tsp salt
Coarse salt (optional)
Preheat oven to 350 degrees and lightly grease a baking sheet, or use parchment paper (these do stick a little, even to my non stick baking sheets).
In a double boiler, or in the microwave, melt the unsweetened chocolate, 1 cup of chocolate chips, and butter until completely melted and combined.
In a medium sized bowl, using an electric mixer, blend together the sugar and eggs for around 3 minutes and until fluffy. Add the melted chocolate and mix until combined. Add the flour, baking powder, and salt, and stir together by hand. Add the remaining chocolate chips and stir to combine.
Drop batter by 1/4 cups onto the baking sheet. Flatten a bit into 1/2 inch thick disks with a spoon. Sprinkle coarse salt on top if desired.
Bake for 10 – 13 minutes, depending on the size of your cookies, or until the middle is puffy and the outer crust is flaky. Let cool for a minute on the baking sheet before transferring to a wire rack to cool completely.