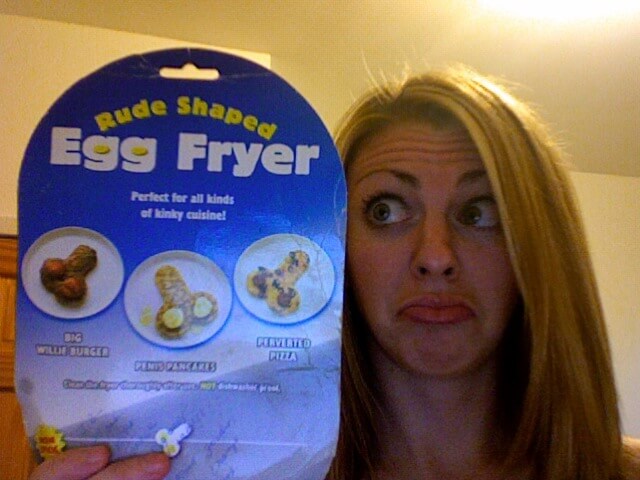 I spend a lot of time trying to convince people that I don't really have the appalling eating habits I appear to from my blog posts. People read this blog and say, "HOW do you eat like that?! Wheeeere do you put it?!" And I laugh and say, "Oooh, I just don't eat that MUCH! I eat small portions. I'm not a total slob." But you know what? I'm a total slob. I love junk food. And not McDonald's, but junk food in general. Butter and sugar and chocolate and oil and carbs and starches and marbled meat and donuts and everything that makes people go, "Mmmmm" with pleasure when they ingest it. So as I read the New York Food Diary column on NYMag.com this week, I thought, I'm gonna do it and I'm gonna prove everybody wrong!
All I did was prove y'all right. So I'm just gonna ride this wave until my pants stop fitting. Read at your own discretion…
Friday was my 27th birthday so I gave myself a free ride to spend some money and eat what I wanted (I'm more poor than I am health conscious). This means donuts. I. Love. Donuts. More than I love most people. I started my day with a boring bowl of honey nut Cheerios and then got a coffee with a little milk and sugar, and a cruller. My coffee man knows my order by heart and I think you have to be a New Yorker to truly understand the beauty of this knowledge. I can walk up to a man standing in a silver cart on the corner of a busy intersection in one of the busiest, most crowded cities in the world and he knows how I take my coffee. Whoever said New York wasn't a small town?
I took two bites of the stale cruller at my desk and tossed it. What a disappointment. For lunch I treated myself to a No. 7 Sub sandwich that my friend Ben raved about months ago. The line is notorious so I went at 11:45am (IT'S MY BIRTHDAY AND I'LL EAT WHEN I WANT TO). No line! I ordered a grilled tilapia, fried garlic, shredded cabbage, and havarti melt with a bag of regular potato chips and a Coke. Regular Coke. Diet Coke makes my teeth hurt and my stomach protest.
When I got back to my office to eat the smelliest sandwich ever created, I realized everyone around me was probably gagging in horror. Oh well. My birthday, my rules.
In the afternoon, my co-worker Tommy who owns Sweet Semosh (a vegan baked goods company) brought in the tiniest most adorable coconut vegan cupcakes you've ever seen so I ate one of those.
Later that night was dinner at Rosemary's with my parents, who were in from out of town, and The BF, and because it just opened and because they don't take reservations, we had cocktails next door at The Kingswood while we waited for a table. I had a gin and tonic, of course. Dinner was stupendous (full review to come!): beets, dandelion, and hazelnuts; cabbages, pecorino, chilis and almond; zucchini crudo; octopus; caprese focaccia; pork tenderloin with fennel; olive oil cake with cream and blueberries; a glass of red wine (who knows what it was, and who cared?). After dinner we went to karaoke and I had another G&T.
Saturday I had a quick bowl of Cheerios again and grabbed a Starbucks (I like their new lighter blonde roast with a little milk and one sugar) on my way to meet my parents at The Met for the Prada & Schiaparelli exhibit. Goooorgeous. Just so gorgeous. After the museum we stopped at Beyoglu, one of my favorite post-Met restaurants. It's close enough to walk to after the museum but far enough to deter tourists, and you can eat outside. It's Turkish food and I had a piece of homemade spinach pie and a shepherd salad with an iced tea.
Dinner that night was good ole Patsy's pizza, where I had a glass of pinot grigio, shared a plate of fried zucchini and eggplant with The BF, and then had two slices of mushroom and pepperoni pizza. We stopped at Dylan's Candy Shop next door to Patsy's but it's so overpriced I couldn't even bring myself to buy a little something. I went to The BF's comedy show afterward and had a water. Are we exciting, or what?
Sunday was hosting day so I ate MORE Cheerios (no, I never get sick of them), made myself some coffee, and then ran the day's errands. Grocery shopping, cleaning, cooking. When the parents came over for Sunday supper I served my vegetarian meal. We finished off the evening with a vanilla and strawberry cake from Omonia bakery in my neighborhood, and I had about an entire bottle of pinot grigio to myself. Something about the hot weather makes me crave cold white wine.
Monday I had the standard cereal breakfast and my trusty coffee-cart-coffee with a little milk and one sugar. For lunch I ate leftover zucchini quiche, an entire pack of Starburst (did you know one pack is one serving?!), a little leftover quinoa salad, and then a piece of dark chocolate someone left in the kitchen at work. I'm a scavenger. I'll admit it. I also had a black tea in the afternoon. I inhaled some almost-stale salt and vinegar chips while I cooked dinner that night. I have a go-to meal when I'm too lazy to research recipes: pork chops sauteed in garlic and white wine with Yukon gold mashed potatoes and Caesar salad from a bag. Yes. From a bag. Sue me. I drank some lemon lime seltzer water with dinner, and when The BF got home from his comedy show we ate popcorn before bed: the good kind, popped in a hot air popper and coated in melted butter and salt.
Tuesday was cereal (I'm a creature of habit…) and my coffee-cart-coffee. I watched an episode of Mad Men on Monday night and the suggestion of a bear claw had me jonesing for a donut. I know, I know, when am I NOT jonesing for a donut? I bought a coffe-cart-cinnamon roll the size of my face and took 2 bites before I had to throw it away: filled with grease and super stale. Coffee-cart-fail #2.
For lunch I polished off the last of the peach, tomato, corn and feta salad, and the quinoa salad from Vegetarian Week and topped it off with my second pack of Starburst (guyssss ONE serving!), a Chobani pineapple yogurt, and a Starbucks hot chocolate. Dinner was pan-fried chicken breasts on toasted potato rolls with avocado, melted swiss, and fresh tomato with mayonnaise, and a side of quinoa with spinach and cheese. I had another glass of pinot grigio (what else are you supposed to do when you have an open bottle in the house?) and around 8PM I made a chocolate cake with chocolate glaze for no real reason at all… and promptly ate a fat slice.
Wednesday: cereal and coffee. Womp womp. I was starving by 10AM but instead of eating more donuts, I snacked on some ballpark peanuts I've had in my desk since the Indians played the Yankees in June. Writing this diary is making me realize that my eating habits are kinda gross.
NO MATTER! Lunch on Wednesday was roast beef with mozzarella and mayo on a potato roll, carrot sticks, a Chobani pineapple yogurt and… a slice of cake in the afternoon. A glass of pinot when I got home, followed by dinner of homemade chicken lo mein with red peppers and baby portabella mushrooms. I may or may not have had another slice of chocolate cake before bed. I don't remember… details are foggy…
Thursday I had my super unique and different breakfast of cereal and coffee, and then at work it was BAGEL THURSDAAAAAY! It's the little things, friends. I had a cinnamon raisin bagel from Lenny's, toasted, and left the donut I had bought from my coffee cart man in my desk. And forgot about it. Whoops. Hey, at least I didn't eat it? For lunch I had another roast beef/potato roll/mayo/mozz sandwich, carrots, and a lemon Chobani. And a Coke. I met some girlfriends for happy hour at Whiskey Blue and drank three gin and tonics and ate half a flatbread pizza with ricotta, zucchini, and mozzarella. It was mediocre but I needed a nice base for all that Hendrick's. I texted The BF mid-drink "DON'T EAT ALL THE CAKE!" and when I got home there it was, a nice fat slice just for me. But I fell asleep before I could eat it. Sadness abounds.