Remember that time I had planned on making fabulous Greek salads for dinner, and then The Boyfriend said, "…Oh. Really?" but I already had all the ingredients and was totally stumped and starving? That was a nice time.
So I looked at what I had, forced my brain into "comfort, filling food" mode, and came up with this. Very similar to chicken dishes I've made in the past, but with a twist. And brown butter never hurt nobody. Well… unless you're prone to high cholesterol. Then maybe stay away.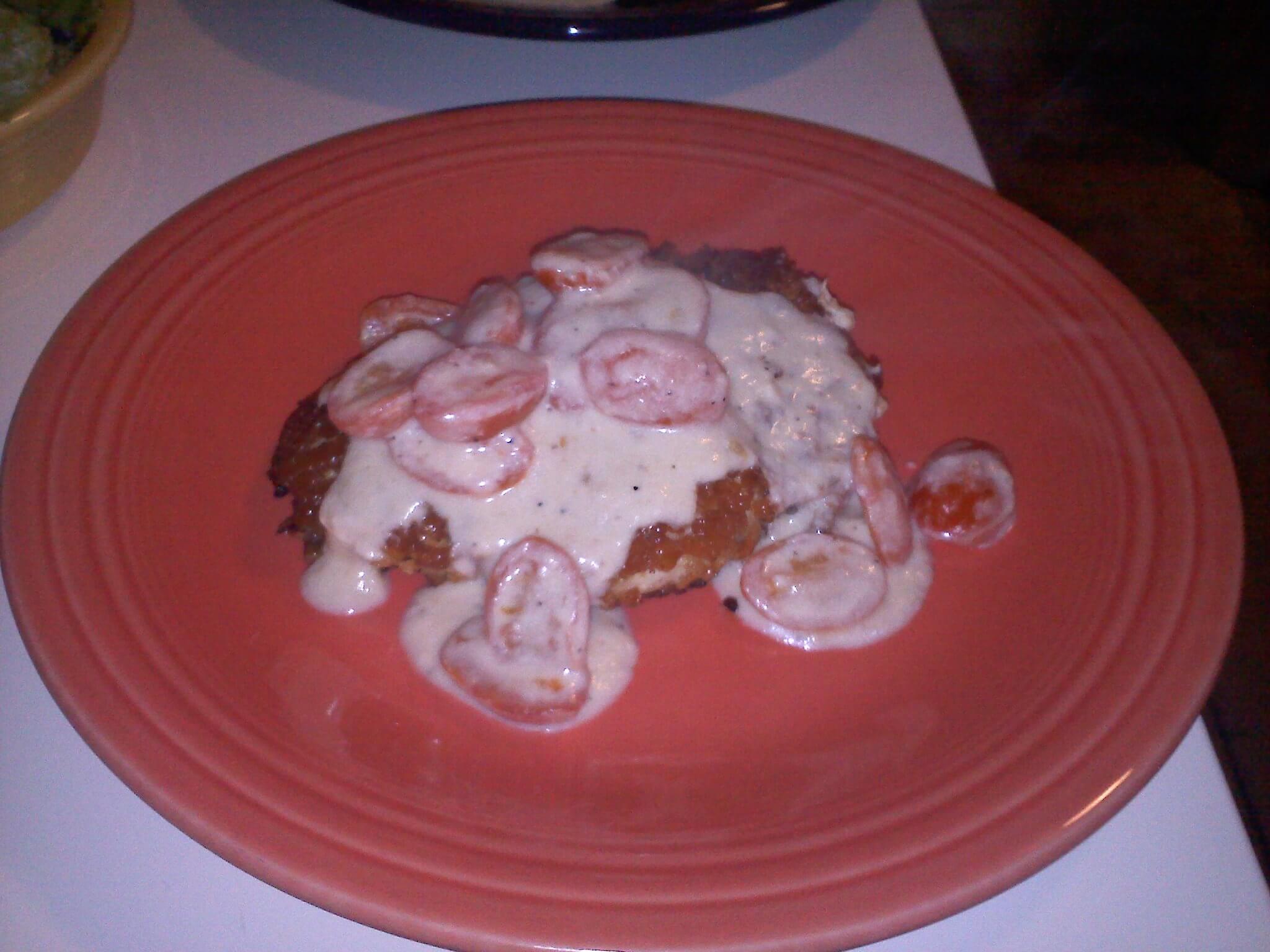 On the menu:
Fried chicken with tomato brown butter cream sauce
2 large chicken breasts, flattened to 1 inch thick
1 Tbsp canola oil
8 Ritz crackers, crumbled [I use Ritz because I love the sweet, butteryness of the crackers but Panko works here, too]
1 egg, beaten
Salt and pepper
2 Tbsp butter
2 Tbsp flour
1 1/2 cups milk
1/3 cup heavy cream
1/4 cup parmesan cheese, grated
1 cup cherry tomatoes, halved
In a small saucepan, melt better over medium heat just until the color of the butter turns light brown and gives off a nutty aroma. Lower heat, and whisk in flour until a paste develops. Gradually whisk in milk and raise heat to medium. Stir occasionally until the sauce thickens, around 10 minutes. Add heavy cream and stir for another five minutes. Add parmesan cheese and tomatoes and reduce heat so the sauce simmers. Cook for another ten minutes, and then salt and pepper to taste.
Meanwhile, dip chicken breasts in egg and then Ritz crumbs. Heat 1 Tbsp canola oil over medium/high heat. Set chicken in the hot oil and cook for 7 minutes on each side, until the breast is cooked through. Plate chicken and pour sauce over.