People ask me all the time for restaurant recommendations, usually in the form of, "My family is staying in the West Village and they want an affordable Moroccan restaurant that will seat all 17 of them at 7PM on a Saturday and one is a vegan and one is lactose intolerant. Do you know of anything?"
The one neighborhood I'm asked about the most is midtown. "Can you recommend something affordable and delicious in midtown that isn't tourist central or Europa Cafe?"
I'm happy to say I finally can.
Remember this beauty?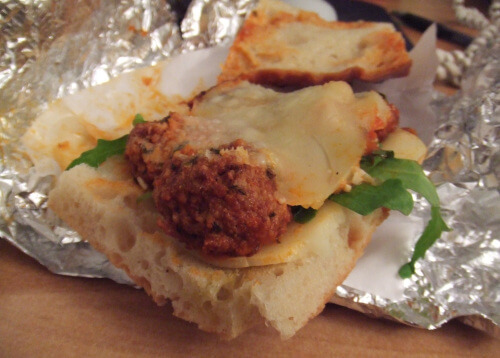 (click the pic for the original post!)
Mia Dona is a relatively affordable, incredibly delicious Italian restaurant in midtown Manhattan (58th Street and 3rd Avenue) that is chic enough to make out-of-towners feel like they're eating haute cuisine but rustic and friendly enough that they won't stare down at something foreign and squishy and green that they've never seen before and ask, "What do I do with this?"
Recommended dishes:
Anything with meatballs
Ricotta gnocchi with roasted cauliflower, peas, pancetta, and basil
Chocolate cake with rosemary creme brulee (this was to DIE for)
It should be said that the service was a bit slow and the decor kind of strange (my dining partner commented, "I like the… farm equipment?") but it serves its purpose: a reliable, relatively affordable, upscale dining experience that I'd recommend time and again.