"I want a cake that looks like a watermelon and is rainbow colors on the inside." If you're part of my group of friends, this request doesn't surprise you. I was happy to hear it and happy to make it. Friends, I give you… the rainbow watermelon cake. Happy Birthday, Becca!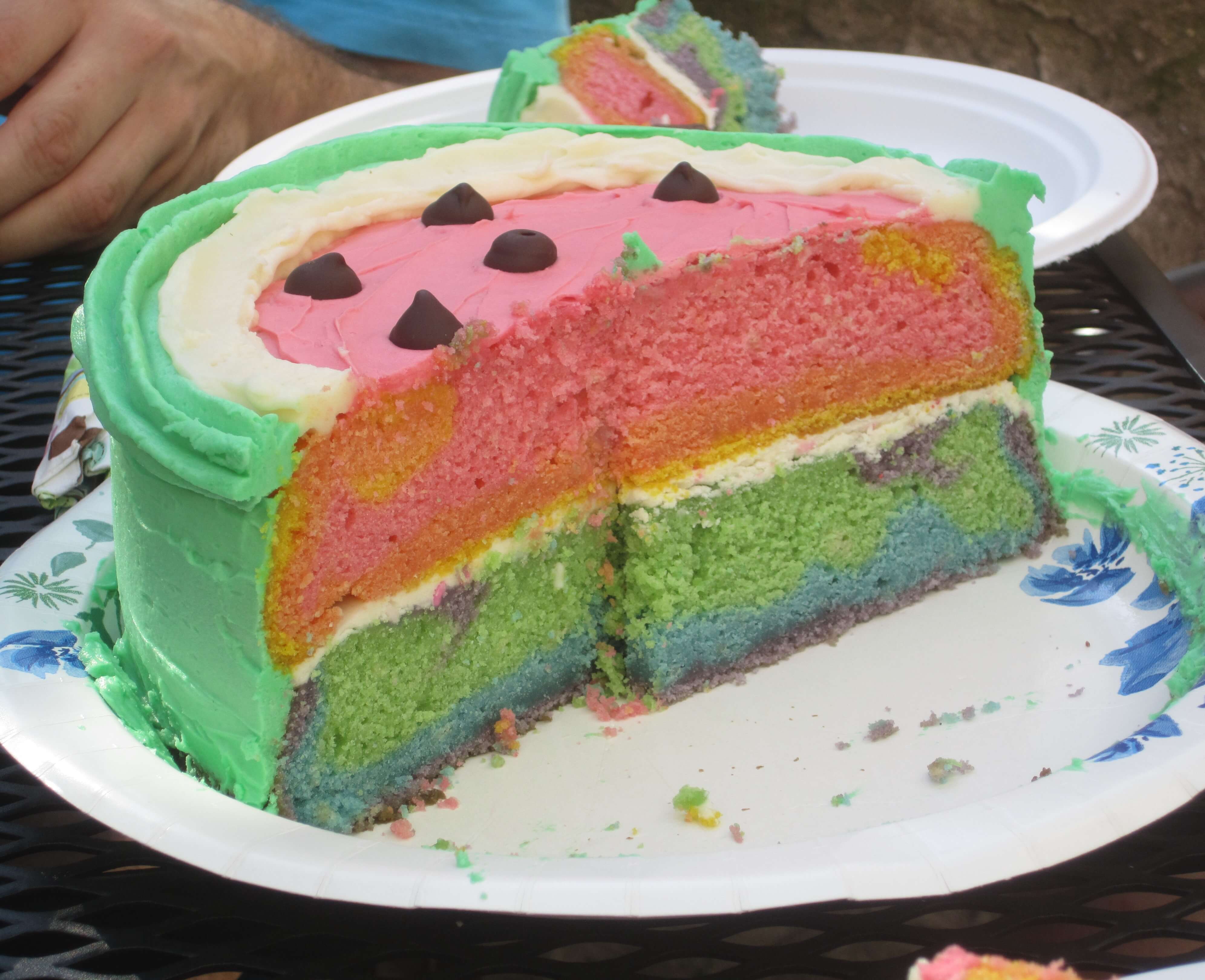 On the menu:
Rainbow watermelon cake
Serves 12 – 14
Cake:
2 cups white sugar
1 cup butter, softened to room temperature
4 eggs, yolks and whites separated
4 tsp vanilla extract
3 cups flour
3 1/2 tsp baking powder
1 cup milk
Red, yellow, and blue food coloring
Preheat oven to 350.
Combine sugar and butter in a large bowl with an electric mixer. Add in egg yolks one at a time. Add vanilla.
Sift together flour and baking powder. Mix into the butter/sugar/egg mixture. Add milk until mixture is blended.
In a small bowl, beat together your egg whites until light and fluffy and soft peaks form. Fold egg whites into the cake batter.
You can totally end the recipe here, fill 2 greased 8-in round cake pans, bake for 30 – 40 minutes, and have a beautiful white cake. OR… you can do what I did.
Separate batter, cup by cup, into six small bowls of equal size. Add food coloring as follows: 8 drops of red [red]; 8 drops of blue [blue]; 8 drops of yellow [yellow]; 4 drops of red and 4 drops of blue [violet]; 4 drops of red and 4 drops of yellow [orange]; 4 drops of blue and 4 drops of yellow [green]
Mix together each color with a separate spoon. Into a greased 8-in round baking pan, pour the first color. Tap the baking sheet until the batter has spread to an even height all the way around. Pour the second color on top of that and tap again until the batter spreads (you may have to coax it with a rubber spatula but VERY gently so you don't mix the colors!). Pour the third color on top of that and tap again. In the second 8-in round baking pan, repeat the pouring steps with your last 3 colors.
Bake for 35 – 40 minutes or until you press the cake and it springs back to shape. Allow the cakes to cool completely on a cooking rack before frosting.
Buttercream frosting:
3 cups confectioners' sugar
1 cup butter, softened to room temperature
1 tsp vanilla extract
1 Tbsp milk
2 Tbsp dark chocolate chips
Beat together the sugar and butter until blended. Add vanilla. Add milk bit by bit until you reach the desired consistency.
For watermelon decoration: split the frosting up into 3 bowls. Leave 3/4 cup white. 1/2 cup dyed red. Remaining frosting dyed green. Spread 1/2 of the white frosting on first cake layer and then top with second layer. Once your cakes are stacked, frost the outside with the green. Use your red frosting to make a frosting circle on the top layer, leaving 1/2 inch around the perimeter.
Using a pastry bag, create a green circle on the perimeter of the cake (like a little frosting fence). On the interior of the green, use a separate pastry bag and your remaining white frosting to make a white circle (this is the rind of the watermelon). Use the chocolate chips to make the "seeds."
Seriously, if anyone just followed all those directions… props to you. Props. To. You. ENJOY!
*Note: this is not your standard fluffy boxed cake. It's a bit on the dense side, but the flavor is unbeatable. It's not overly sweet but hits the cake-craving spot, and is the perfect vehicle for super sweet buttercream frosting. Drool…