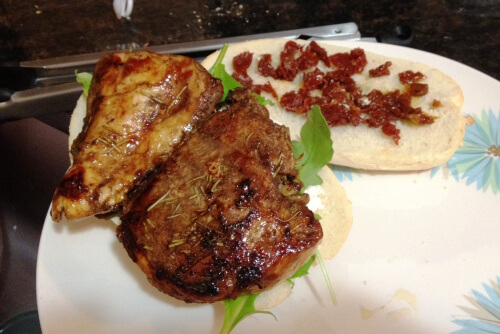 In an effort to keep my spending low, pending my upcoming lack of paychecks and whatnot, I took a quick survey of my cupboard and tried to plan the week's meals while also using up odds and ends that I already have in the house. This meal is the result of that, and if I do say so myself, it turned out quite nicely. Added bonus: I kept half my sandwich for today's lunch. #TwoBirdsOneStone
On the menu:
Balsamic chicken sandwich with goat cheese and sundried tomatoes
Serves 2
1 large chicken breast, cut in half length wise, cut in half width wise
2 Tbsp olive oil
1 Tbsp balsamic vinegar
2 tsp rosemary (fresh or dried)
2 garlic cloves, peeled and halved
2 Portuguese rolls
1/2 cup sundried tomatoes in oil, chopped
2 Tbsp goat cheese
1 cup spring mixed greens
In a large bowl, mix together olive oil, balsamic vinegar, and rosemary. Rub chicken breasts with garlic cloves and then add chicken and garlic to the olive oil/vinegar mixture. Toss chicken to coat. Let sit at least one hour or overnight.
Cook chicken any way you like: if you have a grill, these are perfect grilled. If you're a city dweller and are grill-less, you can cook these in a frying pan over medium heat with a little olive oil until the outside is barely crispy (the balsamic will glaze the chicken and keep it super moist).
Halve the rolls and toast them. Spread one half with goat cheese and the other half with sundried tomatoes. Layer greens and then chicken. Serve hot.