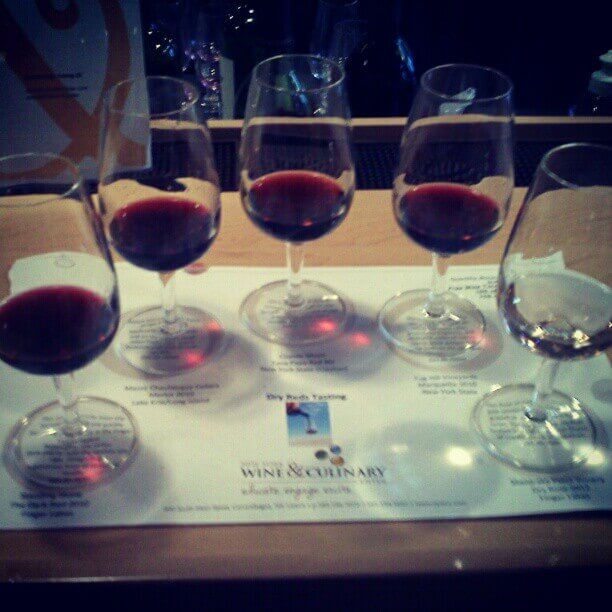 Rochester might seem like your standard blue collar city with not much sophistication and little in the way of culture. But if you assumed that, then you'd be dead wrong. There are endless summer arts festivals, jazz festivals, it's home of Eastman Kodak and the Memorial Art Gallery, and a tiny movie house plays indie films on the reg. The newest addition to the little-city-that-could is the New York Wine & Culinary Center in Canandaigua.
The New York Wine and Culinary Center features all New-York-sourced food and wine (i.e. you won't find any rice on their menu here because there is no rice produced in NY – did I just blow your mind?), and they expose visitors to said food and wine in a variety of ways: classes in their beautiful professional kitchen; food demonstrations in a lecture-style classroom setting; a tasting bar where you can experience flights of seasonal wines, beers, or liquors; and a restaurant upstairs that puts it all together for you.
The space itself is beautiful: all dark wood and sophistication. You won't find any steel-countered surfaces in their professional kitchen – in addition to being functional, it's also aesthetically pleasing. And situated on beautiful Canandaigua Lake, on a good day the view is spectacular.
On the night I went with my family, it was drizzling and cold outside (I'll give you that against Rochester, the weather never does seem to cooperate), but the interior of the space was warm and inviting. We went straight to the bar where the tastings are held and each of us ordered a flight: one dry red wine flight, one vodka flight, one white wine flight, and one beer flight. The bartender was ridiculously knowledgeable about every single drink he put in front of us and after I expressed particular delight in a wine from Coyote Moon Vineyards, the bartender said, "Would you like to meet the wine maker?" The winemakers happened to be in town doing a demonstration at the culinary center (this is the type of special event they hold all year round) and filled me in on their winery and a specialty tomato sauce they sell at the vineyard. If you're ever doing a wine tour in the area or happen to be out near Clayton, NY take the time to stop in and meet the lovely Randazzo family.
The next stop was the bar upstairs for another glass of wine (do you love how specific I'm being by telling you I had "wine"? It was so good I forgot what kind). We settled into a giant wooden table and stayed for dinner. The first course was a cheese plate, followed by a delicious entree of Long Island flounder and scallops over leeks fondue and seasonal vegetables. For dessert we had apple fritters that I'm still dreaming about: apple rings deep fried in the lightest, crunchiest batter imaginable with sweet, smooth vanilla ice cream. Is there any dessert more New York than an apple?
If you're in the Finger Lakes region, make a point to visit the culinary center. It's incredible to see a place this innovative and committed to local food and wine thriving in an area that isn't usually known for its culinary ingenuity. Take a class on making truffles, taste the New York wines (of which there are HUNDREDS), gaze out over beautiful Canandaigua Lake, or just eat your face off in the upstairs bistro. Whatever you do, you won't be sorry you did it.
New York Wine & Culinary Center is located at 800 South Main Street, Canandaigua, NY. Call 585.394.7070 for more information or email info@nywcc.com