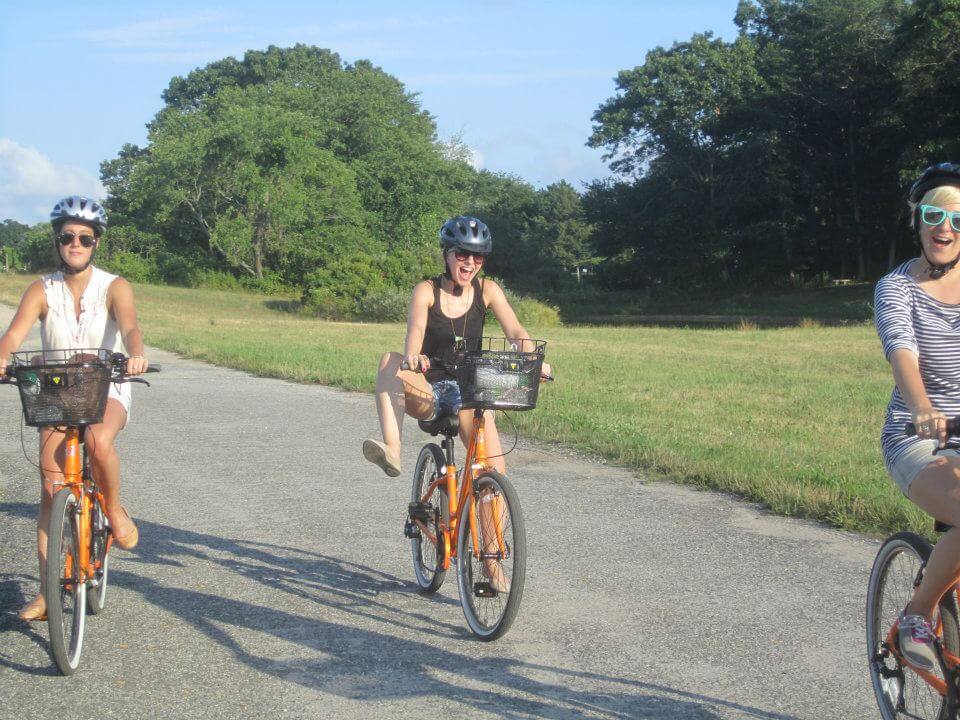 A few months ago a friend of mine asked if I'd like to go with her and two of our other friends on a wine and bike tour out on Long Island. I asked one question: do I have to know how to bike? Now, don't get me wrong: I know how to "bike". But as my brother likes to (lovingly) recall, I walked my bike down our 10-degree-inclined driveway until I was 16 years old because the hill was too "steep" to ride down and I was scared to fall off. Not that falling off would've been so bad. I did plenty of that, too. Somewhere in our family archives are Mother's Day pictures of Little Lauren Four Eyes with a massively scraped up chin and forehead from an earlier neighborhood debacle between her and the pavement. And somewhere else in those family archives are family vacation pictures that are missing Little Lauren Pre-Teen Gangly Legs because she took a tumble down a Jamaican roadway and had to ride for most of the tour in a van with a kindly tour guide who offered her a sample of some of the local greenery IF you know what I mean.
Needless to say I'm not super adept on 2 wheels. But my friend reminded me that if they were going to be serving alcohol on this trip, it would most likely be easy enough that even the drunkest amateur would make it through unscathed.
So off we went last Saturday, pop music blaring out of our little green ZipCar rental, on our way out to the North Fork of Long Island to enjoy a hot, sunny afternoon with North Fork Bike Tours. We showed up a bit early and stopped in for a cold beer and some nachos at a townie bar where they were having a baby shower in the back room. If you're rolling your eyes then you don't know class.
We arrived at the scheduled meeting spot on time and ready for a ride. We hopped on bikes and followed our friendly guides, Jason and John, down the road to the first winery. I am happy to report that I never, not once, fell off the bike. I almost hit someone. But she didn't even notice so it doesn't count.
The first stop on our bike tour was Pellegrini Vineyards. I'd never visited a winery before (save for special events at Casa Larga Vineyards in upstate New York) and it was fascinating to tour the rows of vines, visit the giant casks that press and process grapes, and go down into a cool cellar where row upon row of barrels waits to produce the tasty wines we were lucky enough to sample. I've admitted here that I don't know a whole heck of a lot about wine, but I do know Pellegrini served up a lovely chilled 2010 East End Select BBQ red that changed my mind about chilled red wines (aka loved.it.).
The next stop on our tour was Pugliese Vineyards. We tasted the wines here but didn't tour the premises. At this point in the tour I think we were all too hungry to care about vines and grapes and casks and whatnot and North Fork Bike Tours served up a delicious selection of sandwiches from Love Lane Kitchen in Mattituck. I was wholly impressed by the spread: Cuban sandwiches, mozzarella with chicken, tomato, and pesto, steak sandwiches, chicken salad on fresh bread… and then tiny cupcakes to finish it off. As we lounged in the grass in the shade of a massive tree in front of a koi pond out in the "country", I took a breath and relaxed into my alcohol-infused-calmness. A break from the city. Bliss. I picked up a bottle of a Pugliese Pinot Grigio to take back home with me, back to real life.
Our bike ride back to the original meeting place was only around 2 miles and it was incredibly peaceful just lazily drifting along the main road in Mattituck as the sun settled below the treeline. The sore butt bones I incurred the following day were well worth it.