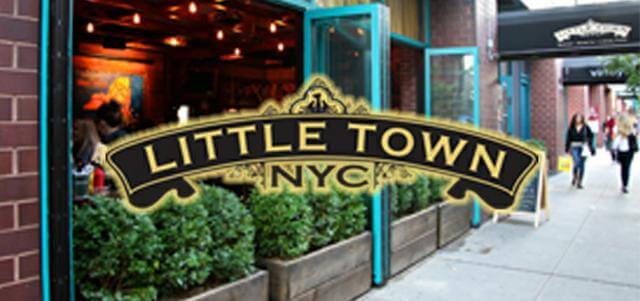 It's not often that you'll find a negative restaurant review on Food E. Most of the time if I go to a restaurant and it's mediocre or downright terrible, I take it to Yelp. I like to keep this a positive place and one where you can come to scroll and find all amazing things.
Well… consider this a break in tradition.
Last night The BF headlined a show at Caroline's on Broadway and a friend and I thought we'd get some drinks and snacks pre-show. Finding a bar in midtown is not always easy, so I took to the interwebz for recommendations. I found that Little Town NYC which opened their first shop in Union Square, had opened a sister store in midtown. Being from Rochester, people are always trying to tell me where I can find garbage plates in the city, and Little Town is a name that's come up more than once. The restaurant features all New-York-State-based foods: Buffalo wings, Rochester garbage plates, Long Island oysters, Binghamton spiedies, etc. I was incredibly excited.
Upon first entering the restaurant, I realized there was no air conditioning. Let me tell you a little something about New York City in the summer: it's freaking hot. In addition to the steamy temperatures, we walk everywhere. And I was wearing heels. 10 minute walk + 86 degrees + 4 inch heels = 1 sweaty mess. Little Town's three pathetic fans were barely spinning and the air conditioning must've been set to 80 degrees. But I had told my friend this is where we were meeting, and meet there we would.
I looked up at the huge chalkboard over the bar touting all the $5 happy hour beers on tap. I asked the waitress how sweet the sour cherry cider was. "Oh, we're out of that." "Okay," I said, "How about the Checkered Cab?" "Oh… we're actually out of that, too. The board hasn't been updated, I guess." I wiped sweat from my forehead and asked for something, anything, cold and light. My dining partner asked for a vodka cocktail that was also on happy hour special at 2 for 1. The beer arrived semi-cold and the cocktail arrived semi-cocked. "This is all cranberry juice," my friend said with a grimace. She downed the tiny thing in three gulps. "I guess we know why they're 2 for 1."
I took a look at the food menu, searching first for the garbage plate. I didn't really think I'd order it (let's face it, fellow Rochesterians, we know those plates are their best when you're 3 drinks in and hunched over that red tray in the brightly lit "dining room" of a dingy Hots at 2:30 in the morning) but I wanted to know what it was all about. First things first, it costs $18. EIGHTEEN DOLLARS. If you're not familiar with a garbage plate and you're too lazy to click that link above, a garbage plate is mac salad, home fries, 2 burgers, onions, hot sauce, and ketchup and mustard. Not a single ingredient in there costs upwards of $.50, and even with markups the plates in Rochester only cost around $8. The Little Town menu says "Feeds 2."
DUH.
We ordered pretzel crusted chicken fingers and fried oysters. My friend said she was concerned the chicken would be breaded in pretzel dough and I laughed at her. "No, I'm sure it's coated in hard pretzel crumbs." Oh… you're sure, Lauren? You're SURE. HOW CAN YOU BE SO SUUUURE?
I was wrong. Soft pretzel breading with some kind of bizarro hard pretzel chunks mixed in. The fried oysters, served over "coleslaw", were on the half shell. The oysters alone were pretty tasty, if not faintly tasting of heavy grease. I just wish those oysters hadn't been nestled into giant dollops of mayonnaise mixed with wilted cabbage.
During our meal I saw a garbage plate go by on its way to another table. I guess Little Town's way of giving you your $18's worth is to use "fancy" pasta instead of plain old elbow macaroni because the mac salad portion of the dish looked like an entree at an Italian restaurant.
Here's a tangent: street food is street food for a reason. It is cheap and popular because it is simple and accessible. Hometown favorites like garbage plates are not meant to be gussied up and served over fancy pasta on a china plate in a dimly lit bistro. I guess for a lot of people the novelty of a dish is worth eating out and forking over $18 for, but I am not one of those people.
Overall, I would not recommend Little Town NYC based on lackluster service (we had to flag down our waitress for drinks, waited awhile to get said drinks, and flag her down again for the check), uncomfortable dining room, unavailable menu items, overpriced and underwhelming food, and stripping one of my favorite dishes of its charm.
…too harsh? Now you know why I don't write more negative reviews.
Little Town NYC, 366 W. 46th St (between 8th Ave and 9th Ave), New York, NY.