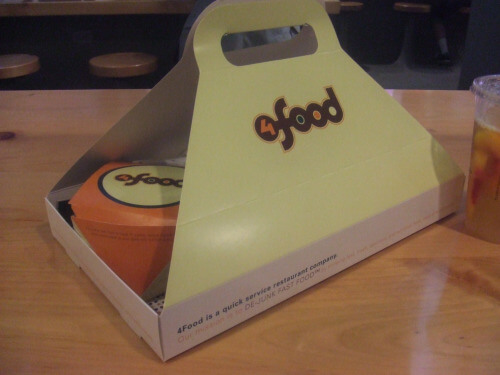 If I had a nickel for every time I complained about midtown lunch, I could quit my job. I could quit my job and send myself to culinary school… and then I could open my own bakery in San Francisco and buy a houseboat and sit on the porch every night and look out over the water with my trusty Bernese Mountain Dog by my side…
Ahem.
So. Midtown lunch. A welcome break in the form of burgers, coming at you September 7.
4food East 40th St and Madison Avenue, New York, NY. I was lucky enough (thanks, Shannon!!) to attend a special pre-opening event at 4food, a brand new spot in Manhattan that offers a high-tech atmosphere with endless burger options. Their slogan is "De-junking fast food" and with a dizzying array of burger options. I won't bore you with a list here, but you should check out their "build a burger" website and let the drooling commence.
This slideshow requires JavaScript.
On the menu:
Pork burger on a pumpernickel roll with avocado chili mango and gruyere cheese
Square roots: crispy sweet potato, Idaho potato, and purple potato squares with sweet chili sauce
Peach and rosehip iced tea with fresh peaches
Verdict: Ahhhh SO good! The space is warehouse-like with a giant screen on the first floor that scrolls with a live Twitter feed. The staff walks around the restaurant with iPads to ask how you're doing, help you order, and offer up suggestions. It's like a diner of the future! My pork burger was moist and flavorful, and the toppings were a nice complement to the spicy pork. The packaging of the burger and the Square Roots (a take on French fries) boasts that nothing in the place is deep fried. The Roots are baked and then probably pan fried in oil, but "nothing deep fried" makes me feel like I could be eating carrots, and same diff, right? At least that's what I will tell myself when I visit 4food every other Monday.