Happy Friday, friends! This week brought an end to the online charity bake sale that I was a part of and I want to give a big shout out to my brother and to Nicole for donating to the cause and snagging themselves some delicious giant rainbow cookies. If you did not place the winning bid but would still like to donate to the charity, click here.
I wanted to share the recipe with you now that the auction is over so that you can make these beauties at home. You can make these in 2 sizes: GIANT (which is what I made for the bake sale) that are like, 4 pounds a piece, or mini which are a more "manageable" size, if you like that kind of thing. Personally I like the giant sized but if you're making a batch for more than 12 people, I suggest the smaller size.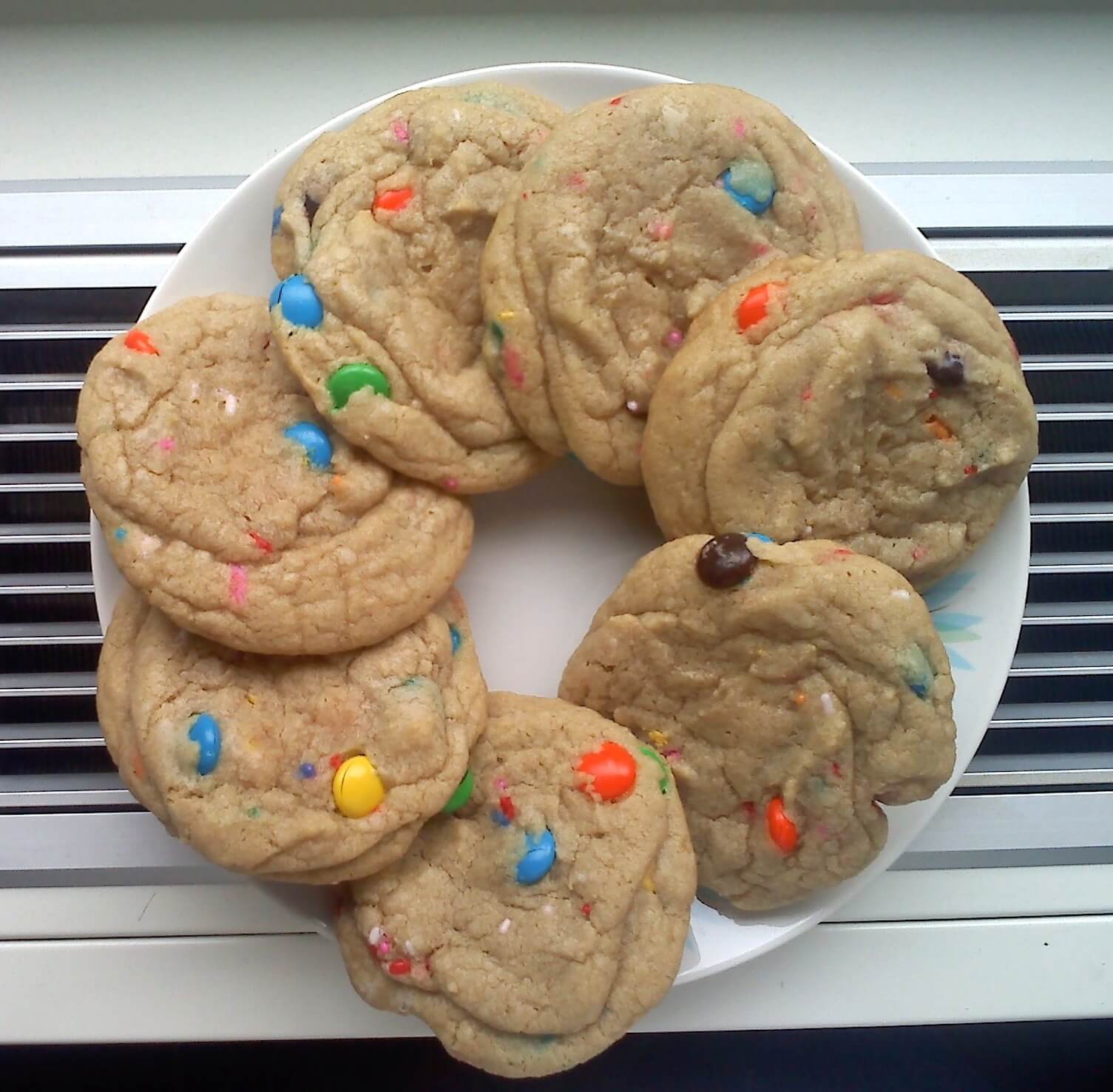 On the menu:
Giant rainbow cookies
Makes 12 or 36 (see above note)
2 cups plus 2 Tbsp flour
1/2 tsp baking soda
1 1/2 sticks butter, melted and cooled for 10 minutes
1 cup brown sugar
1/2 cup sugar
1 egg plus 1 egg yolk, at room temperature
2 tsp vanilla
1 cup M&Ms (or mini M&Ms, or chocolate chips, or some other delicious small chocolate candy)
2 Tbsp rainbow sprinkles
Preheat oven to 325 degrees.
In a small bowl, whisk together flour and baking soda. Set aside.
In a large bowl, mix together butter and sugars until combined and still liquid*. Stir in the eggs and vanilla. Bit by bit add the dry ingredients to the wet ingredients and stir until combined. Fold in M&Ms and sprinkles.
This step is a TINY bit tricky but don't let it throw you:
To form the cookies: make a dough ball with your hands (1/4 cup of dough for giant cookies, 2 Tbsp for mini). Break the dough ball into 2 halves. Place one half, broken side down, on the cookie sheet and place the other half, round side down, on top. For a more detailed image see here from How Sweet It Is (also where I got this recipe). It should look like little hour glasses on your cookie sheet.
Bake giant cookies for 16 – 18 minutes, mini cookies for 11 – 13 minutes (careful not to over-bake, these are deeeelicious when they're a little undercooked). Let cool on a cooling rack completely before eating.
*Note: if you let the butter cool TOO much, you'll get a weird solid dough after you mix the butter with the sugars and it'll be impossible to mix. You don't want the butter so hot that it'll cook the eggs, but you don't want it chilly, either.