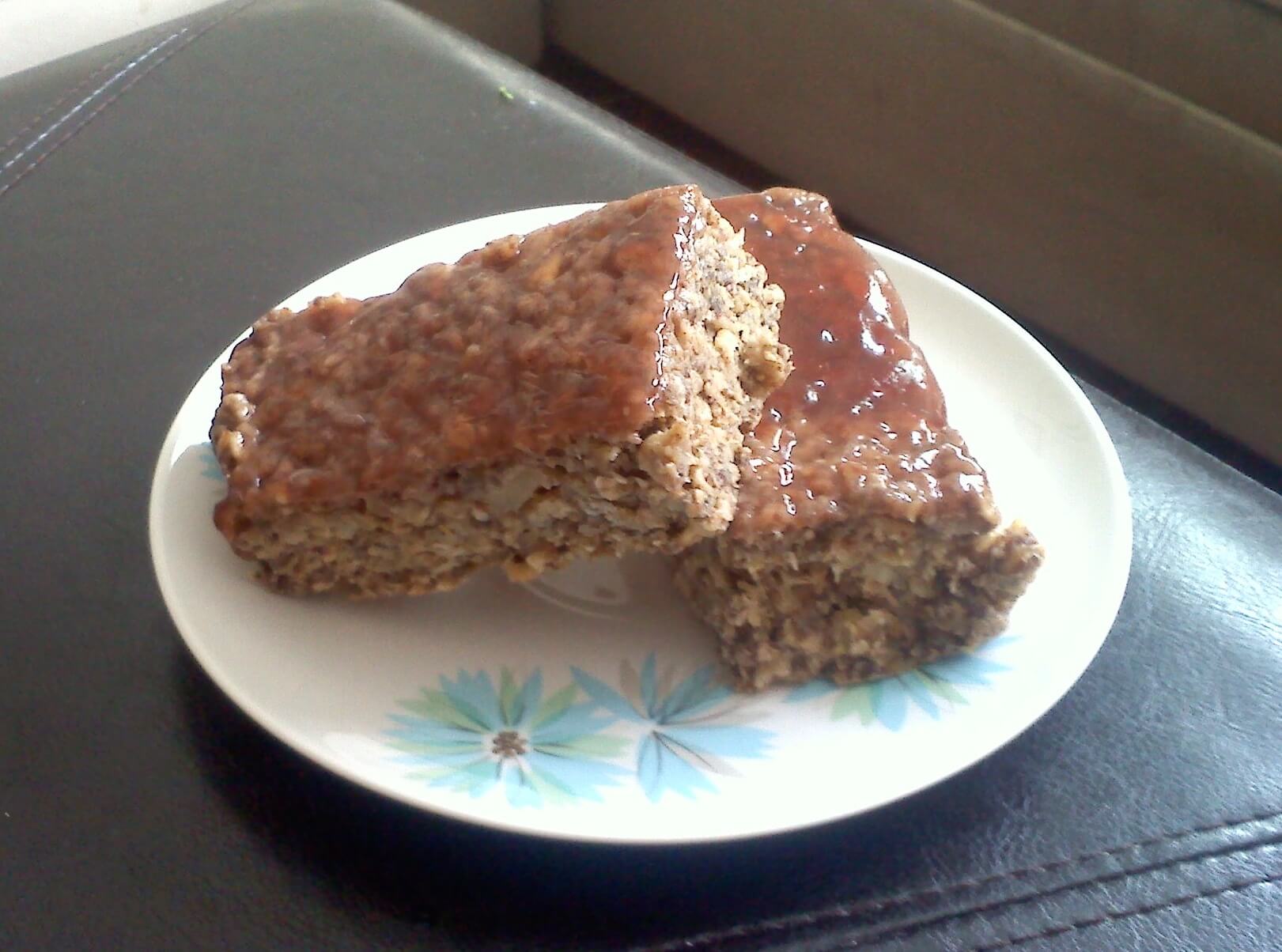 I don't know too many people who like preparing elaborate breakfasts on weekday mornings, including me who is sans day job at the moment. I prefer cereal and the occasional bagel if I have an extra minute. But The BF grabs whatever is handy and races out the door, eating later at his desk while checking email. He's not a big fan of hot oatmeal and one can only eat bananas for so many meals, so I decided to try and come up with something that he'd look forward to eating but that also didn't start his day off with a total calorie fest. I found these incredible and surprisingly healthy breakfast bars on "Oh She Glows" (don't worry, guys, men can eat these, too) and added a few things to make them BF-friendly.
On the menu:
PB&J Oatmeal Breakfast Bars
Makes 9 large squares (you can cut them smaller if you like)
2 1/2 cups rolled oats (not instant), divided
3 Tbsp chia seed
1/2 cup plus 1 Tbsp ground flax seed
1 tsp cinnamon
1 tsp baking powder
1/4 tsp salt
1 1/2 cups milk (use soy milk or almond milk to make these vegan)
1 Tbsp honey
1/2 cup peanut butter
1 ripe banana, chopped into 1/2 inch chunks
1 Tbsp vanilla extract
1 Tbsp orange juice
1/4 cup raspberry jam
Preheat oven to 350 degrees and line an 8 x 8 inch pan with parchment paper.
Blend 1 cup of rolled oats in a blender or food processor until it forms a fine flour (you can skip this by buying oat flour and just using 1 cup of it). Add oat flour, remaining 1 1/2 cups of rolled oats, chia seed, flax seed, cinnamon, baking powder, and salt to a large bowl and whisk until combined.
In a separate bowl, whisk together milk, honey, peanut butter, banana, and vanilla until combined (obviously the chunkier ingredients won't fully combine but do the best you can). Add this bowl to the dry ingredients and mix until combined. Pour into the prepared pan and smooth over so the batter is even.
In a small saucepan, combine orange juice and jam. Over low/medium heat, cook until the mixture becomes smooth with no lumps. Pour the hot jam over the batter in the pan until the bars are completely covered.
Bake for 35 – 40 minutes. Let cool on a wire rack for 10 minutes and remove from the pan. Let fully cool before cutting into squares.
Note: You could do virtually anything you want with these bars. I was thinking a pumpkin pie oatmeal bar would be to die for, with the addition of a cup of pumpkin puree, 1 tsp nutmeg, 1 tsp all spice, and maybe a crumble of brown sugar on top (removing the jam and PB and banana, of course). Still just as healthy as the above recipe and a completely different taste.
Last note!: Read all about the health benefits of chia seeds and flax seed by clicking the links. It's pretty incredible!