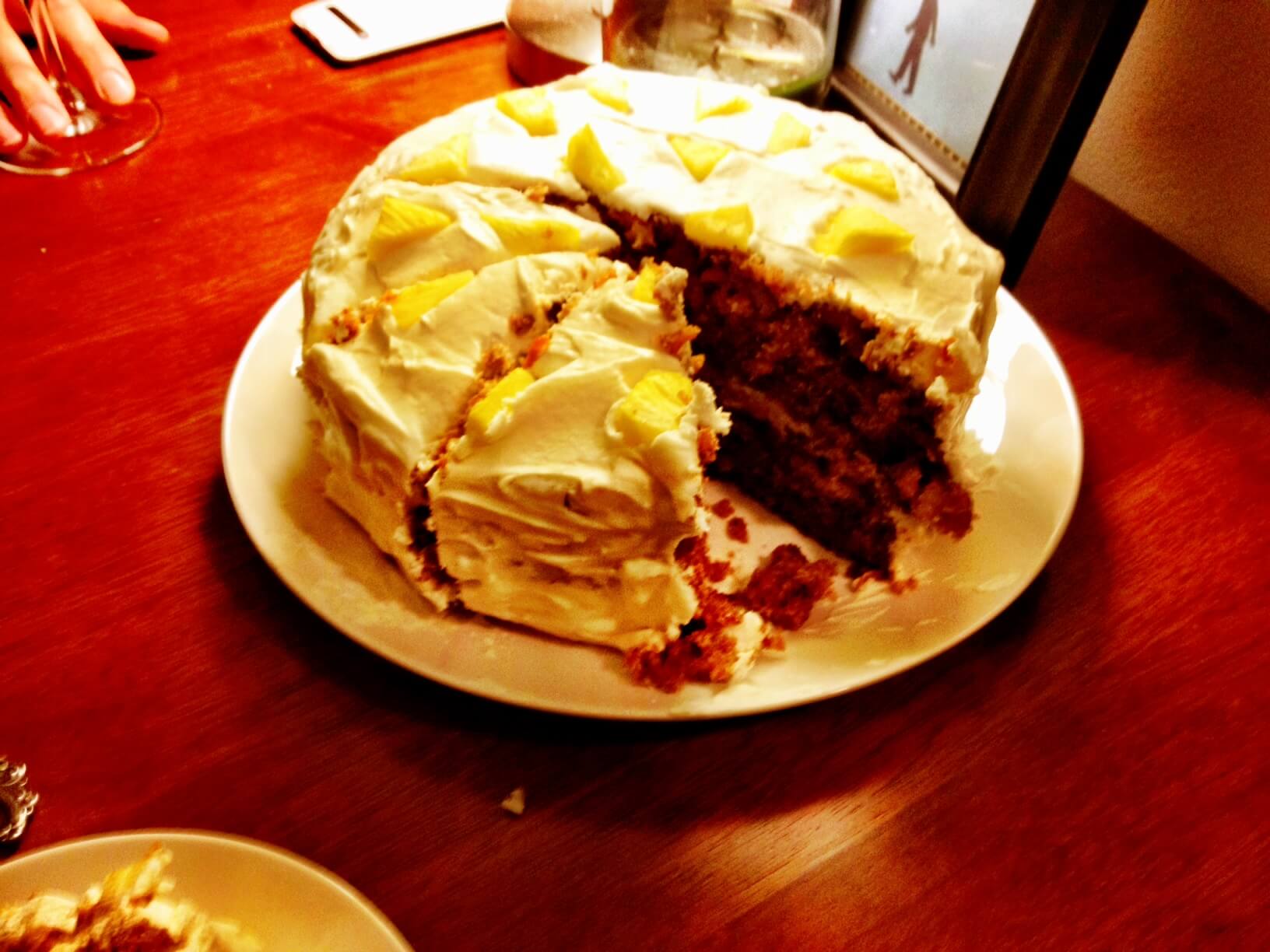 When trying to come up with a dessert for last weekend's dinner, I kept thinking that by the time the meat was gone I hoped everyone would be full. But I also wanted to cap off the evening with something really special… and frankly, kids, I don't know how to not do comfort food. So while my guests may or may not have dozed off in their chairs after the meal was over (is there a greater compliment?) and their pants may have been a little tight, I think this cake was the right decision.
On the menu:
Pineapple carrot cake with whipped cream cheese frosting
Cake:
2 cups sugar
3/4 cup vegetable oil
3 large eggs. room temperature
1 tsp vanilla extract
2 1/2 cups flour
2 tsp ground cinnamon
2 tsp baking soda
1 1/2 salt
1 pound carrots, grated
3/4 cup fresh pineapple, diced
Preheat oven to 350 degrees. Grease 2 8-inch round cake pans.
Beat together sugar, oil, and eggs until the mixture is a light yellow color. Beat in the vanilla. In another bowl, sift together flour, cinnamon, baking soda, and salt.
Add the dry ingredients to the wet ingredients and mix until incorporated. Fold in the carrots and the pineapple and mix well. Divide the batter up equally into the 2 pans. Bake for 55 – 60 minutes or until a toothpick comes out clean. Let cakes cool in the pans on a wire rack.
Frosting:
1 8-oz. package of cream cheese, room temperature
1 cup powdered sugar
1/4 tsp corn starch
1/8 tsp salt
1 tsp vanilla extract
1 cup heavy whipping cream
Place a metal bowl and beaters from an electric mixer into the freezer for 30 minutes. In the pre-frozen bowl with pre-frozen beaters, beat the whipping cream until soft peaks form.
In a separate bowl, beat together cream cheese, sugar, corn starch, salt, and vanilla extract. Fold in the whipped cream.