Ireland holds a special place in my heart, and it has very little to do with the green shamrocks and drunk dudes from New Jersey getting into fist fights in the streets of Manhattan. It has everything to do with this: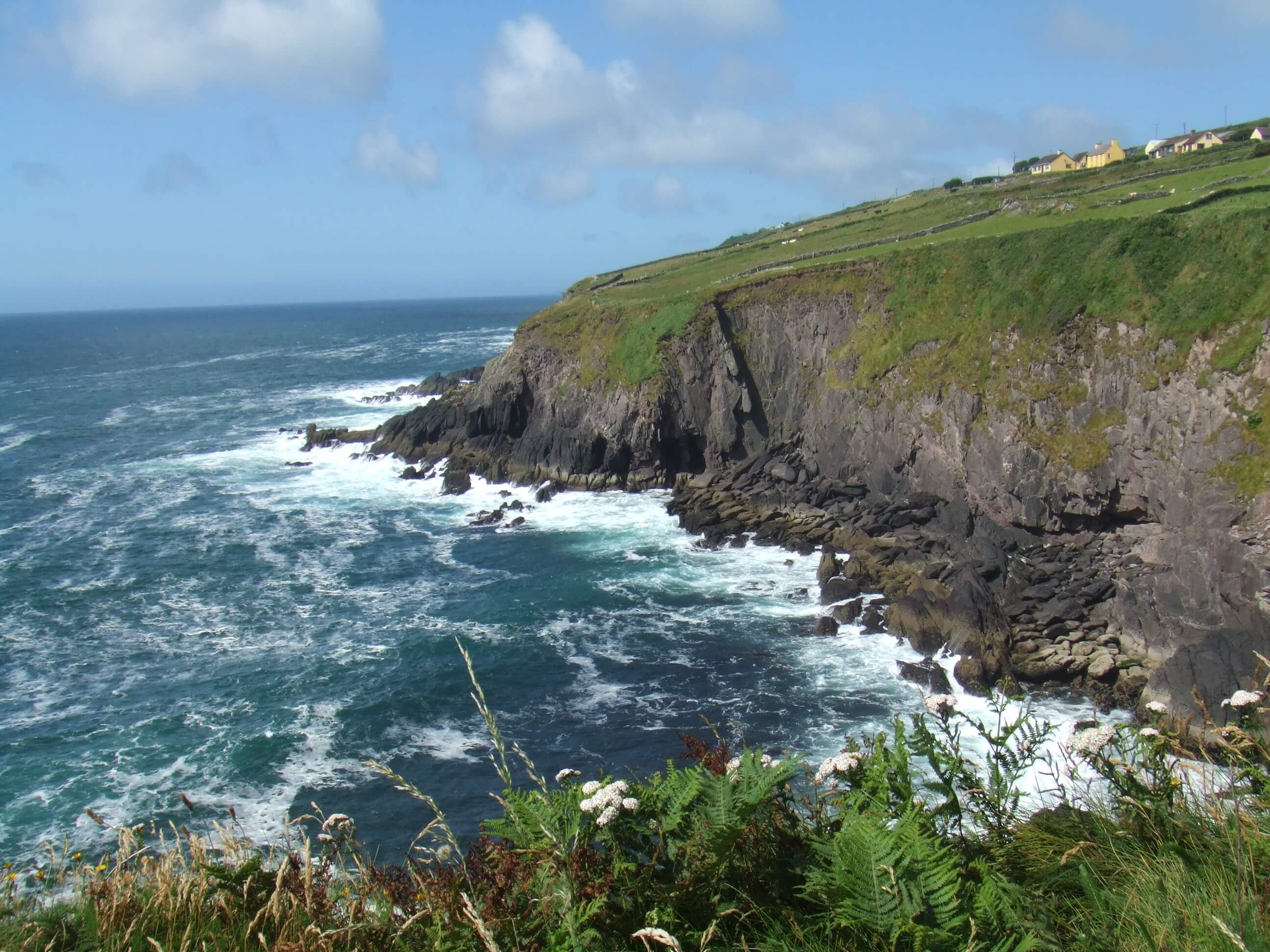 Dingle Peninsula, Co. Kerry
I spent six weeks exploring Ireland under the guise of "study" abroad in the summer of 2006. My time on the Emerald Isle supplied me with some of my fondest memories, and one day in particular stands out as one of the best of my life.
As the rain poured down on the small coastal town of Dingle in County Kerry on the Western coast of Ireland, a small group of us decided that despite the weather we'd venture the mile or so into town. We couldn't spend one whole precious day sitting in the hostel. So we donned thin rain jackets, insufficient footwear, and our most ambitious spirits and powered through the sheets of rain that pummeled down from the skies. I have never laughed so hard and I have never been so drenched. By the time we reached Murphy's Pub, each of us was soaked down to our skivvies and desperate for an Irish coffee, a bowl of chowder, and a thick slice of brown bread.
Many pints and bowls of chowder later, we were still damp but warm, sated, and happy. I know it was the company that made that day what it turned out to be, but the brown bread didn't hurt.
Toasting in celebration of making it all the way into town! Murphy's Pub, Dingle, Co. Kerry
This will never replicate the dense, dark bread served at most pubs and Irish restaurants in Ireland itself, but in honor of St. Patrick's Day, I thought I'd fill my apartment with a familiar scent.
On the menu: Irish Brown Bread
Makes 1 rou nd 9-inch loaf
(Adapted from Epicurious Brown Bread Recipe )

4 cups whole-wheat flour
1/2 cup toasted wheat germ
2 teaspoons salt
2 teaspoons sugar
1 teaspoon baking soda
1/2 teaspoon cream of tartar
1 stick (1/2 cup) cold unsalted butter, cut into 1/2-inch cubes
1 cup well-shaken buttermilk
1 cup milk

Put oven rack in middle position and preheat oven to 400 degrees. Butter a 9- by 2-inch round cake pan.
Whisk together flour, wheat germ, salt, sugar, baking soda, and cream of tartar in a large bowl until combined well. Blend in butter with a pastry blender or your fingertips until integrated. Make a well in center and add buttermilk and regular milk, stirring until a dough forms. Gently knead on a floured surface, adding just enough more flour to keep dough from sticking, until smooth, about 3 minutes.
Transfer dough to cake pan and flatten to fill pan. With a sharp knife, cut an X (1/2 inch deep) across top of dough, 5 inches long. Bake until loaf is lightly browned and sounds hollow when bottom is tapped, around 35 minutes. Cool in pan on a rack 10 minutes, then turn out onto rack and cool, right side up, about 1 hour.
You can serve this right away but it slices more easily after sitting at room temperature for a day.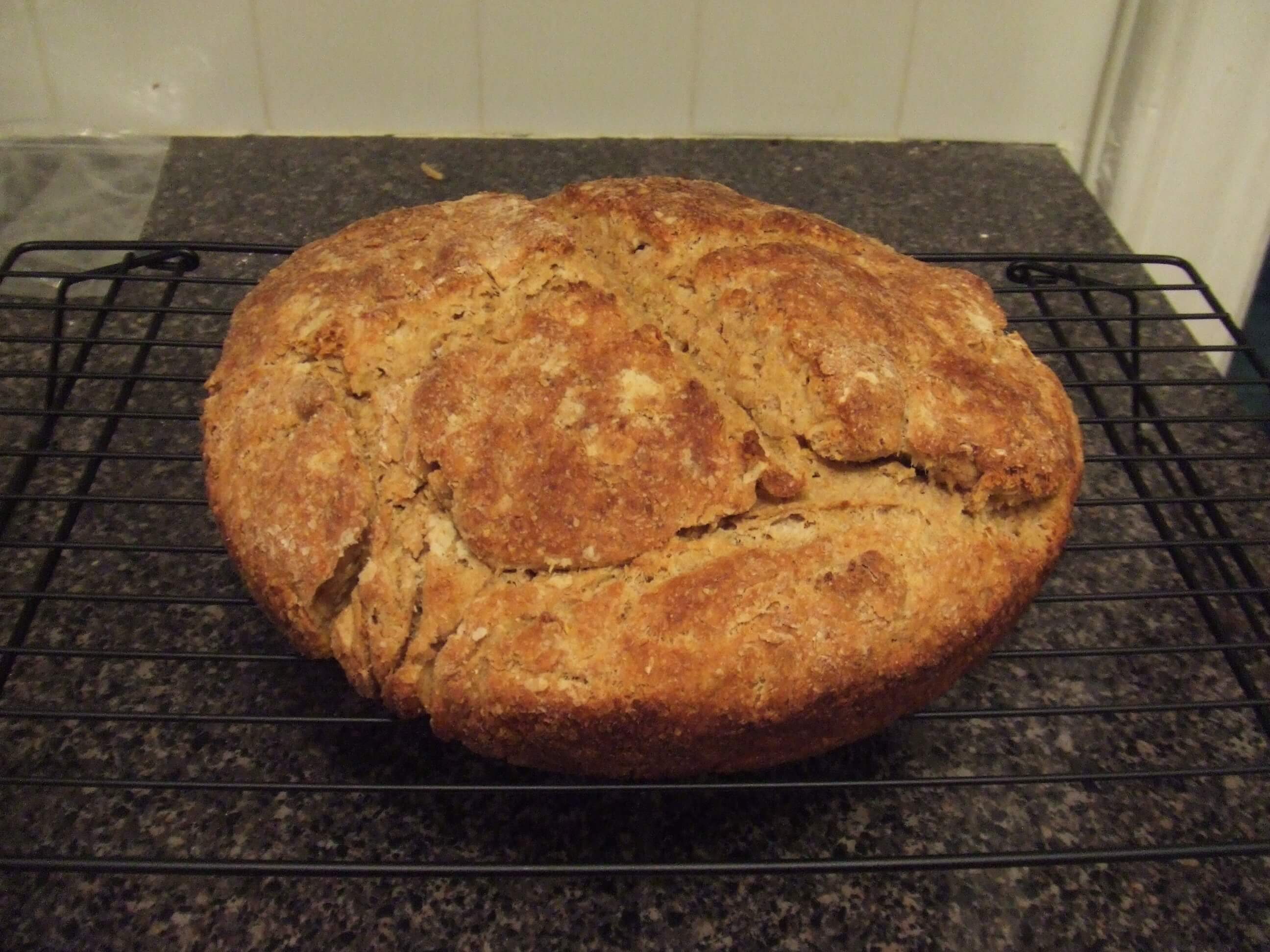 Best served when your clothes are damp from a long walk through the rain in Dingle, heavily buttered and accompanied by sassy lasses and a frothy pint of Bulmers cider.