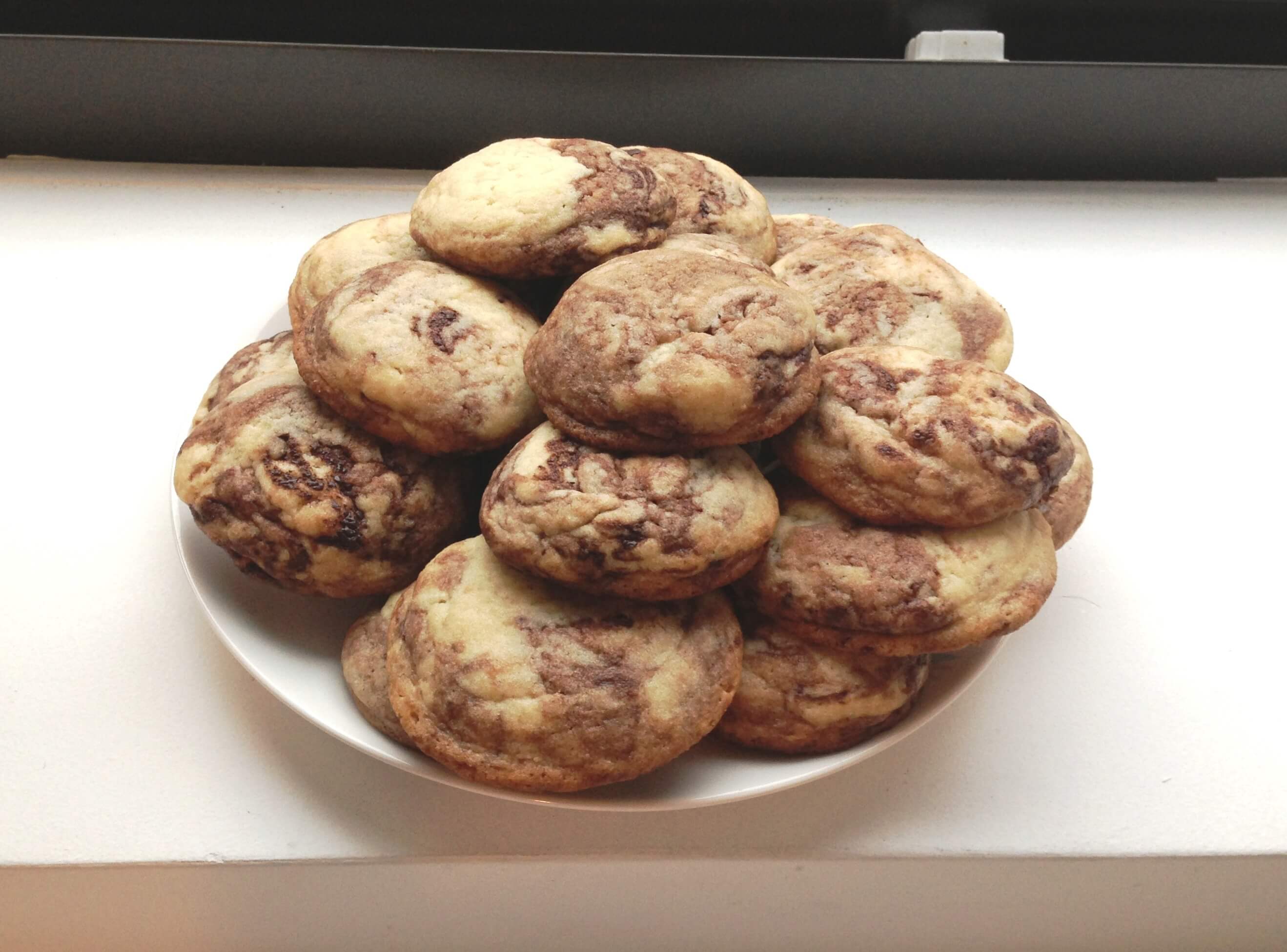 One of my favorite food memories (of which there are bajllions) is from when I was really little, maybe 4 or 5. My grandmother used to take me to her local bakery to get the kuchen that inevitably showed up at every family meal, and she'd let me get one thing for myself. It was always a marble cookie. As a kid I never questioned what I liked about that cookie but my little kid brain always went straight for it: a cookie with chocolate and vanilla swirled dough and a delicious but faint hint of almonds. Crispy on the outside, soft in the middle (is there any other way?)… New York delis have these cookies in scores but they always disappoint. They're always stale and usually hard as rocks. So in the interest of dredging up nostalgia, I dug up a recipe to make them in my own kitchen. And a pleasant surprise: they are so freaking easy.
On the menu:
Marble cookies
Makes 2 dozen
1 cup unsalted butter, room temperature
1 cup sugar
1 egg
2 cups flour
1/2 tsp salt
1/2 tsp baking soda
1/2 tsp cream of tartar
1 tsp vanilla extract
1 tsp almond extract
1 oz. unsweetened baker's chocolate
In a large bowl, with an electric mixer, blend the butter and sugar until combined. Add egg and blend well.
In a small bowl, whisk together the flour, salt, baking soda, and cream of tartar. Add to the butter/sugar mixture and blend with electric mixer until combined. Add vanilla and almond extracts and stir together the dough by hand.
In a double boiler or in the microwave, melt the chocolate. Little by little, add the chocolate to the cookie dough, intermittently using a knife to swirl the chocolate. Do NOT stir! You want to be able to see the chocolate and the vanilla within the dough.
Chill dough for at least one hour.
Preheat oven to 400 degrees. When dough is nice and chilled, roll dough into balls about 1 1/2 inches in diameter. Place on an ungreased cookie sheet and bake for 10 – 12 minutes or until the edges are just started to turn light brown. Cool on a wire rack.