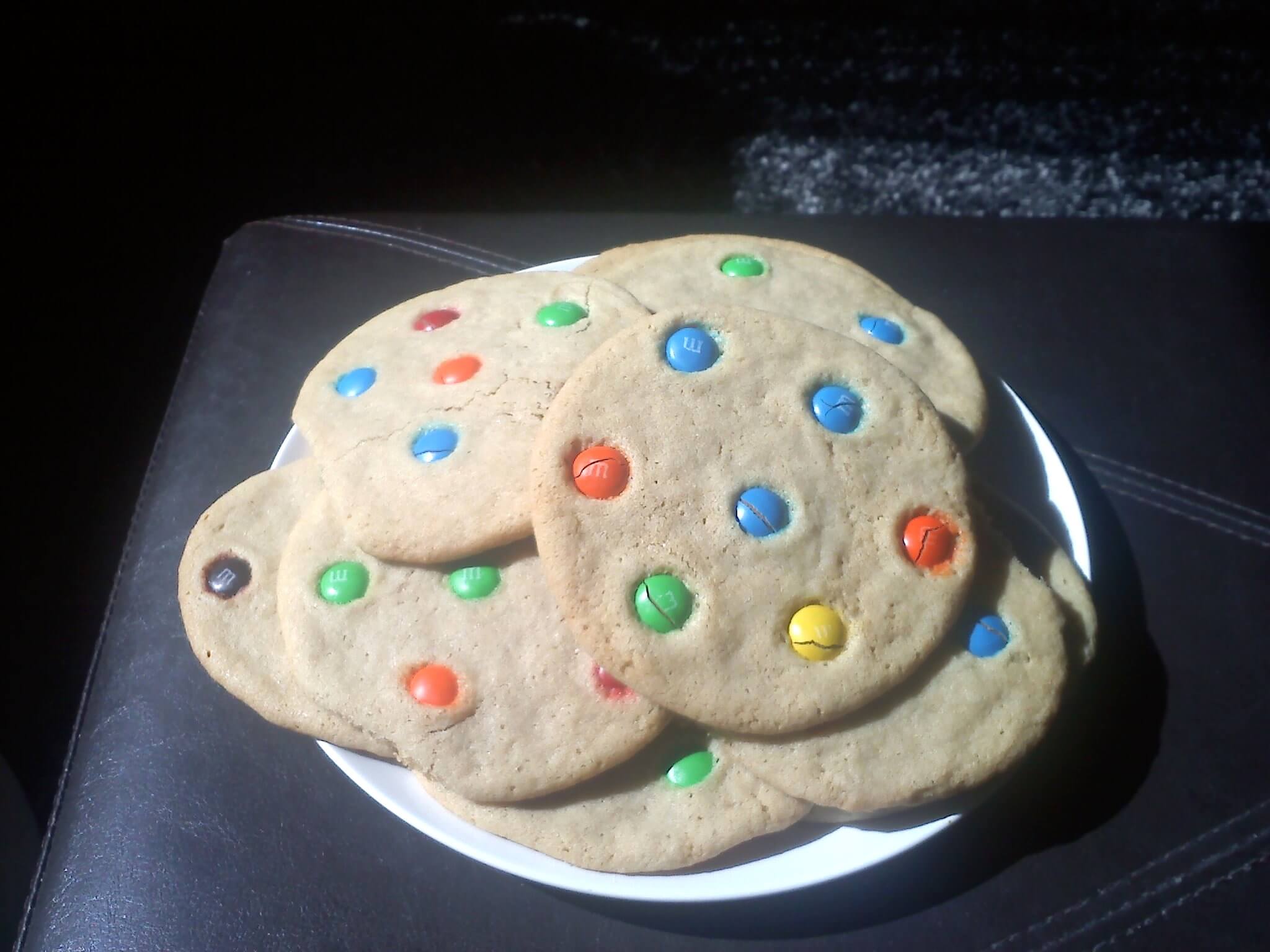 I'm sure it's no surprise to you that most of my memories are tied to food, including my earliest memory of eating an apple at the YMCA while I watched my mom take aerobics class. So while I was perusing Pinterest a couple weeks ago, an image caught my eye that immediately took me back… back to the mall. Remember how you'd be walking through the mall on a weekend and suddenly there was a scent… a warm, chocolatey, freshly baked scent that forced you past 5-7-9, past DEB, past Charlotte Russe, past Wet Seal… to The Cookie Place. Did it have a real name? Who cares. To me it was The Cookie Place. I would beg my mom with every ounce of gusto I had in me for one of those beautiful cookies. Sometimes I got one, sometimes I didn't. But when I did it was always the same: M&M. In the recesses of my mind it seemed like two treats in one, candy and a cookie. See what I did there? Always thinking.
It should be noted that later in life I would work at the mall across from said Cookie Place and I ate so many that I gained some weight… enough weight that one day the button on my pants popped while I was driving to the mall and when I got there I had to buy myself some new pants. It's amazing how life comes full circle, am I right?
Anyway, I saw the picture on Pinterest and committed myself to making the mall M&M cookies. I did leave the blogger who originally posted them (Liz of the amazingly named That Skinny Chick Can Bake!) a note to make that these cookies are CHEWY and not CRISPY (obviously) and she assured me they are, in fact, chewy. That is, if you eat them within the first day or two of making them. But don't worry. You will.
M&M Cookies
Makes approximately 18 cookies
Originally from That Skinny Chick Can Bake!
3/4 cup butter, softened to room temperature
2/3 cup sugar
2/3 cup brown sugar
1 egg plus 1 egg yolk
1 1/2 tsp vanilla extract
1 1/4 tsp baking soda
1/4 tsp salt
2 cups flour
Preheat oven to 350 degrees and line baking sheets with parchment paper.
Cream together butter and sugars with an electric mixer. Add egg and egg yolk and combine. Add vanilla and combine. Sprinkle baking soda and salt over the butter mixture and mix well until combined. Add flour and mix by hand.
Take 2 Tbsp of dough and roll into a ball. Place dough balls on cookie sheet approximately 2 inches apart (these spread a LOT) and flatten slightly with palm of your hand. Top with 6 – 8 M&Ms and press down a little so they're nestled in the dough.
Bake for 11 – 13 minutes or until brown around the edges. Let cool on cookie sheet for 5 minutes before transferring to a cooling rack to cool completely.