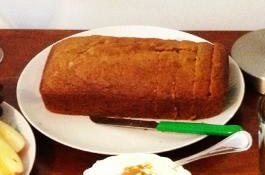 Pumpkin bread is one of those dishes you can make for a brunch last minute in case, say, the bread you planned to make that took you 2 hours the night before, the bread you created specially so that your friend who can't eat gluten could still enjoy every dish at your brunch, the bread that made your whole apartment smell like incredible grapefruit-scented-vanilla cake for an entire day … yes… that bread… came out like a fat, gooey, undercooked, flat brick.
Womp womp.
So I threw this bread together and told my gluten-free-friend to stay far away. But everyone else swarmed in like vultures. #Success
On the menu:
Pumpkin bread
Makes 1 loaf
1 1/2 cups flour
1/2 tsp salt
1 cup sugar
1 tsp baking soda
1 cup pumpkin puree
1/2 cup vegetable oil
2 eggs
1/4 cup water
1/2 tsp nutmeg
1/2 tsp ground cloves
1/2 tsp ground cinnamon
Preheat oven to 350 degrees.
In a small bowl, whisk together the flour, salt, sugar, and baking soda. In a medium bowl, mix together the pumpkin puree, vegetable oil, eggs, water, and spices. Slowly add the dry ingredients to the wet ingredients just until incorporated (careful not to overmix).
Grease a 9 x 5 x 3 loaf pan with butter and pour in the batter. Bake for 50 minutes. Let cool in the pan for 10 minutes and then remove and let cool on a rack.