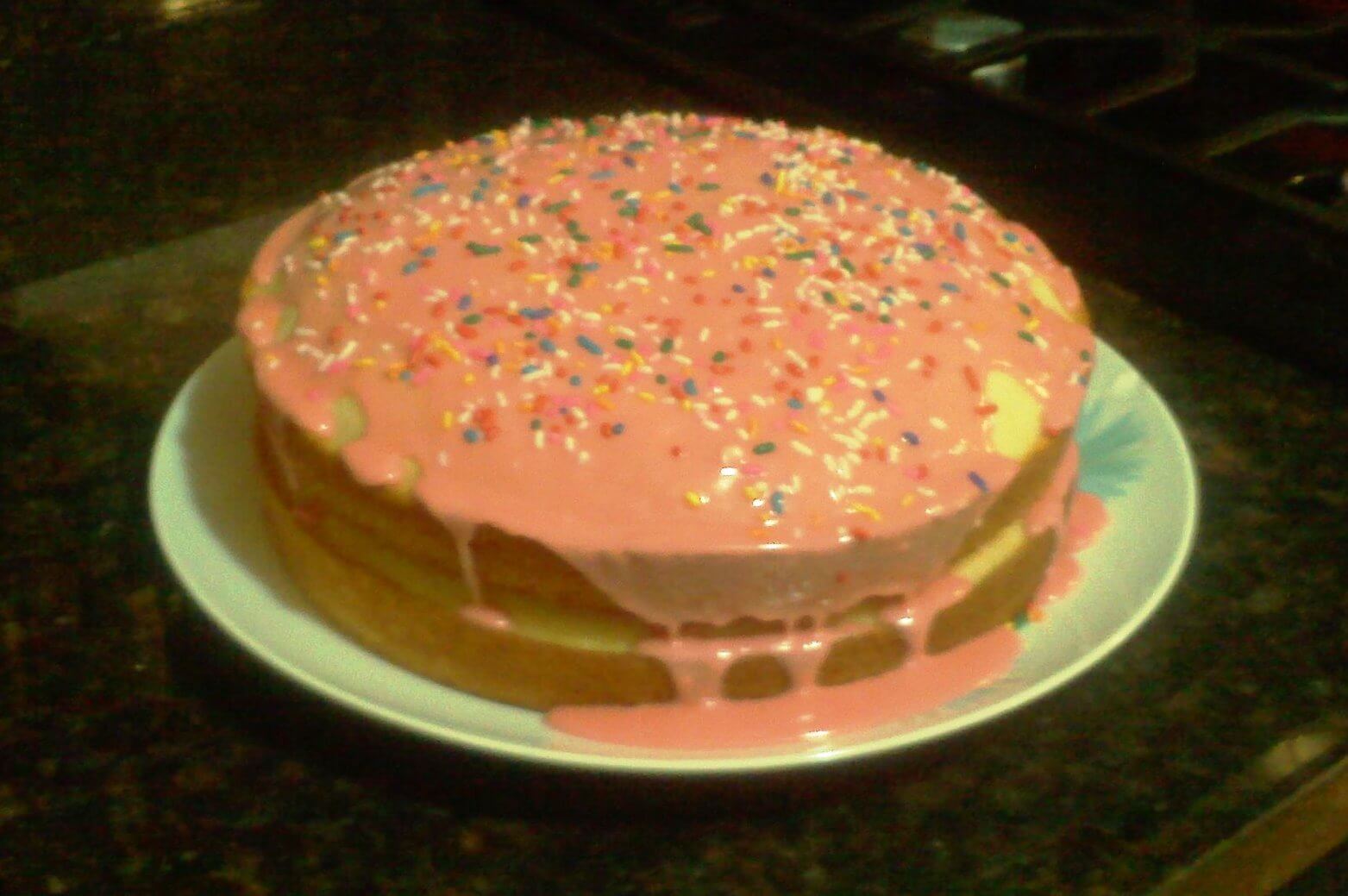 I would tell you how many cakes I've baked in the past month or so, but frankly I'm embarrassed. My penchant for cake is second to none. I'm the only girl at the wedding who cannot WAIT for the cake to be served. I'm thinking there must be a 12 step program I can join, right?
I had my sights set on vanilla cake this time and I looked to The Joy of Cooking to satisfy that need. I posted a recipe for vanilla cake before, but this one is a little bit different and just a tad bit lighter.
On the menu:
Vanilla cake with vanilla glaze
Adapted from The Joy of Cooking
Serves 12
3 1/2 cups cake flour (or regular flour sifted)
3 tsp baking powder
1/2 tsp salt
2 cups sugar (divided into: 1 2/3 and 1/3)
1 cup unsalted butter (softened to room temperature)
1 tsp vanilla
1 cup milk (I used 2%)
8 egg whites
1/2 tsp cream of tartar
Grease and flour 2 9-inch round baking pans. Preheat oven to 375.
You'll need 3 different sized bowls for this recipe. In the middle sized bowl: sift together the flour, baking powder, and salt. Set aside.
In the largest bowl: cream the butter with an electric mixer. Add 1 2/3 sugar and mix until combined.
In the smallest bowl: add milk and vanilla and whisk until combined.
In the largest bowl: while mixing, gradually add 1/3 of the flour mixture, then add 1/2 the milk mixture, then add 1/3 of the flour mixture, then add the remaining milk mixture, then add the remaining flour mixture until the batter is completely combined.
In the medium bowl: with CLEAN beaters, beat the egg whites and the cream of tartar until soft white peaks form. Add the remaining 1/3 cup of sugar and continue beating until the mixture is firm but not dry. Using a rubber spatula, fold the egg white mixture into the large bowl with the batter. Continue folding until the batter is uniform.
Pour half the batter in one pan and half the batter in the other pan. Bake for 25 minutes or until the cake springs back when gently pressed.
NOTE: this frosting should be called "Lauren's Lazy Layer Cake Liquid" because it's the same lame-o glaze I use for my chocolate cake, only I leave out the cocoa and add a tsp of vanilla and a few drops of red food coloring so it's pink, not grayish brown from the vanilla. This is not, I repeat, this is not good frosting. It's war time frosting. It's what you use if you don't want to wait the 7845023653478026523780 hours until your cake is cool and you just want to eat it right. now. Add some jimmies to spice it up.
Yes. Jimmies.