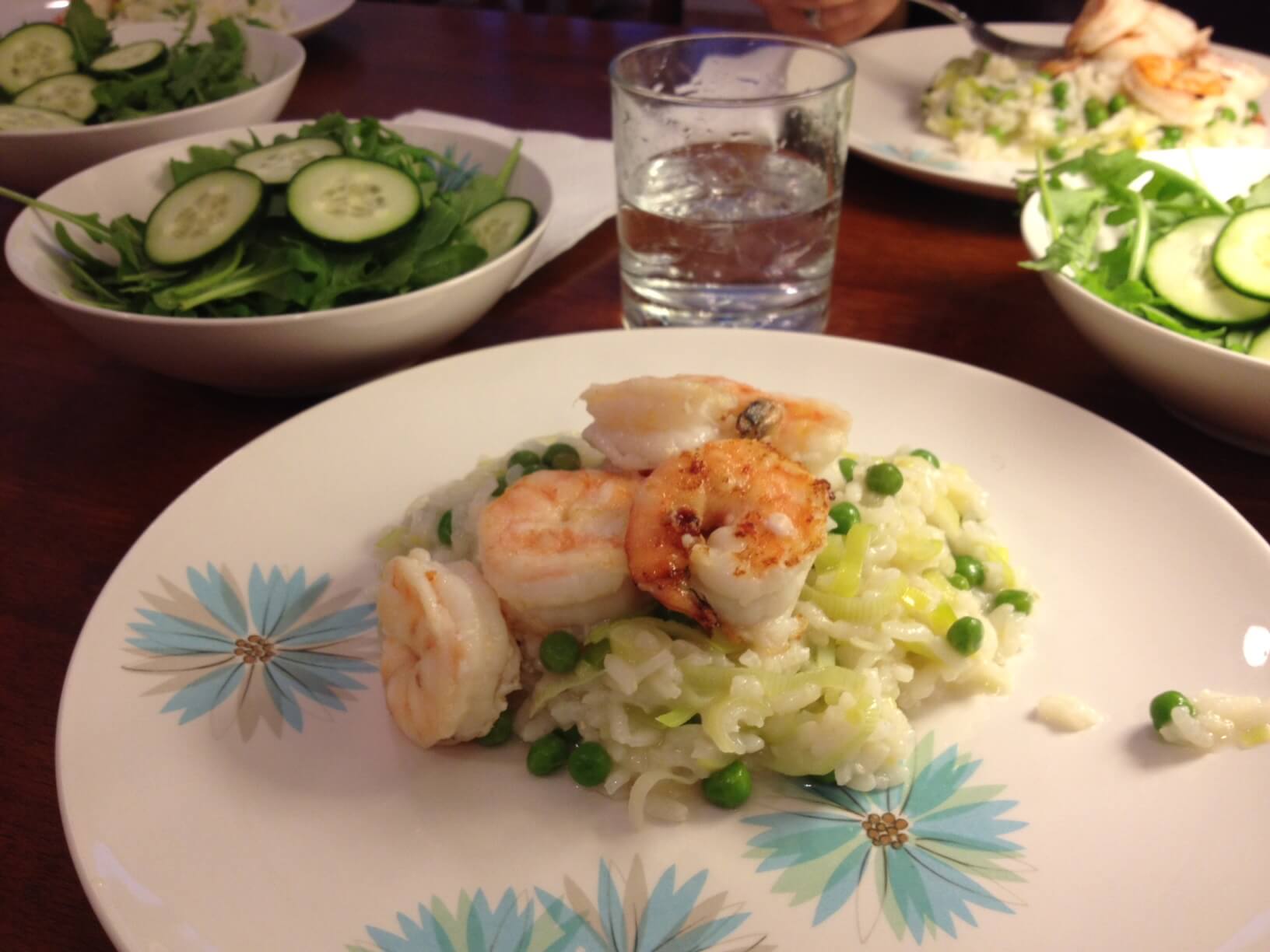 It's no secret to those devoted Food E. readers that I love risotto. It's easy to prepare for company, it's impressive to present, and it's one single dish to make sure is ready by meal time instead of two or three separate dishes that you have to coordinate. Also, most people love it. This past weekend The BF and I had some friends over for dinner and I prepared this risotto with a small arugula salad with cucumbers to start. The original recipe calls for calamari and if you have a grill or a grill pan, I'd definitely suggest trying it. I went with calamari's good friend, shrimp.
On the menu:
Spring pea and lemon risotto with shrimp
Serves 4
6 cups chicken stock
5 Tbsp olive oil
1 medium leek, white and light green parts only, sliced thin
1 tsp of fresh lemon juice, plus zest of one lemon
1 1/2 cups arborio rice
1/4 cup dry white wine
1/2 cup frozen peas
2 Tbsp butter
1/3 cup grated parmesan cheese
1 pound fresh shrimp, de-veined and tails removed, patted dry and lightly sprinkled with garlic salt and flour
Heat chicken stock over medium-high heat until it simmers, lower heat and leave the stock on a low simmer.
Heat 2 tablespoons of olive oil in a large pot over medium heat and sautee leeks until softened but not brown, about 7-8 minutes. Remove leeks from the pot and set aside on a plate. Add 1 tablespoon of olive oil to the pan and add rice. Stir rice for one minute until fully coated with oil.
Add white wine to the rice and stir until liquid is almost completely absorbed, around 3 minutes. Add one cup of stock and occasionally stir. Keep adding stock cup by cup until one cup remains, around 20 minutes*. Add lemon juice, zest, leeks, peas, and last cup of stock to the rice and stir until incorporated.
When you add the last cup of stock, heat remaining two tablespoons of olive oil in a large skillet over medium heat and place shrimp in the pan. While the shrimp are cooking: add cheese and butter to the risotto and stir. Turn the heat off of the risotto. Flip the shrimp in the skillet after 3 minutes, cook for another 3 minutes on the other side.
Plate the risotto and place shrimp on top. Garnish with extra grated parmesan cheese if desired.
*Note: the best way to test your risotto for doneness is to taste it. Grains should be just barely hard in the center when you turn off the heat to complete the cooking process.