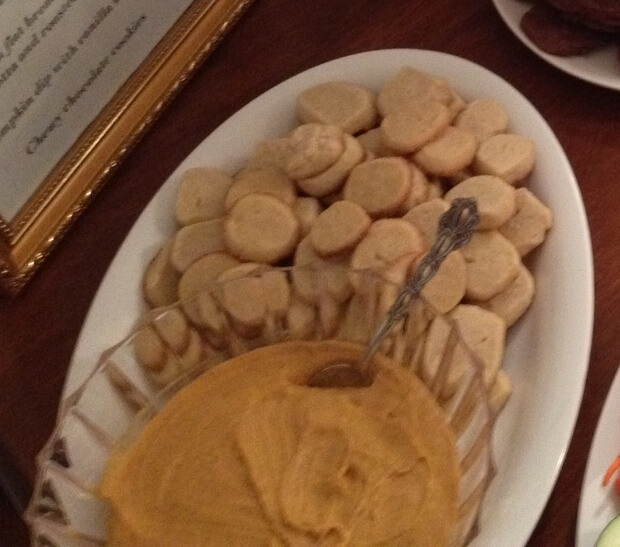 Happy Monday! Oh, who are we kidding, Monday sucks. Bake these tonight and tomorrow will be a little bit sweeter.
On the menu:
Sweet pumpkin dip
Makes 5 cups, 32 servings [aka a LOT of dip!]
8 oz. package of cream cheese, softened to room temperature
1 cup confectioner's sugar
1 15-oz. can of solid packed pumpkin
1 Tbsp ground cinnamon
1 tsp ground nutmeg
1 tsp ground ginger
1/2 tsp all spice
In a medium bowl, blend cream cheese and confectioner's sugar until smooth. Gradually mix in the pumpkin. Stir in the spices until smooth and blended. Chill until serving.
Vanilla Wafers
Adapted from this recipe at Ezra Poundcake
Makes about 65 cookies
1 cup unsalted butter, softened
1/2 cup sugar
1/4 tsp salt
2 large egg yolks
1 Tbsp vanilla extract
2 cups flour
Preheat oven to 350. Blend sugar, salt and butter together until smooth with an electric mixer. Add egg yolks and vanilla and blend until smooth. Add flour. Divide dough into 4 portions and roll each into a log about 1 1/2 inches in diameter. Wrap each log in saran wrap and chill in the refrigerator at least an hour.
Once chilled, slice each roll into slices 1/4 inch thick. Place slices on cookie sheet [NOTE: these don't spread so you can place them pretty close together]. Bake for 12 – 15 minutes or until the bottoms are golden brown. Let cool and then dip them into your delicious pumpkin dip.
Note: These cookies are not your traditional in-the-box vanilla wafers. They are definitely a cookie, and they're sweeter than the boxed kind. However, the dip plus the cookie is not overly sweet so don't worry about a sugar overload. Not that I ever do anyway.