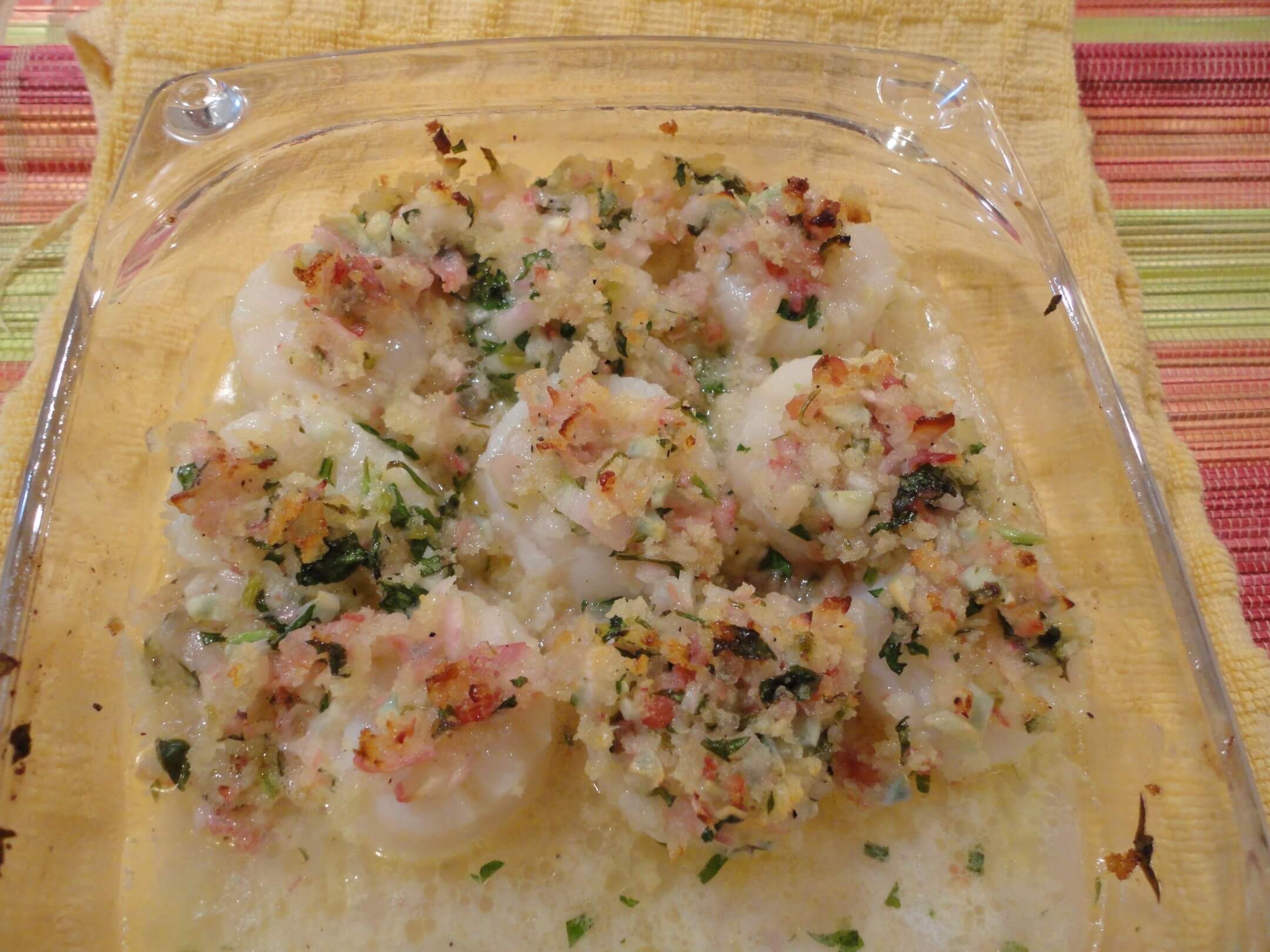 I'm just going to come right out and say it: if you don't have a great sense of smell, then I feel really sorry for you. Your life is like a bowl of rice krispies that's got the snap crackle but is missing the pop. Because when a batch of garlicky, pancetta-laden scallops are bubbling away in a hot oven and that glorious, buttery smell is wafting through the air… there is literally nothing else like it. Nothing.
On the menu:
Scallop Gratin (adapted from Ina Garten's bay scallop gratin )
Serves 2
3 Tbsp unsalted butter, softened
3 garlic cloves, minced
1 medium shallot, minced
2 oz thinly sliced Pancetta, minced
3 Tbsp minced fresh parsley, plus 2 extra sprigs for garnish
2 Tbsp freshly squeezed lemon juice
4 Tbsp dry white wine, separated into 1 Tbsp (for topping) and 3 Tbsp (for the bottom of the baking dish)
1 tsp salt
1 tsp freshly ground black pepper
4 Tbsp olive oil
1/4 cup panko bread crumbs
1 lb fresh sea scallops
Preheat the oven to 425 degrees.
To make the topping, place the butter in a bowl. With an electric mixer on the lowest speed, add the garlic, shallot, pancetta, chopped parsley, lemon juice, 1 Tbsp of white wine, salt, and pepper and mix until combined. With the mixer still on low, add the 3 Tbsp of olive oil slowly, until combined. Fold in the panko with a rubber spatula and set aside.
Rinse scallops and pat dry with paper towels. In a non-stick skillet, heat remaining 1 Tbsp of olive oil over medium/high heat. Place scallops in skillet, with 1 inch between each. Sear on one side for 2 minutes, flip over and sear on the other side for 2 minutes.
Place 3 Tbsp of the wine in the bottom of a small baking dish and place seared scallops in the dish [NOTE: for best results, your scallops should be touching in the dish with little to no room between them]. Spoon the garlic butter evenly over the top of the scallops. Bake for 10 to 11 minutes, until the topping is golden and sizzling. Turn on your broiler and let the dish broil for 2 minutes, until browned. Garnish with parsley. Serve with crusty slices of French baguette.
Also note that this dish yields AMAZING dipping sauce so you'll need plenty of bread to sop up all that goodness.