Today was gross for three reasons: it was Monday, I have a cold, and it was raining. Today was great for three reasons: I won't see Monday's ugly face again for 6 whole days, I heard that this weekend it's supposed to hit 80 degrees, and one of my very best friends who lives in my backyard cooked me dinner. Even Steven.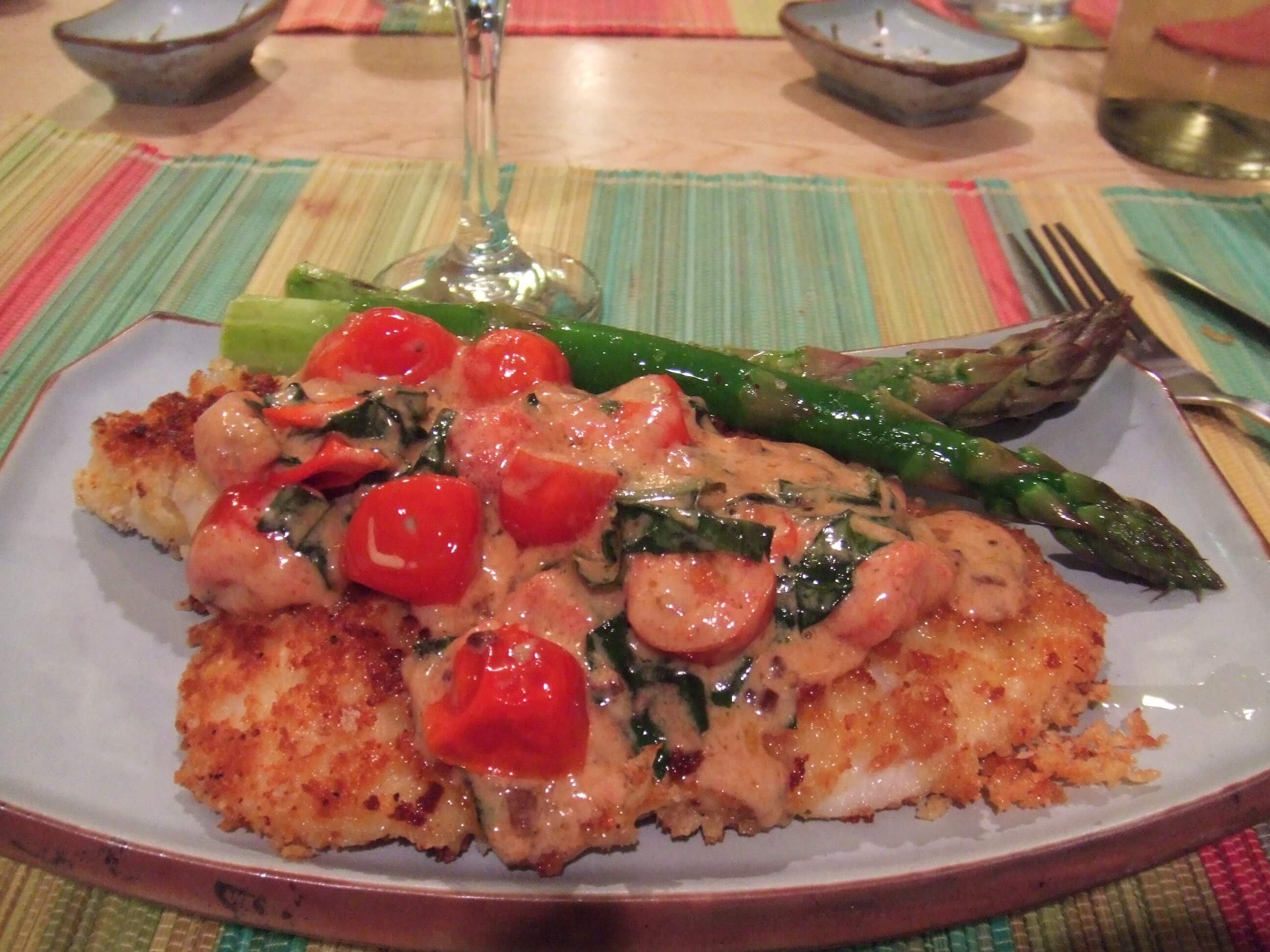 On the menu:
"Becca Does Tilapia" with parmesan crust and basil tomato cream sauce
Asparagus with rosemary sea salt
Tilapia
Serves 2
3 tablespoons olive oil
2 cloves garlic, minced
10-12 cherry tomatoes, halved
1/2 cup cream
1/2 cup basil [1/4 cup roughly chopped, 1/4 cup chiffonade]
2 tilapia fillets
salt and pepper
1/4 cup flour
1 egg, beaten
1/2 cup shredded Parmesan cheese
1/2 cup panko breadcrumbs
1/2 teaspoon Japanese spice blend [you can buy this blend of Japanese spices in most grocery stores with an international section, but if you don't have it, you can substitute a pinch of red pepper flakes, garlic salt, or paprika]
Heat 1 tablespoon of olive oil in a small skillet over medium heat. Add garlic and cook 1-2 minutes. Turn down heat to medium/low and add cherry tomatoes, cook for 2 minutes. Add cream. Let simmer for 15 minutes. Sauce will turn slightly pink and coat the back of the spoon. Meanwhile, heat 2 tablespoons of olive oil in a skillet large enough to fit both fillets. Pat dry the tilapia fillets. Season both sides with salt and pepper. Combine parmesan, panko and Japanese spice. Dredge the seasoned tilapia fillets in the seasoned flour. Shake off excess. Dip in egg. Press into Parmesan/panko mixture. Place in heated skillet and cook 3-4 minutes per side. Fish will be golden brown when it's done. Plate the fish and pour sauce over the top.
Asparagus with rosemary sea salt
Serves 2
10 asparagus stalks
2 Tbsp olive oil
2 tsp rosemary sea salt [this can be found at any gourmet grocery, on Amazon.com, or you can substitute basic sea salt in a pinch]
Preheat oven to 400 degrees. Place asparagus on a cookie sheet and brush with olive oil until the stalks are coated. Sprinkle sea salt generously over stalks. Bake at 400 degrees for 15 minutes, until tender on the inside and slightly crisp on the outside.
NOTE: This dish is not my standard fare. Fish = good for you. Asparagus = good for you. Basil, tomatoes, a little olive oil = good for you. I had to remind myself of the health factor while eating this meal because the fish was flaky, the crust was crispy, and it tastes like a million calories. I'm telling you, kids… it's not. Enjoy.