In my opinion, and from what I've read online and in newspapers, New York is behind in the food cart trend. Sure, we have lots of halal food, cupcakes, falafel, and chicken and rice, but where is our creme brulee cart? Our bacon dog cart? Our gumbo cart? All in due time, I'm sure. For now, I've done a little research into the tastiest midtown food cart options in Manhattan. And no better day than Friday to treat myself to a little fried fish and some cookies.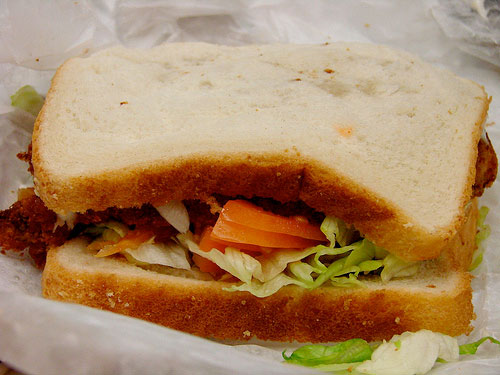 Kim's Aunt Kitchen Cart: 46th Street between 5th Avenue and 6th Avenue (closer to 6th Ave, south side of the street) I decided to try Kim's Aunt because most websites claimed that the fish was fresh and made to order, quelling two of my food cart fears. Who wants to eat food that's been sitting in a grease pit for hours? Not this girl.
On the menu:
Flounder sandwich (fried flounder pieces, tomato, lettuce and white sauce on standard white bread)
Verdict: YUM. Oh, beautiful fried fruit of the sea. While the bread got soggy in the ten minute walk from the cart to my warm little office, I barely even noticed. The coating on the huge chunks of fish was crispy, the flounder inside was flaky and tender, and the veggies were crisp and fresh. You can't get much in midtown Manhattan for $4.50 but this sandwich will fill you up and keep you full straight through the 3:00 office slump. Props to you, Kim's Aunt, whoever you are.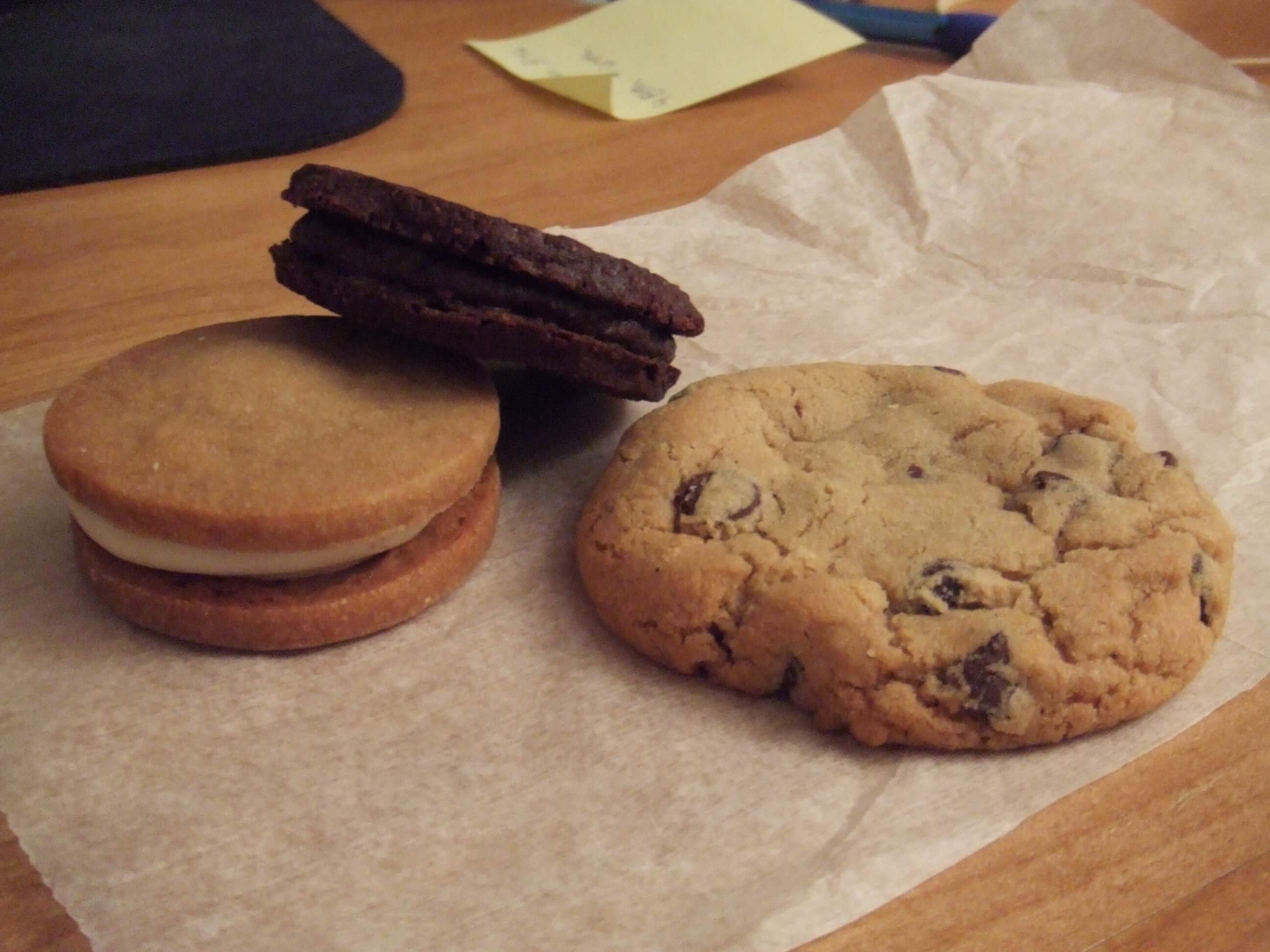 Treats Truck: in some sort of sneaky PR move, or perhaps just to keep the population of midtown from gaining a collective five pounds, the Treats Truck moves! Their schedule can be found on their website, but for the past few Fridays they've been stationed on 45th Street and 6th Avenue from 12:30 – 3. Uh… or so I hear.
On the menu:
Double chocolate sandwich cookie with mint chocolate filling
Chocolate chip cookie
Vanilla sandwich cookie with vanilla filling
Double chocolate sandwich cookie with chocolate fudge filling
Double chocolate sandwich cookie with peanut butter filling
NOTE: I did not eat all of these cookies in one sitting, nor did I buy them all on one day. And this was strictly for research purposes. It's a tough job reviewing cookies. Honest.
Verdict: Why hello there, brand new love of my life. This is my kind of cookie. The chocolate sandwich cookies had the PERFECT consistency: crisp on the edges, chewy in the middle. The vanilla sandwich cookie had a crispy texture all the way through, which is not MY favorite, but I'm sure some would disagree with me. And the chocolate chip was standard fare but delicious none the less. As you can probably tell… I recommend the chocolate sandwich cookies. And anything with frosting is alright with me.
If you have a New York food cart recommendation, lay it on me! Is there a creme brulee cart that I'm missing? Maybe it's best if I don't know about that one.
*top picture c/o Serious Eats