A brilliant thing has been happening to me. I've been getting paid to bake. You heard me. PAID. To BAKE. It's unheard of and I am loving it. This past weekend I baked a batch of cupcakes for the cast of the show that my good friend Becca is working on. She told me I could go nuts – so I thoughts nuts. Peanuts.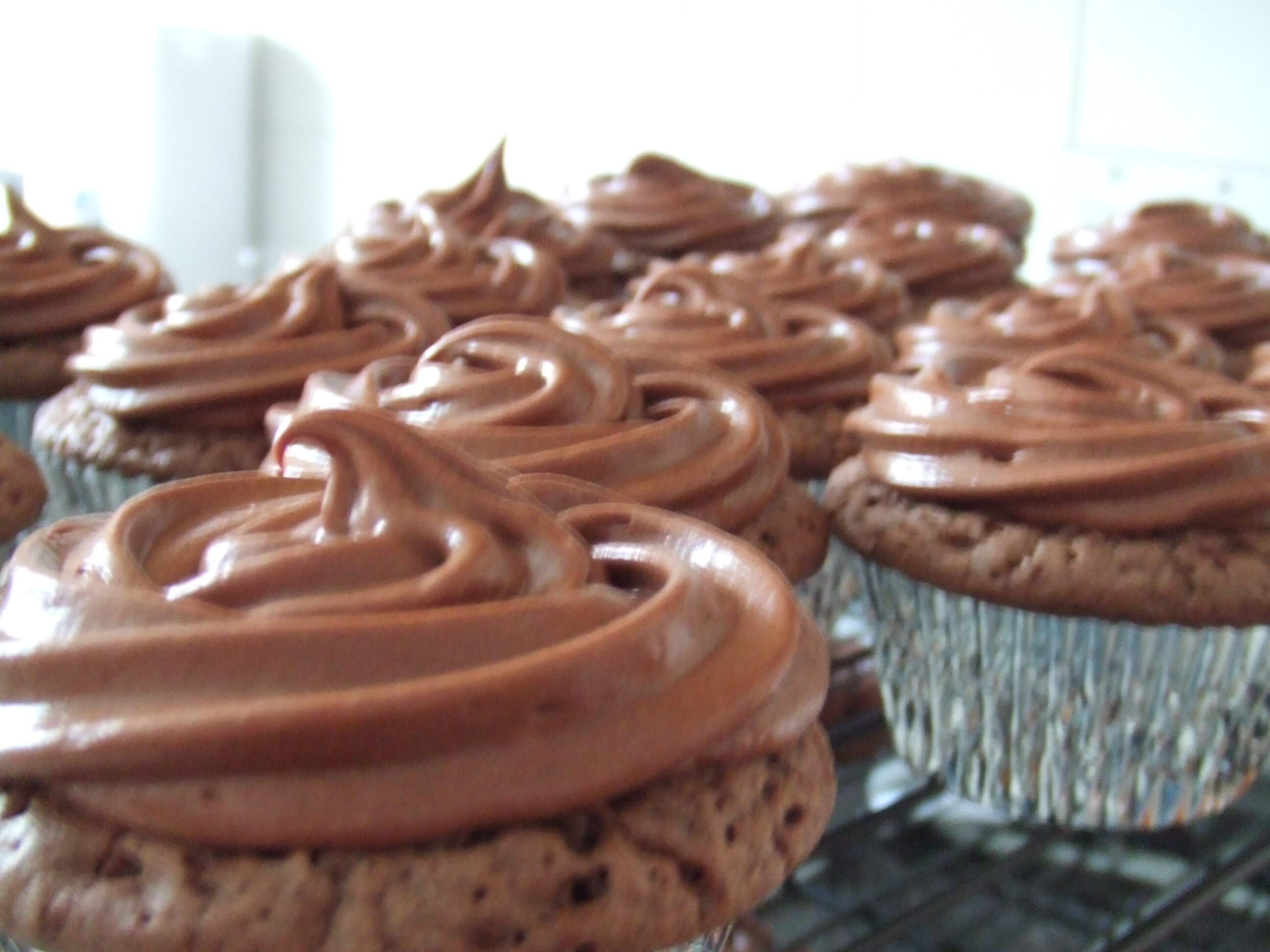 On the menu: Chocolate cupcakes with chocolate peanut butter ganache frosting
(this recipe is c/o Cupcakeblog.com – I just added the peanut butter)
Makes 24 cupcakes
5.4 ounces dark chocolate (I used 50% cocoa Lindt bars)
22 tablespoons butter
1 and 3/4 cups plus 2 tablespoons sugar
6 eggs
1 cup plus 2 tablespoons flour
4 1/2 tablespoons cocoa powder, unsweetened
1 1/2 teaspoon baking powder
pinch of salt
Preheat oven to 350. Melt chocolate and butter over a water bath. Add sugar and stir, let mixture cool for 10 minutes. Beat in an electric mixer for 3 minutes. Add one egg at a time, mixing for 30 seconds between each. Sift the flour, cocoa powder, baking powder, and a pinch of salt into the mixture and mix until blended. Scoop into cupcake cups and bake at 350 F for 25 minutes or until a toothpick comes out clean.
Chocolate Peanut Butter Ganache
4 ounces bittersweet chocolate
5 ounces semisweet chocolate
1 cup heavy cream
1 teaspoon vanilla extract
1 Tbsp butter (room temperature)
2 cups powdered sugar
1/2 cup peanut butter
Chop chocolates and transfer into a heat proof bowl. Heat cream until bubbles form around the edge of the pan, pour cream over the chocolate. Let sit for 1 minute then stir until combined. Add butter and vanilla and stir until combined. Transfer to the bowl of an electric mixture and let cool for 10 minutes. Sift powdered sugar into the mixture and beat until combined. Continue to beat with an electric mixer until lighter in color and slightly stiffened. Beat in peanut butter until combined.
I can not say enough about how amazing Cupcakeblog.com is. I aspire to be this woman.